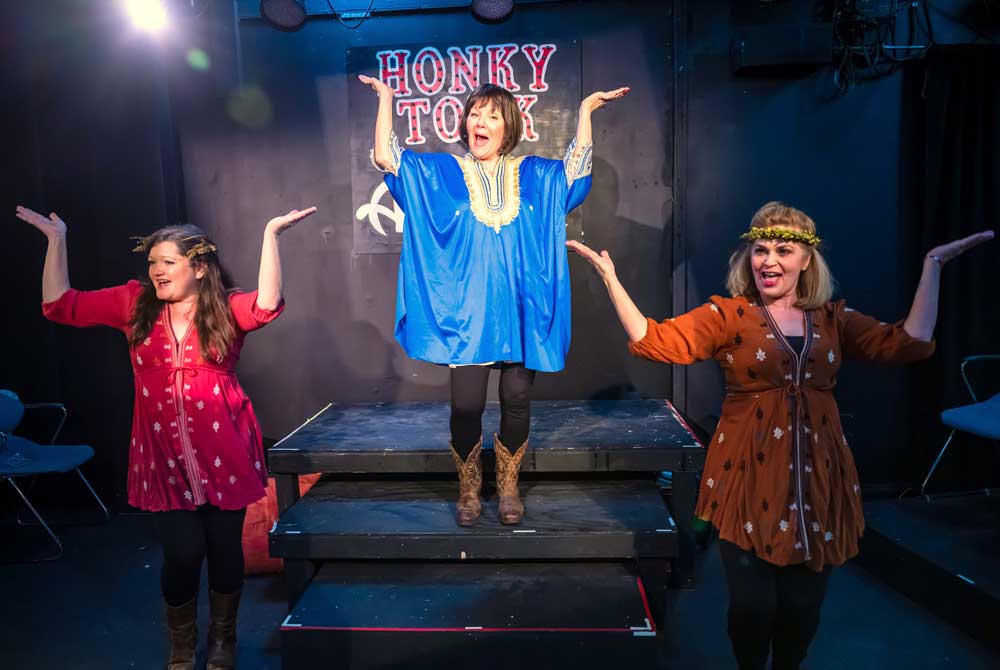 So, you'd rather have armadillos shampoo your hair with stale beer, using their spikey little feet, than listen to country music?
What would the cast of "Honky Tonk Angels," the jukebox musical that City Repertory Theater will stage Jan. 13-21 at its Palm Coast venue, say if someone proffered a similar hypothetical? What would the cast say if someone told them "I don't like country music, so why should I come to this show?"
That I-hate-country hypothetical isn't so hypothetical, says Robin Neill-Kitaif, who portrays Angela, a housewife from Waxahachie, Texas, with six kids and a husband named Bubba who drives a beer truck for a living.
"Oh, I've had people say that," Neill-Kitaif says with a hearty chuckle.
Borrowing its title from a 1993 album by legendary country songbirds Dolly Parton, Loretta Lynn and Tammy Wynette, "Honky Tonk Angels" is the brainchild of Ted Swindley, creator of the hugely popular "Always . . . Patsy Cline." While "Patsy" (which was staged Jan. 6 at Flagler Auditorium) presents the music of just one country icon, "Honky Tonk Angels" draws from various artists to stitch together more than 25 twangy classics, including "Stand by Your Man," "9 to 5," "These Boots Are Made for Walkin'," "Harper Valley PTA" and "Don't Come Home a-Drinkin' (With Lovin' on Your Mind)."




The back story of this jukebox musical: Three women with Southern roots, who are variously bored or frustrated or antsy about their lives, decide to pursue their country music dreams in Nashville, and they meet and take up singing at a bar appropriately named Honky Tonk Heaven.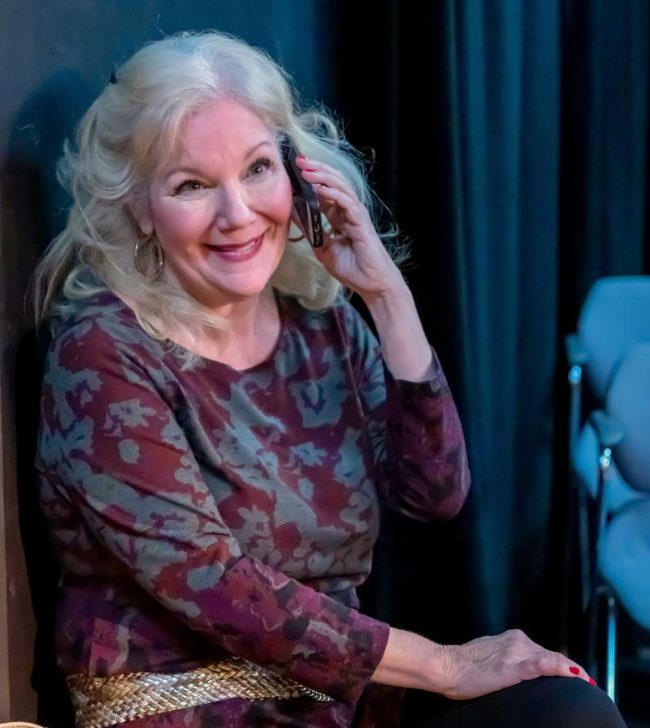 Google the reviews for "Honky Tonk Angels" and you will be staggered – or perhaps not – by the number of theater critics who preface their reviews with "I don't like country music," although quite a number follow that with a "but . . . ." (An aside: During my 30 years as an arts and entertainment journalist, whenever I have queried someone about their musical tastes, the answer has often been "I like every kind of music, except that rap crap . . . and country.")
Neill-Kitaif's response to those folks who express their country hateration, she says cheerfully, is to say, "This is just a fun play. It's lighthearted and you're going to leave feeling happier than when you came in."
"It's a feel-good musical all the way around," says Michele O'Neil, who portrays Sue Ellen, a double divorcee who has moved from Texas to California, where she's "a career girl – take that anyway you like it," O'Neil adds, laughing as she puts air quotes around "career girl."




Both Neill-Kitaif, who grew up in Tampa and moved to Ormond Beach 34 years ago with her husband, photographer Mike Kataif (whose work illustrates this and most CRT articles in recent years), and O'Neil, a retired teacher born in upstate New York who grew up in Savannah, have performed in numerous area community theater productions, but "Angels" will be the City Rep debut for each of them.
Neill-Kataif attended New York City's renowned Circle in the Square Theatre School, a non-profit drama school associated with Circle in the Square Theatre, making it the only accredited conservatory affiliated with a Broadway venue. O'Neil earned her degree in speech communications and dramatic arts from Syracuse University.
The other cast members are City Rep veteran Chelsea Jo Conard, who portrays Darlene, a young woman who grew up in a coal-mining West Virginia town and the Mississippi Delta, and music director/pianist Ben Beck, another City Rep veteran who this time will be center stage playing countrified keys.
(Lest one believes piano can't be a country instrument, don't forget the immortal Floyd Cramer, a Nashville legend and member of both the Country Music Hall of Fame and the Rock and Roll Hall of Fame, and of course Bobby Nelson, Willie's sister–she died last March at age 91–whose piano playing is Willie's continuo through nearly 100 studio albums and all of their live performances and recordings until last year.)
Neill-Kitaif gleefully confesses she "fell in love with Patsy Cline in about 1981. That's all I listened to and sang for about a year — Patsy Cline and maybe Linda Ronstadt, if that can be considered somewhat more country than pop music. I don't like the country music that goes on now, but back then that was pretty cool: the Tammy Wynette and the Patsy Cline, that old stuff. I do like listening to that a lot."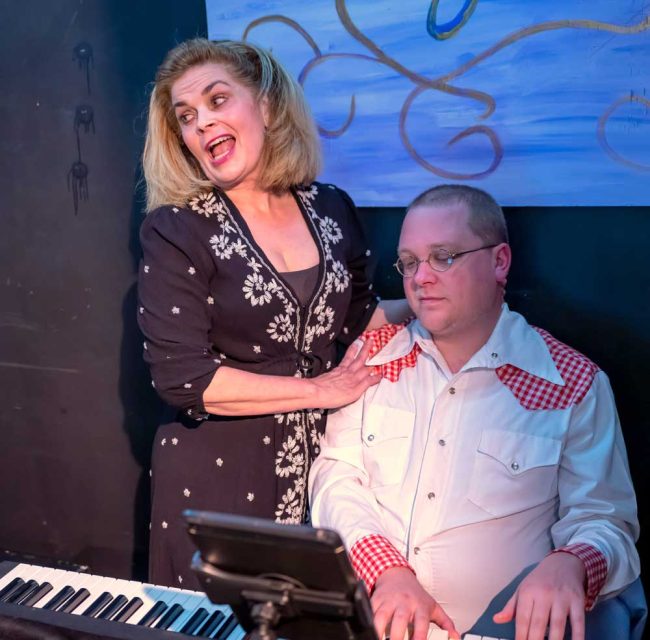 With "Honky Tonk Angels," she adds, "I don't sing any Patsy Cline, but I do get to sing some of the good stuff."
O'Neil makes her own confession: She's never sung country before, "other than sing to Dolly Parton songs like everybody does. But other than that – no, never."




Yes, the cast will be singing in Southern accents, which hasn't demanded any dramatic, intense vocal cord work.
While Neill-Kataif notes her mother is from Central America, her father and most of her family are "pretty Southern," she says. "I don't feel like I have to go too much out of my way to do a Southern accent. It's easy to fall into if you've heard it before or lived around it."
"Absolutely," O'Neil adds. "And listening to each other has helped."
The back story of "Honky Tonk Angels" can seem alarming: After all, Neill-Kitaif's Angela, whom the actor describes as "Queen of the double-wide!," ditches her six kids to go honky-tonking.
But director and City Rep cofounder John Sbordone warns against toting out the sort of psycho-social vivisection that greeted the film "Thelma and Louise."
"This play is never presented that way," as any sort of social commentary, he says. "The characters in this show exist to support the songs. It takes three women from not similar backgrounds but who are all looking to make it in Nashville. That's the impetus for all of the songs."
The characters "are taking a break from their lives," O'Neil says.
Sbordone adds: "The youngest character, Darlene, at the height of their powers at Honky Tonk Heaven, says, 'Why are we doing all these bad-girl songs? We're all good girls!' Then Angela says, 'Are there any good-girl songs?' "




Some of the musical's songs may surprise theater-goers, O'Neil says: "I think what is so wonderful about the show is that there's a lot of music that I didn't know, and some of those songs are my most favorite. Everybody knows '9 to 5,' 'These Boots Are Made for Walkin'," 'Stand by Your Man,' 'Delta Dawn' and all that. But there are some almost spiritual type songs, such as 'Calling All Angels,' that are just beautiful, and the harmonies are really beautiful."
The show also features "Amazing Grace," without which a country night could seem blasphemous, and "Will the Circle Be Unbroken."
The latter classic, Sbordone predicts, "probably will have some of the audience joining in."
But, alas, the cast admits "Honky Tonk Angels" lacks at least one staple of country music: the I-spilled-my-beer song.
"The closest is 'Don't Come Home a-Drinkin' (With Lovin' on Your Mind),' " Beck says.
–Rick de Yampert for FlaglerLive

City Repertory Theatre will stage "Scapino!" at 7:30 p.m. Friday and Saturday March 17-18 and March 24-25, and at 3 p.m. Sunday March 19 and 26. Performances will be in CRT's black box theater at City Marketplace, 160 Cypress Point Parkway, Suite B207, Palm Coast. Tickets are $20 adults and $15 students, available online at crtpalmcoast.com or by calling 386-585-9415. Tickets also will be available at the venue just before curtain time.
Click On:
---