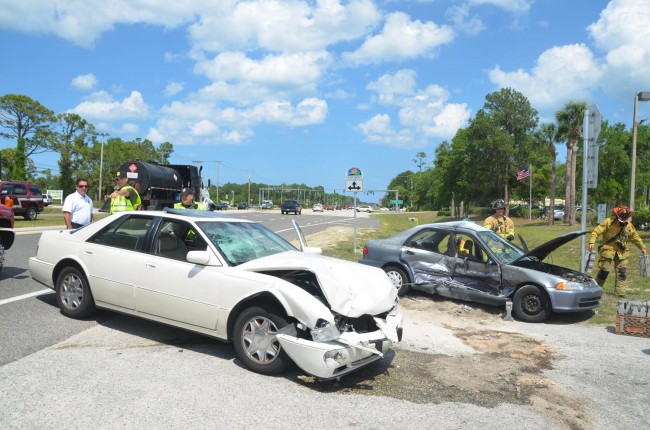 "I'm coming this way to go to the fitness center," Palm Coast resident Falana Peterson says, describing how she was driving east on State Road 100 just before 3 this afternoon, "and the car, she was just there, she just pulled in front of me, out of nowhere. It was impossible to stop."
Peterson, 35, was driving a white Cadillac Backus STS with her 13-year-old son. Neither appeared injured and stood in the shade of the shopping mall sign. Their car's air bags had deployed.
As she described the accident, Peterson was driving parallel to the entrance to the Winn Dixie shopping center. Three or four teen-agers were driving and riding in an older-model, 4-door Honda Civic, going west on 100. Based on Peterson's description, the Honda appeared to have made a turn at the turning lane into the shopping center entrance, and not stopped, crossing into the eastbound traffic's right of way.
"I'm so sorry, I'm so sorry," Peterson said one of the occupants of the Honda told her immediately after the wreck.
The force of the smash-up sent both cars swerving and coming to a stop, almost parallel to each other, both facing southwest and straddling the right lane and the shoulder of the eastbound lane of SR100, which the Palm Coast Fire Police closed, leaving one lane open.
Flagler County Fire Rescue Chief Don Petito, who was at the scene, said one of the young occupants of the Honda was unconscious when paramedics arrived and was going to be evacuated by helicopter, as a trauma evacuation. She regained consciousness, and was transported by ground to Halifax Hospital, Petito said, either either serious or critical injuries. At least two other occupants of the Honda were transported by ground to nearby Florida Hospital Flagler. The extent of their injuries is not determined yet.
A Florida Highway Patrol report later in the day listed only two injured individuals in the Honda: Shantell Cleare, 17, of Palm Coast, and Khadijah James, 17, of Palm Coast. Both were listed as having sustained only minor injuries, and both were taken to Florida Hospital Flagler.
The Florida Highway Patrol investigated the wreck with assistance from the Flagler County Sheriff's Office. The Flagler Beach Fire Department also responded. Traffic was slowed down in the eastbound lanes of SR100 past 4 p.m.