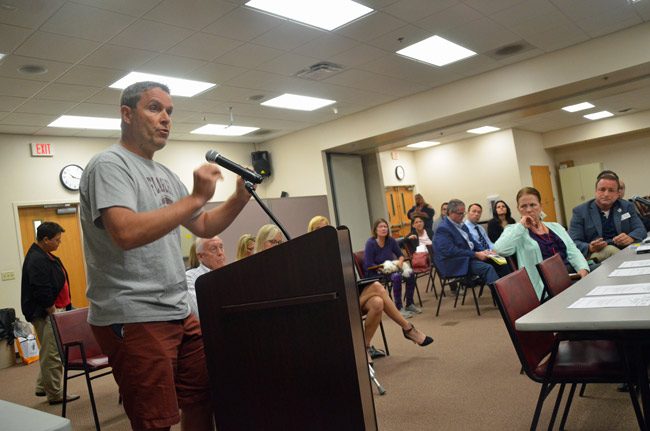 At the end of this morning's Public Safety Coordinating Council meeting on Flagler and Palm Coast's homeless issues, James Bellino, the pastor at Bunnell's Church on the Rock and a man regularly and intimately involved in caring for the homeless, spoke as if to shake some of the people around the council's table out of their well-meaning illusions–not least of them the council's chairman and county commissioner, Joe Mullins.
"I've been doing this for two years, I've had homeless every week in my facility, showering, bathing, feeding. Point-in-time studies come and go, nobody comes to see me. Nobody talks to me," he said of the annual surveys that count the homeless in every community in the country. "I read in the Palm Coast Observer that there's a meeting that happens with Mr. Alvin and Chief Foster about a plan of going to Church on the Rock and partnering and dealing with this situation but it violated the city ordinances. Nobody ever talked to me." He's never met Alvin Jackson, the relatively new Bunnell city manager, who was one of the people around the table.
"There's no quick fix, there's no easy pill to swallow that's going to make this go away. But I have a facility that I'm willing to open up to use. If there's people that need to come in to do their job, I have a facility. You have to partner with the people that are already on the ground doing this that have a heart doing it, instead of trying to recreate the wheel." He added, "We want to transform a community one life at a time. We're not going to have a task force that's going to figure this all out in 10 days. Took 10 years to get here. But we have to take concrete steps."
Moments earlier, the council, a collection of judicial, law enforcement, social service, county and now municipal government representatives, had voted to assign the existing homeless and housing task force of Flagler County the job of coming up with recommendations within 30 days. Sheriff Rick Staly and Family Life Center Executive Director Trish Giaccone had motioned and seconded to go that route, but largely to keep Mullins and Palm Coast City Council member Jack Howell from pressing with a different goal: creating a task force of their own.
Until today's meeting, neither man had been aware of the existence of the already-constituted task force, of which Giaccone has been a long-time member. That's one of the problems with the current and rather sudden revival in county and city interest in homeless issues: they're coming to the matter like a cavalry, armed and primed for solutions when local groups, both governmental (through the county) and non-governmental have been at it for years, but as Bellino and Giaccone pointed out, getting little attention for it.
Mullins opened today's meeting saying he wanted to "talk solutions." He laid out a three-pronged approach: new laws on the books to give law enforcement stronger tools to counter panhandling and camping in undesignated sites, coordination with an agency that could determine individual needs and ailments, and a "program to pick them up," deliver them to an agency or "give them the option of a place to go," what he described as "a location that's civilized and clean and not have disease running around."
It was nothing new, nothing that hasn't been tried, that keeps being tried, and that's often done successfully: Jeff White, the Volusia-Flagler Coalition for the Homeless representative who sits on the council, spoke of the group's success in securing housing for what totaled 428 households in 18 months. When Mullins asked for a motion and Howell motioned to create a task force, Giaccone intervened.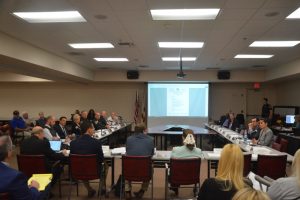 "I was under the impression that Flagler County already has a task force," Giaccone said, "so I don't know that we need to recreate that but rather ask the members who are interested in participating in a task force that has been up and running for several years, that way we're not recreating the wheel, we're engaging in conversation with multiple stakeholders."
Howell didn't like the monthly meeting schedule. He wants more frequent meetings. Mullins was fine with the existing task force picking up the lead, but he wanted his three goals to be the focus of its attention.
"I would offer that we and I think that this is a conversation we need to have more consistently, and regularly, but I think that before we say that we want the county to look at it, that we have an opportunity for the task force to sit down and make some recommendations to this committee, because they're working with folks who are currently homeless and getting feedback from those that are in our community, versus us as a body saying this is what we want to see happen. Let's invite our homeless folks into the dialogue, let's invite the current service providers into the dialogue."
"That's what we're doing here if we're looking at the three components we're addressing the issue," Mullins said, "and if we make the issue more complicated than we are, then it is. We're never going to get anything resolved. It's real simple, we've got to have tools, we've got to have the correct services there for them, and then we've got to have a place to take them."
"I'm going to respectfully disagree with you because I've worked with the homeless for 12 years and I can tell you that just picking them up and bringing them–where? We don't have that in place," Giaccone said.
"That's the third component, having a place to take them to," Mullins said. "The other option is you keep doing what you're doing that's not working."
"I just feel like we're putting the apple before the cart, and it really needs to be the folks that are currently engaging in the conversation, to say now that we've got the county's ear and that we are aware of what's happening, let's move forward with the current group and say these are the things we would like to focus on. I just don't think it's prudent for us as a committee to kind of swoop in and say this is what we want. Let's talk to the people who are doing this day in and day out for the last several years and say: what do you want to see happening, and how do we work together."
Giaccone's approach won the day. But it was only one of a few examples of discussion at cross-purposes at today's meeting. Mullins and Howell were submitting theoretical plans to "get something done," but the officials around the table were bringing concrete, "boots-on-the-ground" perspectives (to use the sheriff's phrase) that did not mesh with the Mullins-Howell approach.
Mullins repeatedly spoke of giving law enforcement new tools–new ordinances–to enforce regulations. He cited the relatively recent and draconian ordinance St. Augustine passed against panhandling and homelessness, later copied by Daytona Beach and Bunnell. It seemed to escape all council participants that Bunnell had passed that ordinance, and Jackson did not remind them, though he might have noted that Bunnell's harsher rules are at least in part likely to have caused Palm Coast's homeless population to swell.
But County Attorney Al Hadeed spoke at length of the fact that homelessness is not a crime, and that harsh ordinances or enforcement "are not beneficial unless law enforcement has a way to channel these people into services so they don't continue to create those problems."
"It is a very treacherous path to fashion a statute or a rule to address homelessness or panhandling in particular," Hadeed said, giving the St. Augustine ordinance as an example. "It hasn't been tested judicially, and I would expect that it would be tested judicially."
Staly is not interested in turning deputies into a homeless police force, or the county jail into a default shelter. He said "no one cookie-cutter solution will fit the homeless. Every homeless person is homeless for a different reason." He cited a few of the reasons (those who are down on their luck, those who are homeless as a lifestyle, those who suffer from addiction or mental health issues). "Whatever is done, if we're going to do it right in this county, which is the only way I'm going to participate in it, is it needs to be comprehensive," Staly said. He and Jackson, the Bunnell manager, proposed assigning one county government point person to the task, though one of the people in attendance, Janet Nickels, essentially fulfills that role as Flagler's human services program manager–and spoke to the council to that effect.
Nickels's team placed eight people in homes in the past two months, including a woman who had been homeless for five and a half years. "It took her five and a half years to kind of be ready to do that," Nickels said. "It truly is one person at a time."
Again, it was an indication that the people and the organizations are in place, though what has lacked so far is resources and the political will, or climate, to make homelessness a priority.
To that extent, Howell and Mullins have been successful: "I commend Joe for at least having the conversation," Giaccone said, "because the conversation hasn't been happening." The sheriff agreed, saying the issue had been "neglected for many, many years. Now there's a focus." Giaccone also supports Mulliuns's push to ensure that Flagler County gets its fair share of homeless-assistance dollars. At the moment, Flagler gets only 18 percent of the grants channeled through the Volusia-Flagler Homeless Coalition, and a chunk of that Flagler portion has just been awarded to a Catholic charity in St. Augustine.
Homelessness rocketed back to public and government attention last month since the growing population of the homeless around the public library in Palm Coast triggered a controversial response from the county, when the county attempted to clear out the zone and ship the homeless elsewhere, including to a derelict county camp at the far end of Flagler.
Nevertheless, even Mullins's parameters have already ruled out large-scale solutions. He says there is no money for such a thing as a permanent shelter. Rather, the county and other agencies should seek out grants and federal funding, presumably to be spent on programs that find homes and services for the homeless. But that's only an amplification of existing efforts, what Mullins has derisively told Giaccone "isn't working."
The end of the meeting featured several homeless individuals addressing the council in their full humanity–one of them broke down and struggled to get the words out about how she became homeless after her husband of 37 years "decided he didn't love me anymore because I had three strokes," leaving her to contend with $91 a month in social assistance. "It's not my fault I have to live in my car," she said through sobs. "I didn't do anything wrong. I want a place to live. Please help me."
"You're all saying the same thing over and over," another homeless person told the council. "I don't think you'll ever make a change. Thank you. For nothing."
The meeting had not had an auspicious beginning this morning. There were four homeless people among the 25 people in attendance, but no quorum around the council's table–not for 18 minutes, anyway. The few members who'd showed up, including the sheriff, a judge, the public defender, the state attorney's delegate and a few others, sat and waited, and listened to Mullins–chairing only his second meeting–stunningly admonish them: "Guys, get used to this as being a monthly meeting," he said. While it's true that the council had failed to meet for most of the past year, Mullins was clearly not yet aware that the council's chairmanship is more statutory than commanding–least of all to the independently elected and judicial officials around the table.