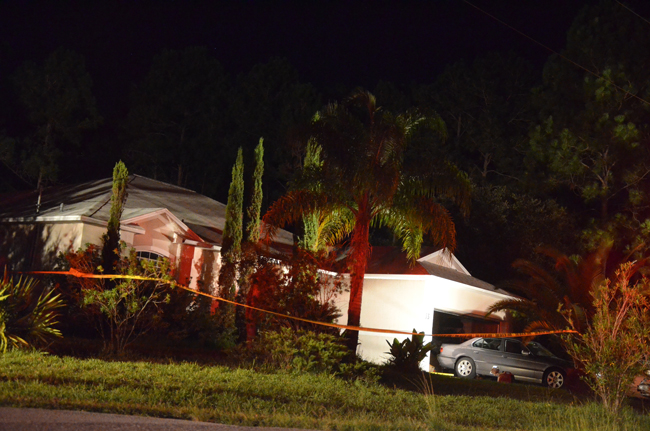 Last Updated: 12:11 p.m.
Almost two years ago when the Flagler County Fire Rescue union staged its annual 24-hour paramedic competition, one of the scenarios involved a meth lab exploding in an ordinary house in a residential neighborhood, resulting in several injuries and requiring the intervention of medics and cops.
Late Thursday night on Westminster Drive in Palm Coast, it was not an exercise.
Shortly after 11 p.m., an explosion was reported at 33 Westminster Drive, and a possible fire. When Palm Coast Fire Department firefighter-paramedics arrived at the 2,000 square-foot house, one person was severely injured from a burn in the lower half of the body.  Within half an hour, seven people would be transported to Florida Hospital Flagler, three people had been treated for "basic life support," meaning their injuries were minor. But the burn victim was a trauma evacuation, ending up at Orlando Regional Medical Center's burn unit. The emergency room at Florida Hospital Flagler at one point, around 11:45 p.m., sent word that it could take up to six people.
An investigation revealed that the explosion had taken place in the kitchen as Petr Miroshnik, the 55-year-old owner of the house, was working on a car battery, on the kitchen table, according to a Flagler County Sheriff's spokeswoman. The battery exploded.
Authorities believed there could have been up to 12 people living in the house, but that number was later revised to seven. Neighbors spoke of four very young children living there. The Sheriff's Office confirmed that children ages 2, 3 and 6 were among those taken to Florida Hospital Flagler. The house belongs to a Ukrainian family, which neighbors described as laid back, friendly and neighborly.
As firefighters investigated the scene inside the house, they spoke of possible drug-related "paraphernalia" and called in units of the Flagler County Sheriff's Office. Later, they spoke of the possibility of a methamphetamine lab. Such labs are often makeshift operations in homes, where accidents are frequent and dangerous, because ingredients used to make meth, such as ammonium nitrate, are highly explosive.
The sheriff's office drug unit was called in before midnight, as was the fire marshal. The marshal was to determine the origin of the fire, which was minor and was contained to what appeared to be a rear area of the house, with little damage elsewhere. The incident produced a lot of smoke, however.
By midnight, crime tape had gone up around the property and several units of the sheriff's office were replacing fire-rescue units at the scene for further investigation. Little additional information was released at the time.
Five small marijuana plants were found in the house, the Sheriff's Office reported. But by morning, fire officials and the sheriff's office had discounted the meth lab possibility.
"It wasn't what they thought it was, a full-blown meth lab," Palm Coast Fire Chief Mike Beadle said.
The house, however, is not livable at the moment, because of heavy smoke damage. The Red Cross is caring for the family.
"Obviously the gentleman is being treated for burns," the sheriff's spokeswoman said. "I don't know that anything was filed just yet or whether it will be. The investigation is continuing."
Training exercises aside, Palm Coast has had its share of meth-lab issues. In April 2010, a 1 year old was rescued from one such lab on Fanshawe Lane. Last April, a meth lab was busted on Cooper Lane. That lab, too, was in a house where a number of children were present.