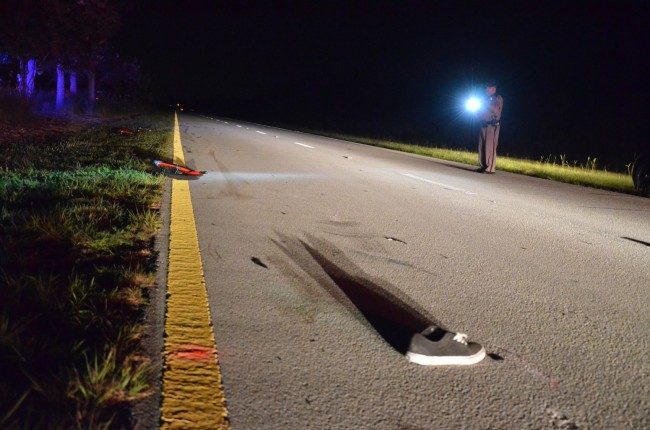 Palm Coast has notoriously and dangerously dark streets and roads. The darkness is a recurring complaint among residents.
On Tuesday, a plan submitted to the Palm Coast City Council would add streetlights to 23 miles of high-traffic, non-residential roads over the next five years, but at an estimated one-time cost of $637,000 just for Palm Coast's portion of the construction, and an annual operating cost–for power–of $224,500 a year, once all 23 miles are completed.
Existing costs to the city–that is, to its taxpayers–for Palm Coast's 3,000-some streetlights is $700,000 a year. So any additional street-lights not specifically requested by a homeowner will be an added cost to the city's power bill.
The current council has made adding streetlights a priority, particularly after the deaths of two 16-year-old Matanzas High School students, one of whom was walking with a friend on pitch-dark Lakeview Boulevard at the north end of Belle Terre, and another, Kelvin Smith, killed in a hit-and-run as he rode his bike on Old Kings Road in the F Section. The crashes took place within nine weeks of each other, on the last day of 2016 and on March 2, 2017. Streetlights for years had not been a priority for prior councils.
The 6,700-foot segment of Lakeview Boulevard from London Drive to Matanzas Woods Parkway that proved fatal to 16-year-old Michelle Taylor finally got a sidewalk this year, and in January will get some 44 streetlights. The construction cost to the city will be $50,000, the monthly power bill and maintenance will be $844, or $10,128 a year.
A 3,200-foot segment on Belle Terre Parkway, from Pine Coast Parkway to Pine Lakes Parkway, is also ready for a string of 39 lights at a cost to the city of $23,000, and a recurring monthly cost of $748. That design is on Florida Power and Light's schedule now, with construction expected in 2019.
On Tuesday, the Lassiter Transportation Group, the consultant the city hired to study its lighting configurations, presented a list of 20 projects (including the two about to be done), broken down into groups of four over the next five years, totaling those 23 miles to be lit up. They were ranked based on criteria such as traffic volume, night-time crashes, roadway type, presence of sidewalks, and so on.
The consultant is recommending adding lights to various segments of Belle Terre Parkway, Seminole Woods Boulevard (also the scene of a fatal crash involving a 15 year old boy, Kirt Smith, killed by a passing car as Smith rode his bike at night in 2011, as there was no sidewalk then), Sesame and Citation Boulevards (also crash-prone areas of Seminole Woods), East Hampton Boulevard, Palm Harbor Drive, Forest Grove Drive, and Ravenwood Drive.
The consultant listed five additional recommendations for 12 more miles of lights beyond 2023 along stretches of Royal Palms Parkway, Rymfire Drive, Hargrove Grade, Palm Coast Parkway and Old Trail Boulevard. (See the full list below.)
"This is priorities based on what the consultant delivered," Interim City Manager Beau Falgout said.He was looking for guidance from the council as to how and whether to proceed with the current list. Council members did not dispute the priority list: "We should rely on that science," Mayor Milissa Holland said of the Lassiter Group's criteria.
But Council member Nick Klufas was not yet committed to going ahead with the plan, beyond the two strings already in the works, because he wants an additional cost estimate: how much would it cost the city if it were to own and maintain the light poles–something few municipalities do. Klufas is interested in that approach because FPL does not allow so-called smart-poles that would allow a city or others to piggy-back some additional wares on the poles, whether it's broadband systems or surveillance cameras or anything else. Klufas is focused on Palm Coast's Fibernet system, the broadband network, and its potentially more versatile expansion.
City officials discouraged him, however, saying the city currently doesn't have the manpower, equipment and talent to maintain a network of light poles, as FPL does. But the lighting master plan will await a new estimate of costs should Palm Coast own and maintain new light poles. The $637,000 price tag for the five-year plan is only Palm Coast's share of capital costs, Falgout stressed, with FPL paying the rest.
Even if Palm Coast were to go own some poles, however, it would then end up with spotty ownership of some poles along some stretches, with FPL owning the rest–unless the city was ready to take full ownership of all poles along major roadways–a likely colossal cost.
The five-year plan is below.