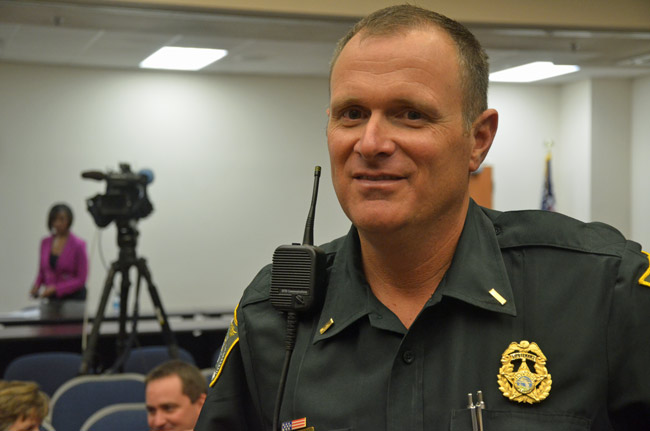 Flagler County Sheriff Jim Manfre announced today that Lt. Steve Cole is the new head of the Special Victims and School Resource Officer Section, which falls under the Investigative Services Division. Cole will report to Jack Bisland, who heads the division. The formal announcement was made today. But Cole has been heading the SRO and Special Victims unit since Jan. 8, when Manfre took over the department and revealed a series of assignment changes, demotions, appointments and firings involving some 30 people at the Sheriff's Office.
Cole had been a Division Watch Commander under former Sheriff Don Fleming. Manfre abolished the watch system. Cole's appointment might have been routine in any other year. But the matter of school resource officers in general, and the use of school resources officers in Flagler County in particular, is currently the leading issue for the Flagler County School Board, in the wake of the Newtown school massacre. Before the massacre, Manfre had pledged, during his campaign, to return SROs to elementary schools, from where they'd been withdrawn under former Sheriff Don Fleming over financial constraints.
The school district has been rethinking security in the wake of Newtown shootings and is looking favorably on stepping up a police presence on campuses, elementary campuses included–especially since the parent of a sixth grader at Old Kings Elementary school decided this month to pay for a sheriff's deputy to be posted there permanently, with her company's money. The sheriff, presumably with Cole, will be presenting his security proposal to the school board on Feb. 5.
(In a related development Wednesday, Fort Lauderdale Sen. Chris Smith said that because of widely different cultures around guns from place to place in Florida, efforts to make schools safer should largely be a local issue, according to the News Service of Florida. Smith, who will be the leader of Senate Democrats in the coming session, told a group of newspaper editors Wednesday morning in Tallahassee that the state should provide a common funding source for school safety improvements, but shouldn't make statewide mandates. He noted that what may be best at a high school in crowded and urban Broward County might not be the best thing for an elementary school in rural Dixie County in north Florida. Legislators are expected to heavily discuss school safety in the coming year in the wake of the December elementary school shootings in Newtown.)
For the past several years, the authority on the school resource officers' corps in the county–and the officer generally most conversant with school security issues–has been Cpl. Don Apperson, who remains in the SRO ranks at Matanzas High School. Cole, however, also has many years' experience with youth issues, and was an SRO at one time.
"Lt. Cole brings a strong background of working with youthful offenders and he is an experienced law enforcement officer with the majority of his experience being right here in Flagler County," Manfre said.
Cole has been a law enforcement officer for 23 years, 19 of those at the Flagler County Sheriff's Office. He was the department's first certified gang officer, training to recognize gang activity locally. He served as vice president on the Board of Directors for the Florida Gang Investigator's Association for seven years, and has been qualified by courts to testify as an expert on youth gangs.
Crimestoppers twice awarded him the Flagler County "Crime Stopper of the Year" recognition. He served for two years as a School Resource Officer and 10 years in the agency's Investigation Division, where he rose to sergeant. His salary in 2011, as a sergeant, was $68,400. His current salary is $77,000. (The appointment is considered a lateral move, not a promotion, since he is not gaining in rank.) Cole has also coached baseball and football for the Police Athletic League and served as a commissioner of Pop Warner Football. He holds a Master's Degree in Public Administration and is an adjunct professor at St. Johns River College.
"As a professor, I have been trained in lesson planning, learning strategies and assessing programs," Cole said. "I plan to use this experience to assist the SRO section in developing preventative and educational programs that SRDs can offer to students of all ages to assist our youth in becoming successful citizens in the community."