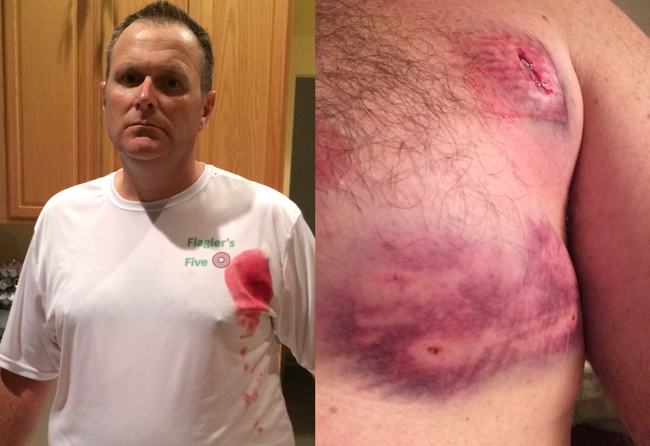 Flagler County Sheriff's Cmdr. Steve Cole would like Palm Coast's dog owners to be more responsible and aware of their pets' power—and capacity to harm. He's offering himself as exhibit A.
Cole had finished work for the day and was out for his evening run Monday, which he was taking on the bike path along Matanzas Woods Parkway Monday.
At one point he sees a young man with two dogs coming in the opposite direction. Timothy Rang, 20, a resident of Palm Coast's B Section, had one of the dogs on a leash. The other was running loose. The loose dog ran up to Cole and acted friendly, jumping up and down but without any aggression.
"As I got closer with the dog he had with the chain," Cole said today, "I could tell the dog wasn't really friendly, and I could tell he was tensing his hold on the chain." Rang is small-statured. The black dog was pulling on the chain, and Rang couldn't hold him. Cole gave the dog space. It didn't make a difference. "The dog lunged, and I think the chain slipped from the handler's hand and he was able to get me."
The black dog is called Scar.
The dog bit Cole in the mid-to-upper upper chest area, puncturing him in three places, one of the bites leaving a long laceration, and all the bites leaving deep-purple bruising. The dog, which Cole says was likely a Rottweiler or a Rottweiler mix, managed the attack even though Cole is 6-foot tall and strongly built—which is what concerned him.
"I'm a pretty big guy, but that trail is used by children, older people, females. The damage could really be very serious," Cole said. In fact, that evening, Cole's wife, who is of much smaller stature, was supposed to be running with him but apologized to him—before the attack—when she ended up not going along. "I'll be OK, but what if it was somebody else? It would have been a lot worse than it turned out to be."
The sheriff's office sent a deputy to investigate the case. Cole, a 20-year veteran of the sheriff's office, declined medical attention, saying—according to the incident report—that he'd decide later whether to seek it out. By Tuesday, he was at work. "It's painful but I can be in pain at home or I can be in pain at work," he said.
Rang is the brother of the dogs' owner, who had recently moved to Gainesville for school, according to the incident report. Rang provided the deputy with proof of Scar's rabies vaccination, which was done in August. Animal control was informed of the incident.
Cole, who commands the sheriff's office's investigative division, among other responsibilities, posted an appeal to dog owners on his Facebook page, urging them to be responsible.
Dog-bite or aggressive-dog incidents have been a recurring issue in Palm Coast, which has a strict dog-leash law: dogs are to be leashed at all times when outside the house, or when a property is not enclosed. That would not have made a difference with Scar, since Scar was leashed, though the second dog was not. The day before the dog attacked Cole, a 25-0year-old woman in the nearby B Section fired a shot from her handgun at a pit pull that was charging her as she and her own dog were taking a walk in her backyard. Neither she nor the pit bull were injured.

Palm Coast Ordinances: Sec. 8-31. – Duties of animal owners:
(a)
Each owner of any animal, or anyone having any animal in his or her possession or custody, shall have the duty to exercise reasonable care and to take all necessary steps and precautions to protect other people, property and animals from injuries or damage which might result from his or her animal's behavior, regardless of whether such behavior is motivated by mischievousness, playfulness, ferocity or any other motivation.
(b)
In the event that the owner or keeper of any animal is a minor, the parent(s) or guardian(s) of the minor shall be responsible to ensure that all provisions of this Code are complied with and said parent(s) or guardian(s) shall have the duties prescribed under the Code.
(c)
Every owner of any animal, or anyone having any animal in his or her possession or custody, shall have the duty to ensure that reasonable care and precautions are taken to prevent the animal from leaving, while unattended, the real property limits of its owner, possessor or custodian.
(d)
Each owner of any animal or anyone having an animal in his or her possession shall keep the animal under restraint at all times while the animal is off the real property limits of the owner, possessor or custodian unless the owner of the animal has the consent of the person on whose property the animal is at large. The foregoing shall not apply to a performing animal, engaged in a bona fide commercial performance or participating in a parade or similar event; provided, however, that the owner of the animal shall ensure that all reasonable and necessary steps and actions are taken to protect the general public.
(e)
It is prohibited and unlawful for the owner of any female dog or cat in season to fail to confine said animal, either willfully or through failure to exercise due care and control, in such a manner so as to make said animal inaccessible to any male dog or cat except for breeding purposes.
(f)
Animals takes off owner's property shall be on a leash which shall not exceed eight feet in length.
(Ord. No. 2010-10, § 6, 7-20-10)