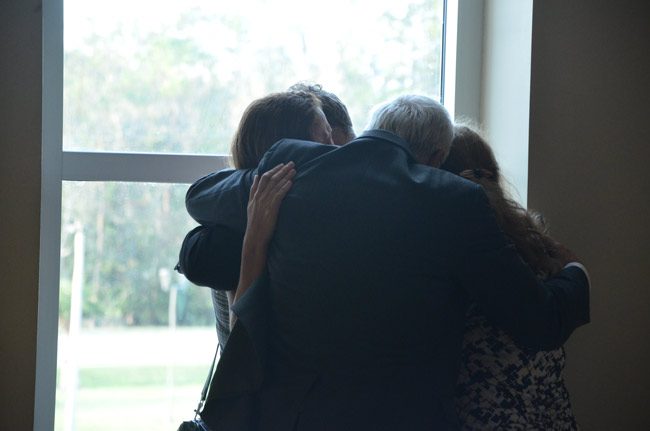 A jury of five men and one woman took 51 minutes to acquit Stanley Wykretowicz of aggravated child abuse in circuit court in Flagler County late this afternoon, a charge stemming from his bringing his 2-year-old niece to Florida Hospital Flagler unresponsive, bluish and bruised three years ago. A trio of defense lawyers successfully argued that there was no proven evidence the girl had been brutalized, but that she had rather suffered from a severe intestinal infection. Had Wykretowicz been found guilty, he would have face a sentence of up to 30 years in prison.
The verdict was not a surprise: the prosecution never overcame the pitfalls of a circumstantial case, inviting rather than shutting down doubt as it relied heavily on an emotional factor and a presumption of self-evident shock: images of a bruised child on a hospital bed, the 2-year-old who had seemingly been in nobody's care but Wykretowicz, unquestionably made an impact but did not prove anything.
Though the testimonies of the surgeon who operated three times on the child, of a nurse practitioner and to a much lesser extent an out-of-place medical examiner made a strong case that only blunt-force trauma could have hurt the child to the point of perforating its intestine, the defense exploited possibilities of doubt by introducing expert testimony that simply contradicted the other medical experts. So it came down to a defense layer arguing that two opposing medical opinions were all the jury needed to know that reasonable doubt as to Wykretowicz's role in the child's condition existed. The jury clearly agreed.
"They can't tell you what he did, they can't tell you how this child was injured," Aaron Delgado, one of the defense lawyers, said in his closing argument, "and that's critically important." He repeatedly criticized the prosecution for not doing its job—not asking the questions it should have asked of its witnesses, if it wanted a stronger case, and exploited the notion of "cognitive bias," the notion that people will reinforce a certain belief regardless of evidence when they're inclined to, for example, see abuse the moment they see a bruised child. As Delgado put it, "If you're a carpenter, everything looks like a nail to a hammer."
Assistant State Prosecutor Joe LeDonne's final analogy to the jury—that using common sense, you know when it's rained without having had to see it rain, an analogy he's used before—likely didn't help as much as it underscored Delgado's invitation to doubt: LeDonne was out of hard proof, so he was asking the jury to believe him and his witnesses. "You can put together a big picture, you can paint a picture with what you have," he told the jury.
The jury found Wykretowicz, a 42-year-old Palm Coast resident and unemployed former jail guard from New York, guilty on a lesser misdemeanor of child neglect: he had waited two days to take the child to the hospital. But that finding may yet get dismissed as Judge Dennis Craig, who presided over the three-day tria l, himself had doubts about the validity of that charge—or rather its tenability—should the jury find Wykretowicz not guilty on the first charge. Because of Craig's doubts, which he walked back to some extent after the verdict was read and the jury dismissed, the defense is seeking an acquittal on that charge as well, using Craig's words as Exhibit A.
In effect the judge may yet dismiss the charge pending a motion by the defense and another argument with the state before Craig. Even if the guilty verdict on the misdemeanor stands, it equates to a maximum of 60 days in jail, which Wykretowicz has already served in a case now three and a half years old—the oldest case on Craig's docket. But Craig himself insisted it was "not a moot point," as he contradicted Aaron Delgado, the defense lawyer who'd led much of the trial phase and plundered the prosecution's case in two days. "That's the difference between having a record and not having a record," Craig said.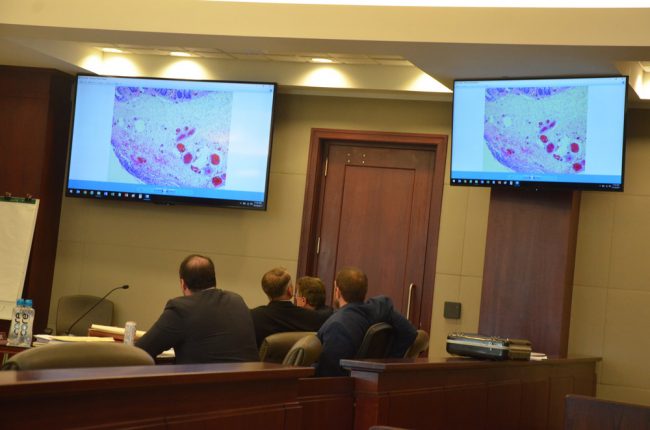 Wykretowicz was sitting down, flanked by his three attorneys—Delgado, all four wore similarly dark suits—when the verdict was read. His head slumped into his hands for a while as he teared up, Delgado patted him on the back, then he had trouble keeping a straight face as a smile that had appeared with increasing frequency in his exchanges with his lawyers as the trial wore on, especially today, became permanent until he left the courtroom. His father, his wife and one other family member embraced him in a long, emotional hug against a window overlooking the parking lot. There were more hugs and handshakes with his team of lawyers on the plaza downstairs before he posed for a picture with his wife, the couple holding hands and pumping them in the air in a sign of victory, though it's not quite yet over for them.
Not because of today's misdemeanor verdict, but because Wykretowicz and his wife, Cherrie Retamozzo, who was in the courtroom throughout the trial, face child abuse charges in a separate case involving Wykretowicz's now-16-year-old daughter. The charges were filed when she was 14. Retamozzo, 35, faces a felony child abuse charge, a third-degree felony, while Wykretowicz faces an identical charge on the 2015 allegation plus a charge of battery by strangulation, also a third-degree felony. Craig insisted to Wykretowicz's attorney, Sam Masters, to get going with that case.
The third day of trial—counting Monday, when the jury was seated–was episodic with drama, starting with the brief if ultimately inconsequential testimony of Wykretowicz's now-16-year-old daughter.. The 16 year old was called by the prosecution. But she was not asked a single question about her life with her father and cousin. While the prosecution was constrained by the fact that it could not risk taint this case with any information from the other case, it was never clear why she could not address her living situation at the time of the allegations involving her cousin–about conditions in the house, whether anything was ever amiss, whether she'd witnessed anything in the 48 to 72 hours preceding Wykretowicz taking the 2-year-old to the hospital.
But much of the drama took place outside the jury's hearing, when twice the defense sought a judgment of acquittal. Those motions are routine: no defense lawyer misses that step, knowing it is rarely granted. But this was different, and it exposed the weaknesses at the heart of the state's case, at least as Craig saw them. He did not hold back. Twice he questioned LeDonne as if he were about to rule at least partly in favor of the defense on the acquittal. On both occasions he spoke of great doubt that the second count against Wykretowicz, that he was criminally negligent with the child, had not been proven by the state.
"Why don't I throw out count two?" Craig asked flat-out in the first round.
"Because there's evidence to support count two," LeDonne answered. The judge wasn't convinced. "Either it was an intentional act which would be count one," Craig said, "or it would be a neglectful act which is count two. Can't have both." To some extent the judge, who continued to grill LeDonne, may have been questioning him possibly as much to steer him toward a more effective prosecution as to point out the vulnerabilities in his approach. Craig was never "convinced," in his word, that the negligence charge should go forward, but told LeDonne would let him argue it to the jury because the court has to look at the evidence in a light most favorable to the state.
John Reed, one of the three attorneys for the defense, returned to the dismissal charge in mid-afternoon, after both sides rested, and again Dennis grilled LeDonne, at one point admonishing him law-school-style for not being on top of his case law. "You've had three years to prepare for this case," the judge said (he was not referring to the three years it usually takes to graduate law school).
Craig finally said the words that would come back to bite him only a few hours later: "If the jury finds not guilty on count one, that doesn't mean I wouldn't revisit the issue" because, he said, "it could lead to an inconsistent verdict." But he was also right at the end of the day when he told Delgado that he had not been categorical about the matter.
By then LeDonne was barely arguing those steps, looking as defeated as he in fact was. He'd never found his usual groove, having been knocked off stride as much by the defense's Tourette-like objections for two days running as by the judge's stingiest interpretation of LeDonne's strike zone: to derail LeDonne, all the defense had to do was lash out an objection. The judge upheld them with arresting frequency.
Craig wasn't in his usual courtroom, and perhaps not in his element: the trial was bumped down to the third floor, from the fourth, because the night's rains had resulted in a leaky roof in Courtroom 401, where a bucket was set in the middle of the room to collect dripping water. The $32.7 million building just last month marked only its 10th year. Its predecessor had a leaky roof, too, though it was built in 1927.