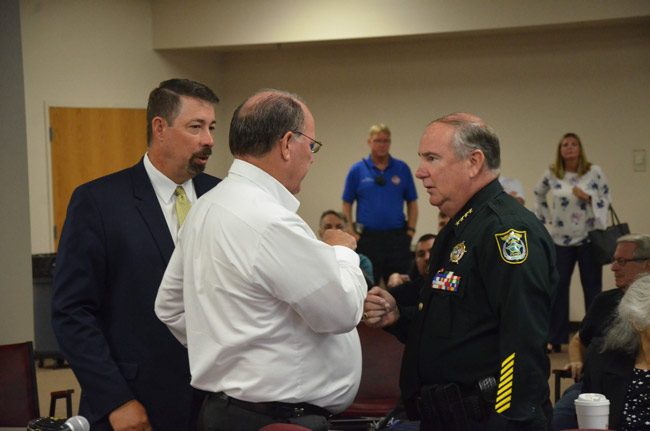 In the strongest-worded pair of emails since the evacuation of the Sheriff's Operations Center, Sheriff Rick Staly on Sunday lashed into County Administrator Craig Coffey and blamed him for potentially jeopardizing the law enforcement agency's accreditation and its crime-fighting abilities after county cleaning crews went through secure areas of the building without escort or the sheriff's knowledge.
The crews did so last Friday even though on Thursday the sheriff's Chief Mark Strobridge had spoken with Coffey to find out what was planned for the building so he could make arrangements for proper entry and escorts into secure areas such as records, human resources and so on. Coffey, Strobridge said, did not tell him a major cleaning was planned for the next day, nor was Strobridge contacted before that cleaning took place, either by county or by sheriff's employees.
On Thursday, Strobridge had written all employees: "This is still a secured facility and people who enter the facility must be CJIS Certified or under escort." CJIS is the Criminal Justice Information Systems, databases that may not be accessed without proper authorization. "Several locations that have further restriction to maintain state accreditation include but are not limited to, Records and Evidence." Violations of CJIS could result in fines or worse disciplinary measures from the Florida Department of Law Enforcement.
A sheriff's detective found out about some activity at the Operations Center Friday morning, and Staly discovered the place had been subjected to a "deep cleaning" most of the day, though he did not know by whom, and whether the people who'd gone in were cleared to do so in accordance with CJIS requirements.
"This continued behavior and disregard is totally unacceptable and I cannot and will not tolerate it," Staly wrote Coffey, describing himself "disappointed" that there'd not been clearer communication.
"As you may know," Staly wrote Coffey, the Sheriff's Office "is a state accredited agency and the disregard of accreditation security requirements I saw on Friday could cause us to lose our accreditation and FDLE could pull our CJIS access that would cripple our ability to solve and fight crime in Flagler County. And, your IT Director is responsible for compliance with CJIS security requirements. These actions could cause his authorization by FDLE/CIJS to be revoked."
Staly at the end of his email told Coffey he was done dealing with him, and that from here on he'd only deal with elected officials.
Relations between Staly and Coffey have been poor for weeks, but this latest development, reflected in a series of internal emails FlaglerLive obtained and some that Coffey disseminated late last week, represents what could be a tipping point, at least for the sheriff: he is dispensing with all pretenses of making nice. As an elected official with a powerful constituency, doing so turns up the pressure on Coffey and the county, who have been taking pains to present the issue as a carefully calibrated balance between legal liabilities, science and employee perceptions. But by so intently lawyering up and filtering many of its communications through its lawyers, the county has inevitably fed into a degree of adversarialism it hasn't helped by minimizing communications or framing responses in strong legal language.
"The county has gone above and beyond any legally required obligation to cooperate with the Sheriff and counsel for the various Sheriff's employees in preserving the condition of the building and making the building available for inspection," Michael Roper, the county's attorney hired to handle the Operations Center issue, wrote Coffey on Friday at the end of a three-page letter that gives Coffey legal cover for going ahead with cleaning the building. The key words in that sentence was legally required, words that skirt the political reality of the issue and the sheriff's concerns by suggesting that the county is doing the strict, legally required minimum, as opposed to going out of its way to cooperate with the sheriff or put employees' minds at ease.
Staly in his letter pointed out the irony of hiring outside counsel to dispute his request that some bores be carried out in the building to test for mold or rotten wood behind the facade, a request he implied would cost less than the county's legal bills being incurred. (The county retained Bell Roper, the Orlando firm, in June, "with respect to any anticipated litigation," according to the engagement letter, which noted: "We believe communication is essential to the attorney-client relationship and our efforts on the County's behalf." The firm is billing $180 an hour for partners, $145 an hour for associates, and $90 an hour for paralegals. A county official said today the firm had not yet invoiced the county.) Roper asked for "proof" from Staly that there was any rotten wood, an odd request since Staly is seeking to find out if such wood is sitting behind facades.
The building is owned and maintained by the county, which has authority to go in under proper circumstances. It was evacuated in June after more than two dozen employees complained of symptoms often associated with sick-building syndrome. It has remained empty since. An engineer tested its interiors and concluded that the building was safe, a conclusion sheriff's employees dispute and that Staly has not trusted enough to revoke the evacuation order. All sides–the county, the sheriff, the employees–have since lawyered up even as the County Commission has pledged (and claimed) that communications remain open, with a solution amenable to all being the only goal.
But Staly was as put off by the lack of communications from the administrator as he was by what he sees as "the push back and road blocks the county continues to use," in Staly's words, "and lack of transparency instead of welcoming a team approach to find a solution." Staly said the push-back was evident in email exchanges between the Police Benevolent Association (the sheriff's employees' union) and Coffey, in communications from Roper, and in the county's stance during a tense conference call with officials of the Centers for Disease Control earlier this month. Staly described the attorney letter as "written to the tune of a stall tactic and bureaucratic red tape."
He said the "deep cleaning" of the Operations Center, just weeks before a walk-through visit by CDC officials, is "suspect, regardless of creative writing to justify the actions."
Contacted by a reporter Monday afternoon, Coffey said he would be answering the issues raised by Staly's email in writing, and specified that the answer would be addressed to "all," including a reporter. (This story will be updated accordingly, when Coffey's answer is received.)
Sheriff's employees suspect the deep cleaning is an attempt to destroy evidence, though in a long email from Coffey to Jorge Fuentes, the union leader, Coffey used a law enforcement analogy to say that as far as preserving evidence was concerned, that was too late: "From an evidentiary standpoint the building today would not present the same building conditions that existed prior to the relocation of the Sheriff Office employees when testing was occurring," Coffey wrote. "In law enforcement terms, the scene and any testing would be compromised for the preservation of evidence due to the change in conditions alone not of the County's doing."
Although the employees' issue and that of the sheriff intersect at many points, the issues are separate in key regards. The employees are involved in workers' compensation litigation and need the evidence from the building to make their case. The issue that brought Staly to the boiling point last week is related to protocols and good faith, both of which his email say have been violated.
According to protocols proposed by Michael Roper himself in a July 20 letter to the sheriff's and sheriff's employees' attorneys, when he described the way to go through the building, "The identity of all attendees that will be present must be provided to the County/Sheriff no less than 48 hours before the agreed upon inspection date to ensure each individual receives the proper clearance to enter secure areas of the building."
Sheriff's officials received no such notification before the Friday cleaning.
According to Staly's email, county staffers contacted a "low-level manager" at the sheriff's office on Tuesday to ask about accessing the building. That would have been David Valinsky, the purchasing manager, who's often been the liaison with the county for routine facilities issues. Valinsky told them he'd get back to them, was off for two days, and was told by Strobridge to channel all building-related requests through him.
On Aug. 15, Fuentes, a sheriff's detective in addition to being a lead representative of the employees' union, emailed Coffey to ask who had "ordered/approved" a planned cleaning of the building, including carpet cleaning in the evidence area. Unspecified "Sheriff's Office employees" had been contacted, according to Fuentes, "in order to gain access to secure parts of the building, as well as to provide ventilation of the building as a whole" for the cleaning. A Fuentes email to Coffey the next day refers to Coffey telling him in a verbal conversation that the cleaning was approved by all attorneys involved. But at least one attorney Fuentes had spoken to told him he was not aware.
Within the hour of that Fuentes email, Strobridge wrote Coffey and Fuetnes about being the point of contact. The next day–Friday. Aug. 17–Fuentes wrote Coffey of going by the Operations Center and seeing a Carrier, air-conditioning repair truck outside the building and a worker working on the system. "This is supposed to be a 'transparent' process but it does not appear to be that way," Fuentes wrote Coffey. "Can someone please be transparent and inform us what is going on?"
Coffey responded in a lengthy email Friday afternoon just before the close of business. Coffey disputed that he'd ever told Fuentes that the county had to get sheriff's attorneys' approval before proceeding: "I did say our attorney released us to proceed with our responsibilities to maintain the building, based on those legal communications/activities, our inherent responsibilities and liabilities for our facility, and the recommendations of our experts as further supported by our consultations with the CDC. I did not mean to indicate that we had received or sought the concurrence of your legal counsel to properly maintain our County facility."
Coffey continued: "Accordingly, per these communications within the workers compensation proceedings and the specific guidance received from the CDC's Chief of the Health Hazard Evaluation Program, along with the professional recommendations of our experts, we are proceeding to clean the building, to make adjustments/improvements to the HVAC system and to make any repairs in the course of our ownership of the building. I might mention that a representative of your union was on that call with the CDC Chief and would have heard all of this." Coffey stressed that not acting to "address" the building could "create different civil liabilities for the County." He said the building had never been maintained "as is" since it was vacated, as it continued to be used by sheriff's personnel for training, bathroom usage, cooking in the kitchen and such. He provided a list of things cleaning, repairs and mitigation would accomplish, including a "deep cleaning" of the facility.
It's not clear what took place Friday. "Here's what I do know. I don't know if their escorts were CJIS-certified," Strobridge said. "I don't."
In the sheriff's words to Coffey: "They apparently had been in the building most of the day, if not all day, totally unescorted and as far as I know never had a required CJIS background check to be in the building. I entered the building and found every door propped open by chairs, including secured areas such as Records, HR, Finance, Investigations, supply, etc. and the inner secure lobby door also propped wide open. I do not know who opened these doors. While this may be a county building you must realize that only Sheriff's employees were relocated with their bare necessities to do their job. All other items, such as personnel files, evidence, financial records, guns, ammo, uniforms, etc. were left behind in what I thought was a secure area because there is no place to relocate these items. You and your staff have now totally compromised the integrity of the Operations Center, our files, etc. and risked our accreditation and CJIS status. I also learned that on Wednesday the exterior of the building was pressure washed. Did people access the building then also unescorted?"
The county may well have carried out its entire procedures within regulated norms–Jared Shupe, the county's and the sheriff's IT director, is CJIS-certified, as are various members of county cleaning and maintenance crews–but that still leaves the sheriff sidelined over his own Operations Center, while creating a fresh and bitter new point of contention in a controversy desperate for more clarity and cooperation.
Strobridge said it was likely that the sheriff might be either at this afternoon's County Commission workshop or its 5 p.m. meeting. Based on what the sheriff has written commissioners, copying them on email to Coffey, his appearance does not appear intended to make nice anymore than his emails.

Sheriff Staly's Aug. 19 email to Craig Coffey: