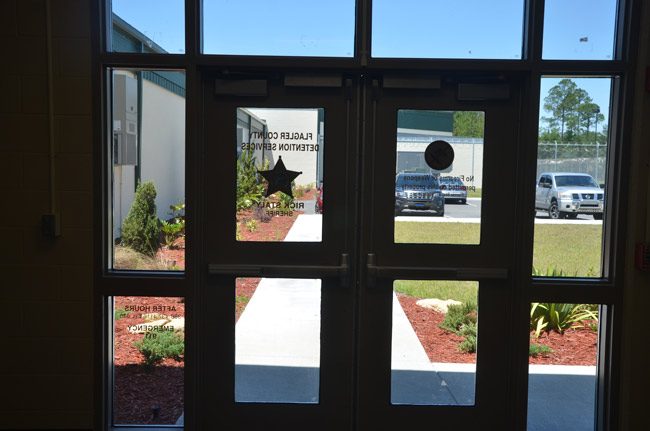 Tammy Stakes, a 23-year employee at the Flagler County Sheriff's Office who'd risen to the rank of commander until less than a year ago, when she "self-demoted" to sergeant, was demoted again to deputy effective July 2 in the latest fallout from another detention deputy reporting to work drunk.
That deputy was fired in mid-May, but the internal investigation the incident triggered found Stakes to have failed her supervisory responsibilities over the deputy and to have subsequently failed to follow through on corrective action. Other issues were also uncovered, including the denial or cancellation of recreation time for inmates for half the days in February and the mishandling of an inmate's medical issue.
As a detention commander last September Stakes was earning $80,700. The salary had been cut to $67,100 when she self-demoted. Her new salary as a deputy without rank will be $55,000 a year.
Stakes had supervisory authority over detention staff responsible for hundreds of inmates. She'd been reprimanded four times in writing and had incurred one one-day suspension over various failures to follow policy between 2010 and 2018, and placed on improvement plans in 2014 and again in 2017. Her last reprimand in mid-April resulted from a failure to show up for a mandatory training class. That was followed by counseling for improperly carrying her weapon in May.
Stakes had been a supervisor the late January morning when a detention deputy had reported to work drunk, but had taken several hours to respond to a civilian employee's concerns about the deputy before pulling the deputy off the duty line, where he'd been interacting with inmates. (That employee was suspended for 30 days and subsequently fired.) Stakes was not disciplined over that issue.
In the course of the department's internal investigation in to the matter, "potential performance issues" regarding her handling of the incident were noted, and two memos on separate issues aggravated her standing.
One of those issues was recreation for inmate, which is set out by the Florida Model Jail Standard and is followed at the Flagler jail. In February, a sergeant reviewing paperwork came across numerous inmate requests and grievances over recreation time that had been denied. Looking closer, the sergeant found that recreation time was being cancelled frequently by a particular squad. "I started looking into exactly how many days were cancelled and by whom," the sergeant wrote, according to the internal investigation. "There were twenty-eight days in February; forteen days would have been the responsibility of Sergeant Stakes' squad. Six days were canceled by Cpl. Vazquez; 4 days were canceled by Sergeant Stakes. Ultimately, it is the Sergeant's responsibility to ensure recreation is completed and Sergeant Stakes was on-duty every day in question. There were zero attempts made to make up the recreation on the weekends that her squad worked. The weekends are generally used for this purpose."
That ranked as a violation of Sheriff's Office policy, sustaining a finding of unsatisfactory or incompetent performance. Other sustained findings included a failure to follow an order, a failure to monitor staffing levels (she had not been aware that the squad she was responsible for was shorthanded on a particular day), a dress-code issue, and a "lack of situational awareness" regarding an inmate.
An inmate was reported to be acting erratically on March 4 and seemed to have been drunk, but that was 12 hours after he'd been booked in. A supervisor was told the inmate had drunk anti-freeze before his arrest. "I was not comfortable with the situation and I immediately went to medical and spoke to the on-duty nurse," a supervisor wrote. The supervisor then ordered the inmate sent to the hospital. "I then called Sergeant Stakes to my office and proceeded to question her about the situation," the supervisor reported. "Sergeant Stakes stated that she had very limited knowledge of what was going on with this particular inmate. I then stated to Sergeant Stakes, that if she spent as much time concentrating on her job as she did planning her vacation time, taking off all major holidays and personal time she would be an excellent supervisor. I then explained that her performance levels are sub-standard and not acceptable to me or this Agency by any means. I then ordered her to go back to medical and get the latest update on this inmate and make sure that he is in route to the hospital."
"Sergeant Stakes continually displays unsatisfactory and incompetent supervisory skills despite our attempts to improve her skill level," Undersheriff Jack Bisland was quoted as saying in a release issued by the Sheriff's Office this afternoon. "We trust that our supervisors are competent to do their jobs and we hold them accountable. We cannot tolerate repeated failures to follow general orders, failure to perform the duties of the job, or failure to take immediate action during a serious situation, which a supervisor is entrusted to do promptly."
The jail has had a few issues in the past two year, with four employee resignations that followed internal investigations, the firing of one deputy, and now the demotion of a former commander, all at a time when the jail's population has increased significantly.