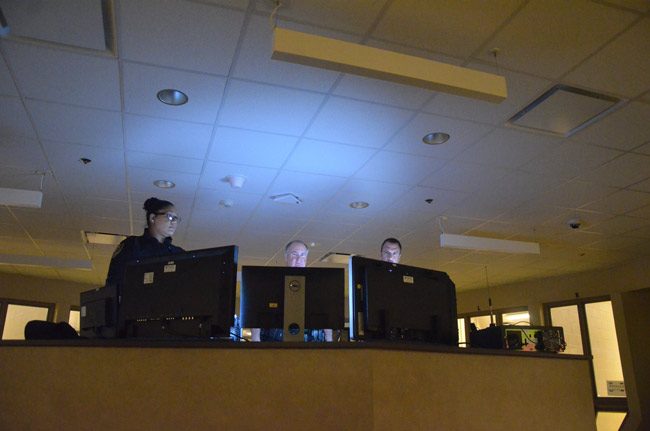 Mark Sousa, a detention deputy at the Flagler County jail, was suspended without pay for 30 days–the severest form of discipline at the agency short of getting fired–after an internal affairs investigation found he'd reported to work at the jail drunk on January 25.
It was almost four hours before supervisors pulled him off duty as he went about work and interaction with inmates while still impaired, creating serious safety and liability issues for himself, inmates and the agency, though the blame wasn't his alone: a civilian employee had alerted a supervisor of his possible impairment within minutes of Sousa arriving at work that morning. But it took the civilian repeated and insistent requests before the supervisor, Sgt. Tammy Stakes, asked her to put her concern in writing, triggering commanders' interventions and Sousa getting pulled off the line and tested for alcohol. Those tests did not take place until four hours into his shift, though they still showed impairment.
Sousa is being disciplined, but the supervisory lapse is part of a separate inquiry, the second such inquiry into supervisory lapses at the agency in the last few months, with a sergeant, a commander and a corporal all at first seeming not to react assertively when told of Sousa's issue. (The other ongoing inquiry involves, among other matters, the former supervisor of courthouse bailiffs).
The details of the latest and still-open inquiry are not known, but are focused on supervisors. As with the internal affairs investigation regarding Sousa and reports from the courthouse, the inquiries suggest there's a disconnect between an accountability-driven leadership and middle management that may at times be more lax, or protective (if not dismissive) of issues among the ranks.
The issues are smudging what until now had been a near-impeccable run of the agency for Sheriff Rick Staly, who's made clear to his ranks that he has their back, but has made just as clear that he expects them to have his and the agency's back as well by maintaining the standards he's setting. While the agency makes allowances for inevitable minor lapses–there's been several other internal inquiries and disciplinary actions that amount to no more than the usual missteps and corrections in any organization of any size, and aren't newsworthy–more serious individual or supervisory lapses are like stop-sticks in the Sheriff's two-way expectations.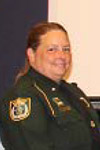 Stakes has been at the agency since 1995. She was a detention services lieutenant until January 2014, when then-Sheriff Jim Manfre eliminated the rank of lieutenant and named Stakes one of his commanders. Last November she voluntarily demoted to Sergeant and was placed on a performance-improvement plan, suggesting that there had been other supervisory issues, but that she was being given the chance to correct them.
As for Sousa, he attributed his lapse to serious personal issues but pledged to address them. "I have been in this profession for seven years and my career is extremely important to me," he said at the conclusion of the internal affairs investigation concerning him. "I am just hoping the sheriff will have a little mercy for me. This is a tough time for me but I'm getting help."
Laura Kruger is a civilian classification officer in the Flagler County Sheriff's court and detention division. She's been at the agency 14 years. At about 6:30 the morning of Jan. 29, she walked into the jail and saw Sousa in the booking area. Sousa, a detention deputy since November 2013, was standing at a computer. He'd not been able to find his body camera, which may have been used by another deputy and had not been placed back on its charger.
"I asked him if he was feeling ok because he didn't look right, he just wasn't himself," Kruger said. "He was stumbling around fighting with the computer, was not able to keep his eyes open. I asked him at one point if he could open his eyes to talk to me?" Sousa couldn't. He turned around to look at her and stumbled, according to Kruger's account of the encounter as related in an internal affairs investigation.
Kruger asked Sousa if he was sick. "No I was out drinking all night and I might still be drunk," he reportedly told her. She asked him to repeat himself. He chuckled and left the booking area. Deputy Colin Haggerty, who was also in the booking area, took Sousa's comment as a joke, and his stumble as something more like tripping. Stakes was also in the booking area. When Kruger told Stakes of the exchange, "she didn't really react," Kruger said, "so I left the booking area."
Stakes remembered it differently. "You better run an Intoxilyzer [test] on him," she recalls Kruger telling her of Sousa. "I was kinda like, really?" But she said she'd already told Sousa he'd reported to work late, and after Kruger raised the concern about drinking, Stakes stepped close to Sousa, trying to smell any alcohol on him. She did not detect any. She said she grabbed the Intoxilyzer and took it to her office, where she informed Louis Miclei, the deputy detention commander, of her conversation with Kruger.
"He says look," Stakes reports Miceli telling her, "if she says something again let's get it in writing, and I said ok."
Neither Miceli nor Stakes, it appears, confronted Sousa or themselves re-approached Kruger, but waited on Kruger's next move, in essence letting pass a potentially ongoing safety and liability issue with a working employee, letting time pass that would prove critical in accurately assessing the potential impairment of the employee, and placing the burden of raising the issue again on another subordinate, which may or may not have happened.
---
It took an employee's repeated insistence for supervisors to intervene, four hours into the deputy's shift.
---
It did. at 9:30 a.m. Kruger and Sousa crossed paths again. Sousa still appeared out of sorts: "He was kinda using the wall as a guide and wasn't keeping his eyes open," Kruger said. No words were exchanged. Kruger headed for Stakes's office and again asked her if anyone had checked out Sousa for his fitness for duty. Cpl. William Vazquez, a detention deputy, was in Stakes's office. He'd seen Sousa just after 6 a.m. before Sousa went into a cell block to do a head count. He hadn't noticed anything unusual about Sousa at that point.
Vazquez and Stakes both looked at Kruger without reacting. Kruger pressed again. Only then Stakes asked her if she was willing to put it in writing. Krugar was. She would later tell an investigator that she'd been upset by Stakes's slow reaction, having expected Sousa to have been pulled off the floor after she'd voiced her initial concerns. "I wish I was wrong but you're not going to get someone hurt," is how she saw it. Vazquez would later tell an investigator that he did nothing because Stakes "led me to believe that she's on top of it and handling it."
Once Kruger's statement was in writing, Stakes had Sousa do "busywork" in her office until Undersheriff Jack Bisland, Miceli and Human Resources Director Renina Fuller spoke with Sousa and asked him if he was intoxicated. He said he'd been drinking the night before, but did not believe he was impaired. He was taken to be alcohol-tested. Two tests were conducted—at 10:01 and 10:03 a.m., or four hours after Sousa had reported to work. The results were 0.096 and 0.093, according to the internal investigation.
"What does a 0.93 indicate to you?" Detective Randall Doyle, the internal affairs investigator, asked him. "Above the legal limit," Sousa responded. "Detective Doyle then suggested that he had the test been administered at (6 a.m.) the results would have been significantly higher and Deputy Sousa concurred," the investigation report states. "Detective Doyle clarified the safety issues involved with him performing his normal duties and interactions with inmates while in the identified condition he was in at the time. Deputy Sousa acknowledged that the totality of the situation was extremely unsafe."
"Did Corporal Vasquez ever ask you if you were alright or if you were intoxicated?" Doyle asked Sousa.
"No," Sousa replied.
"Did anyone other than Laura Kruger ask you if you were intoxicated?"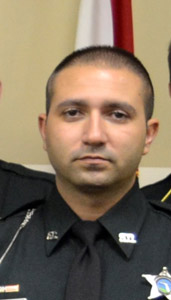 "No."
"It was at this time," Doyle concluded in a part of the investigation as indicting of the supervision at the jail as it was of Sousa, "that I identified how serious this situation had become due to the time that had elapsed after Ms. Kruger's initial concerns being brought to Sergeant Stake's attention. Deputy Sousa advised that he fully understands the concerns as well as the scope of all that was involved." (The investigative report refers to Kruger as "Krugar" throughout.)
Sousa explained in wrenching personal details the issues he'd been dealing with involving his ex-fiancee, and on two occasions appears to have become emotional. "People all think my life is all fine and dandy but it's not," he said.
For the infraction, which the investigation sustained, Sousa could have faced termination. Instead, he was suspended for 30 days, or 168 work hours, and removed from the jail's Corrections Special Operations Team, or CSOT, the jail's equivalent of a SWAT team. He was allowed, as by sheriff's policy, to give up 84 hours in accrued vacation leave to account for half his suspension. Thus he worked through Tuesday, with his actual suspension away from the job scheduled between March 28 and April 10, when he will also be without badge and weapon.
Sousa has no other disciplinary issues on his record. In 2014, he was severely injured after losing control of his motorcycle on Palm Harbor Parkway the morning after July 4, at 1:34 a.m. He was off-duty, and was not alcohol-tested at the time. The Sheriff's Office conducted that investigation. The severe injury to his leg has caused the "bad leg" he refers to in the investigative report, and to which he attributed what Kruger had seen as a stumble that January morning.
Doyle's investigative report does not more directly address the supervisory issues at the jail, as those were not part of the scope of his investigation. But Chief Mark Strobridge acknowledged: "Yes there is an issue there, and it's being followed up," he said, saying–without specifying the supervisors' names that "there is an inquiry into their conduct" with "additional internals going on." That suggests the inquiries may be full-fledged internal affairs investigations rather than mere inquiries. Sheriff Rick Staly, Strobridge said, "is very adamant about holding people accountable for their actions."
He said there is no systemic issue with supervision in the agency, but there is an ongoing initiative to review the supervisory structure to ensure accountability. In both instances of recent supervisory issues–at the courthouse and at the jail–the structure was that inherited by the current sheriff, Strobridge said.
Mark Sousa should not be confused with Cpl. Paul DeSousa, an 11-year veteran and the training director at the agency, who is not at all involved in any of these matters.


<![if !IE]><![endif]>