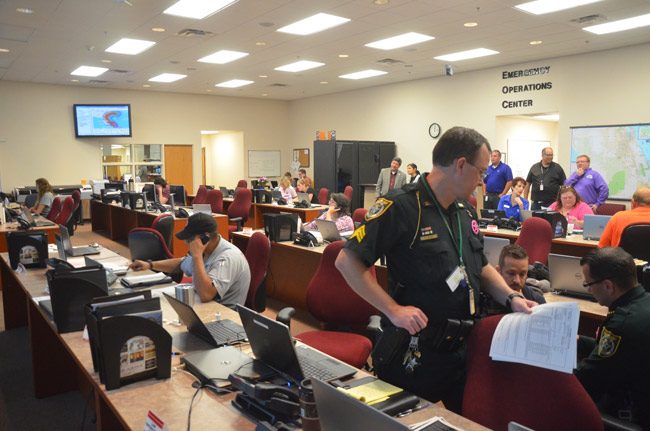 Even as Gov. Rick Scott was arriving for a surprise visit to Flagler County's Emergency Operations Center to hear how the Hurricane Matthew crisis was handled and how things could be improved, a key member of Flagler County's emergency management team had just gone through a hearing in the building next door after learning that she was being fired.
Jennifer Stagg, 38, is the senior planner of preparedness who's worked for three emergency managers at Flagler County's Emergency Management division going back to July 2010. Last week Steve Garten, the current emergency services manager, told her he was firing her. The causes against her include alleged tardiness and absenteeism (the list is not short), inappropriate language in the presence of  incident management team members and insubordination.
Stagg's only comment for this article was one line: "I love my job. I love my county." Like county officials, she said the matter is pending, so she won't address it publicly.
Garten would not address the Stagg issue, either. "That hearing is ongoing right now so it won't be talked about," he said. Asked about Stagg's service, he said he could not speak about it.
People familiar with her case say she doesn't dispute occasional tardiness and some absenteeism but calls them neither unexcused nor unjustified (she's had medical issues, some of them apparently caused by overwork). They say she considers the rest of the charges against her unsubstantiated and unjustified, if not trumped up, in the context of a career devoted to emergency management locally and a history of acclaim from colleagues and supervisors and other members in the community, including Community Emergency Response Team members she was responsible for training in Planation Bay and Grand Haven.
Stagg's firing has been causing an uproar, organized in large part by her former supervisor, Kevin Guthrie, who had been Flagler's emergency services manager until he took the emergency manager's job in Pasco County in February. Guthrie's tenure in Flagler was universally highly regarded, and county commissioners, the sheriff and municipal officials saw his departure as a loss, though the staff he left behind remained intact—until Stagg's firing.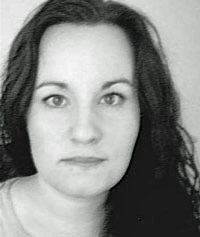 Guthrie drew on that capital to bring attention to Stagg's firing, which he says, based on his experience, is unjustified and damaging to the county's ability to handle emergencies. Guthrie unequivocally says that the county would have been worse off had Stagg not been at the heart of the Hurricane Matthew management team (she was, for example, responsible for securing an incident management team from elsewhere in the state to come to the county's aide when the hurricane was expected to unleash a direct hit on the county.)
He called the firing "the most shocking news I have heard in probably 27 years of public safety." Guthrie Saturday took to Facebook—a medium he'd mostly ignored until then—not only to speak his outrage at the treatment of his former employee but to mobilize support on her behalf.
"I don't live in Flagler anymore but ladies and gentlemen who live in Flagler county, enough is enough," Guthrie wrote. "There is not a single EM [emergency management] staff member who works for Flagler county EM who has more response and preparedness experience than Jennifer Stagg – including the Director. If Jennifer Stagg did something to ensure your safety during Hurricane Matthew I implore you to show up for her disciplinary hearing" this morning, before Deputy County Administrator Sally Sherman.
Thirty-one people did, including several members of the emergency response teams at Plantation Bay and Grand Haven, and including Guthrie, who took time off from his job across the state, to testify on Stagg's behalf. County Administrator Craig Coffey this afternoon described the campaign as "a circus" organized by Guthrie.
Starting just before 11 a.m. today Stagg went through a so-called "pre-disciplinary hearing for intent to terminate." The hearing started almost an hour late because the county administration had never been faced with an employee turning up to defend herself with that many witnesses. And when it did start, Garten spent almost an hour reading line for line the allegations against Stagg—an attempt, Guthrie said in an interview this evening, "to filibuster so that many of the community members that came out to support Jennifer during this time became frustrated with the process and went to a point where they were going to write their statement and email them in to the hearing officer and [County Human Resources Director] Joe Mayer because they were not going to have the opportunity to stay around all day long. They still have a life."
It worked: several people left, writing statements instead, while the hearing itself was stopped before 2 p.m., with the governor approaching. Sherman said it would resume Wednesday morning at 8 a.m. and extend just 90 minutes—an inappropriate limitation, Guthrie said, when a person's job is on the line. He'd been in the middle of his own testimony when the hearing was continued.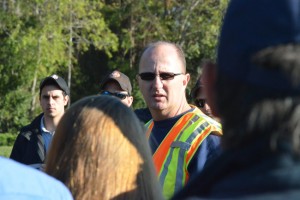 County Administrator Craig Coffey would not discuss the Stagg firing today. "It's normal employee procedure," Coffey said. "We don't typically talk about employee-disciplinary actions." He said she will get to appeal the hearing's outcome to him if she so chooses, but her next avenue of appeal would not be the county commission, but court.
But the Stagg issue appears to be only a small part of a larger problem at emergency management, where Garten tried to fire at least one other employee a few weeks ago, and was rebuffed by Mayer, and where Garten himself has been counseled by Mayer to tone down his apparently abrasive manner with employees—women in particular—in one of the county's smallest departments: what anyone says there reverberates loudly.
One of the division's employees spoke up on her own Facebook page Sunday in yet another unusual move: "For the first time in my life I've complained to a commissioner in writing," Laura Nelson, an emergency planner who secured over $1 million in grants for the county just last year, wrote. "The things that have gone on in the last 6 months really pretty inexcusable in my book. I'm tired… Like so, so tired… both physically and mentally. If something doesn't change soon the boss will get his wish and all the women under him will find new jobs."
Guthrie in the interview this evening acknowledged that he'd had to verbally warn Stagg about her issue with lateness, but that subsequently worked on a schedule that best enabled her success at work, and never again had an issue with her punctuality. He saw the sick leave issue as contrived against her.
When other witnesses heard the list of allegations against Stagg this morning at the hearing, many gaped, and some did not wait their turn at the hearing to respond publicly, including Sally Gillies, a member of the Plantation Bay emergency response team.
"I was just shocked," Gilles said. "It's the dumbest thing I ever heard of. I was a small business owner for 14 years. I would have loved to have had 10 employees like Jennifer. She is a rare find, totally dedicated, smart, she likes to plan ahead, she's really good with the people like us. We're just volunteers, but she has a great working relationship with the fire department and the police department and everybody is coordinated." Gillies, who is retired, has no relationship with Stagg other than as a  member of the emergency response team.
"To me, as a small business owner," Gillies continued, "the idea of a manager doing something like this to a very valuable employee makes me wonder about the character of the manager. Is he afraid because she is so well qualified and she knows how to do all these things? Does he dislike women intensely? Does he not want any of them around? There's all kinds of reasons." Gillies did not get to testify. She ended up writing an email to Sherman, echoing some of the statements she'd made in the interview.
Guthrie said that while a time limit on Wednesday would be a problem, Sherman had been conducting "a fair hearing, and I'm confident that she can remain objective and listen to both sides of the argument."
But, he said as an example of how Stagg's loss could cost the county, he said her presence at emergency management is critical to ensure that the county gets fully reimbursed from the Federal Emergency Management Administration following Hurricane Matthew. "To get rid of her at this critical point will cause the county to lose reimbursement funds that they expended during the response," he said. "Why now, at such a pivotal point in the history of Flagler County do they want to make this case against her? I think it's a bad idea. She has the most experience and knowledge than any other person in emergency management to include the director." He added: "There are those in administration who don't understand the value of employees."