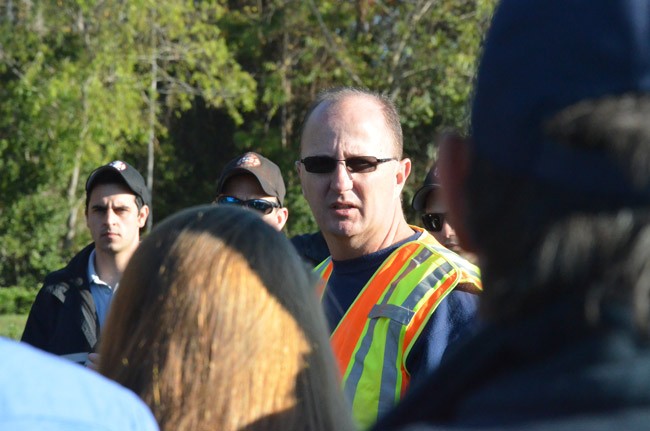 Sunday evening Kevin Guthrie, the county's much-regarded public safety emergency manager since his arrival from Jacksonville in the fall of 2013, was the emcee at a countywide awards ceremony for first responders and others in public safety. Monday afternoon, he sent an email to the county's first-responder community, announcing his resignation.
"About a week ago I advised Mr Coffey that another county wanted to speak to him about hiring me as their EM Director," Guthrie wrote, referring to Craig Coffey, the county administrator. EM is emergency management: Guthrie has been, in effect, the emergency management director in Flagler, but not officially so: the county administration bristles–and hurries requests for corrections to local media–when he's referred to as the EM director.
"Late last week I received a tentative offer, pending their BOCC appointment, for the EM Director." Guthrie has been offered a $90,000-a-year job as the Emergency Management director in Pasco County, which has a population of 465,000. The decision must yet be ratified by the county commission in Pasco, next week.
Money was not the issue, Guthrie, who earns $82,700 in Flagler, said. Nor has he closed all avenues of conversation, though it appears that no such conversations will be forthcoming from the county administration. "I'm always open to conversation," Guthrie said in a brief interview, when asked if he'd made up his mind for good. "Money is not a motivating factor in my life. It's more about us committing to process and policy and procedures and actually talking, getting feedback."
From the administration's perspective, however, there is no intention to pursue Guthrie further.
"Right now we have accepted Mr. Guthrie's resignation," Sally Sherman, the deputy county administrator, said late Monday afternoon. "It was wonderful working with Kevin and getting to learn from his experience over the past two years. We also appreciate his generous offer to continue to work with us I think until Feb. 26." But, Sherman added, the county was also "excited that he did get a position that elevated him, and at the end of the day it bids well for our organization when a team member can advance, even when it's somewhere else. We truly wish Kevin the best in his future endeavors." Sherman said Guthrie's salary had increased from around $65,000 to his present salary in just two years.
"When someone has made a decision you have to respect the fact that they made a decision," Sherman said.
Last summer, when county Airport Director Roy Sieger announced his intention to take a job in Hillsborough County–what would also have been a promotion–the county worked hard to change his mind, and succeeded. There are no plans to do likewise with Guthrie, whose reputation extends more broadly than the airport, which underscores what some elected officials say but only privately: that there was mutual frustration between Guthrie and Coffey–Guthrie not being given sufficient leeway to do his job while Coffey found him less malleable, less controllable.
Guthrie said that when he initially talked to Coffey about his decision, Coffey "said he was disappointed, he said he was upset," and said he wished he had one to three more years with Guthrie. But there was no effort to query Guthrie about what might keep him in Flagler–the sort of question Commissioner Nate McLaughlin wants to pose to Guthrie.
"I do want to talk to him to see if there's something we did wrong," McLaughlin said. "I'd kind of like to know because he's a good hire and a good manager over there."
All commissioners had learned of the resignation either before today's meeting or between the regular meeting and the workshop (some were told between the two meetings). But the matter was not discussed openly at either meeting, though Guthrie was there to talk about the county's 911 system.
"I know he was interested in taking on additional responsibilities here in Flagler and they just did not develop," County Commissioner Charlie Ericksen, who was not happy with the resignation, said. "There was talk of him possibly taking over the responsibility above Don [Petito] in the fire department, that Don might be a direct report to him and the two of them would work as a team to take care of that particular area of the county."
"I'm going to miss the man because I thought he was an up and coming person in the county and he certainly made a difference for the short time he was here," Ericksen said. "He put his head down, went to work and cleaned up some of the difficulties we had when he first showed up and put us on track that if an emergency occurred in Flagler County. He'd be all over it. His people were trained that way. He added some good people, and got rid of low-performing people, and got us back to a county with a good reputation."
The resignation worried Ericksen because it takes place as the latest in a series. "I'm not happy with the fact that we've lost good people," he said. "You'd have to go back to, did Craig take all the necessary steps to prevent all this from happening, and I think the answer is, he probably could have taken some different steps."
Guthrie has been a stickler for written policies and procedures, emphasizing inter-agency cooperation to a degree not seen in many years here. He was brought in in response to pressure from fire chiefs and the sheriff to give emergency management a structure it had lacked. He enacted that cooperation–or attempts at cooperation–through large-scale drills involving numerous local agencies. He played a key role in developing a mass-casualty simulation exercise involving fire departments, police and Florida Hospital Flagler in December 2014 and the active-assailant exercise at Flagler Palm Coast High School last June, which produced an extensive report exposing certain flaws in the county's command structure.
Guthrie also took the lead on moving or upgrading the county to a network of communication towers to buttress the emergency communications system, and engaged the business community and officials across jurisdictions to systematize what had been a largely improvised or untested infrastructure of emergency response in case of large-scale disasters.
Other commissioners were disappointed. "I've always liked Kevin and thought Kevin was the guy to make the effort to cross the bridges that seemed to have been burned between the city of Palm Coast and Flagler County, and it's not going to happen now," Commissioner Frank meeker said. "I liked his professionalism, I liked his work ethic. I thought he was very knowledgeable." Meeker recalled the time when, immediately after the tornado that struck Palm Coast in December 2013, a few months after his arrival, Guthrie headed over to Palm Coast where–as Meeker recalled it–he was asked by Palm Coast officials if he was there to "take over." Guthrie said he was there to extend help if it was needed, not take over.
"That's what I wanted to see, what I liked," Meeker said.
"I know that Kevin came from a much larger community and it sounds like he's moving to a larger community, maybe Flagler was too small for him, I don't know," Commissioner Barbara Revels said. "I know he brought us a long way and he's laid a good blueprint for getting our certification, and I think we'll be in good hands following that blueprint." Revels said that control may have been an issue–that Guthrie likes being in control, as emergency directors tend to do, and that the offer in a larger setting would enable that.
Commissioner George Hanns, for his part, was unperturbed by the resignation, saying he'd never hit it off with Guthrie. "He was doing a good job but he didn't in my opinion keep the commissioners in high regard as far as keeping us in the loop during emergencies," Hanns said. "But yet we're the ones responsible if something goes wrong." While he liked the job Guthrie was doing–and it would leave a void–Hanns said the division is in good hands even without Guthrie. He cited Bob Pickering, the weather specialist, as an example.
Nevertheless, the resignation was a shock even to Hanns. "When you're at home and everything is going good and you get a phone call, and oh my god, what's going on now? It's kind of like that," Hanns said.
Jason DeLorenzo, the Palm Coast City Council member who just declared his intention to run for the county commission, called it "a very disappointing loss for the county," and one that'll be difficult to replace.
Guthrie's strongest base of support was within the emergency services, from people who saw his work on a regular basis. One such veteran firefighter-paramedic, who asked not to be identified for fear of reprisals, said: "Guthrie was the only person in Flagler County to bring together all police and fire agencies for training and camaraderie. We have never had the amount of inter agency training as we have in last two years. Last night we had a fire EMS law enforcement and hospital personnel awards dinner. Never would have happened without Guthrie. He is a true team builder."