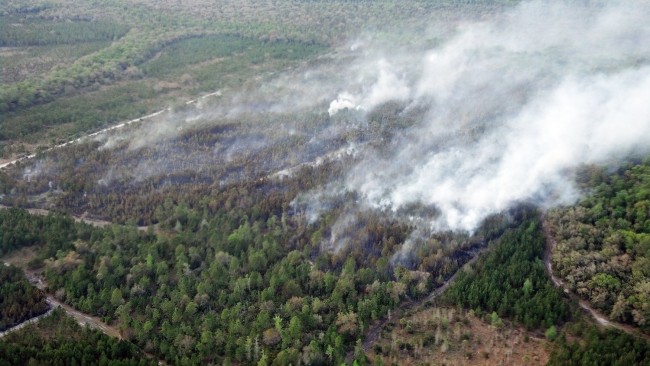 A wildfire started in the pine and cypress forest southwest of Bunnell on Saturday, burning 130 acres, and consumed another 70 acres Sunday, creating Flagler County's largest fire to date this season. The fire is still burning, Flagler County Fire Chief Don Petito said, but after jumping fire lines over the weekend, it appears to be holding within them for now.
Fire activity generally doesn't kick up until afternoon, when nighttime humidity has dissipated and winds have kicked back up.
The fire is located about three miles southwest of Bunnell, roughly one mile west of State Road 11, south of Black Point Road, mostly on land used by Mud Muckers ATV park, which stretches for about 19,000 acres. The fire is nowhere near homes or other structures, Petito said. Nevertheless, residents south and west of Bunnell are urged to remain informed and vigilant about fire and wind conditions, which can shift quickly and dangerously.
The Route 11 fire has been keeping fire crews busy since Saturday, with two engines, two tankers and two woods trucks from Flagler County Fire Rescue battling it Saturday, along with a unit from the Bunnell Volunteer Fire Department and units of the Florida Division of Forestry, whose bulldozers are digging lines.
Flagler County Fire Flight, the emergency helicopter, was also in the air most of the day Saturday, dropping water on the fire. At noon, Flagler County Fire Flight was in the air again on a fire-reconnaissance mission. It flew over the Mud Muckers land, then over the Mondex and Flagler Estates.
"We're hoping to get this rain they keep telling us we're going to get," Petito said. "I've got my eye on the radar but I don't see anything coming yet." Severely dry conditions have pushed the drought index in Flagler County to 478, out of a possible 800, with 800 signifying driest conditions and zero signifying saturated grounds. (See a full explanation of the drought index.)
No rain is in the forecast for much of the day. There is a less than 30 percent chance of scattered showers later.
Statewide so far this year, there's been 1,090 wildfires in Florida. They've burned 20,431 acres, with serious fires in the region flaring up in Volusia County. Until Saturday, the most severe fire in Flagler County blazed up in Beverly Beach Thursday, where it damaged two beach-side homes and burned a few acres of palmetto brush around them, and just west of State Road A1A.
A prescribed burn started by the U.S. Parks Service last week at Faver-Dykes State Park, just north of the Flagler County line, also jumped its lines over the weekend, burning enough to shroud the northern area of the county (and the southern portion of St. Johns) in smoke. Flagler Fire Rescue is monitoring that fire, in case it crosses Pellicer Creek into Flagler County.