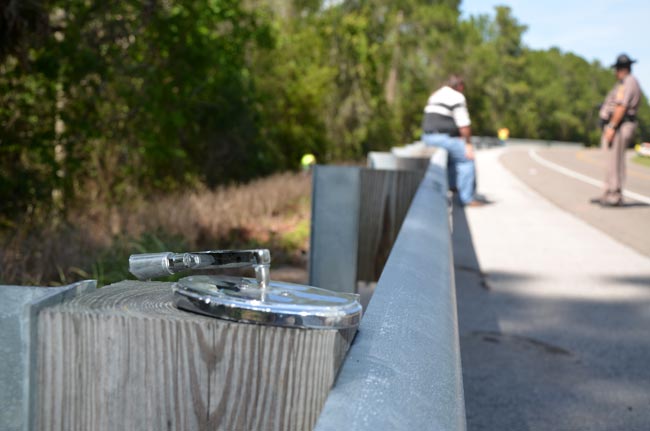 A single-bike wreck on State Road 11 south of Cody's Corner left a woman with a severed left arm and her fiancee, who was piloting the bike, with various fractures Tuesday afternoon. The wreck, the third in five days on Flagler County roads, closed SR 11 for about 45 minutes from 2:30 to 3:15 p.m. as two helicopters were called in. Neither was used. Both victims were taken by ground to Halifax Hospital.
The couple–Fred Moxham III, 35, of Warrenton, Va., and his fiancee, Brooke McCabe, 34, of Fredericksburg, Va.–was riding as part of two groups of a total of seven motorcycles, heading south on SR11 to New Smyrna Beach. The groups were a motley crew from various parts of the country–Holly Hill, New Jersey, Virginia. Moxham's father was in a bike further ahead. He noticed at some point that his son's Honda was no longer visible. He turned back only to happen on the grisly scene.
According to the Florida Highway Patrol, Moxham was riding his Honda south when he began negotiating the sharp curve some four miles south of Cody's Corner. For an unknown reason, Moxham was not able to take the curve and scraped instead against the guard rail on the right side of the road, going south. His fiancee was catapulted off the bike after hitting the guard rail, falling into the ditch about six to eight feet below road level. Moxham himself was ejected from the bike a few feet further down and came to rest on the asphalt, straddling the shoulder and the south lane of the highway. The bike kept scraping down another 10 feet or so, finally resting on its side.
The bike sustained little damage: it looked shiny, purple-blue, barely scraped, and upright by the time authorities arrived at the scenes: members of the biking group had put it back up, fearing a fuel leak and a fire. Its riders were not as lucky.
McCabe's left arm was severely injured and may not be saved, authorities said. (It was subsequently reported, but not confirmed, that the arm was saved.) Moxham, who has been riding since he was 15 or 16, his father said, had less serious injuries. Neither appeared to have life-threatening injuries. Florida Highway Patrol troopers scoured the area for helmets, but did not find evidence of any. FHP Trooper C. Conrad's crash report subsequently indicated that "helmets were not in use in this crash." It also nortes that charges are pending further investigation, and that alcohol was not a factor.
Traffic on the highway resumed normally at 3:30 p.m.