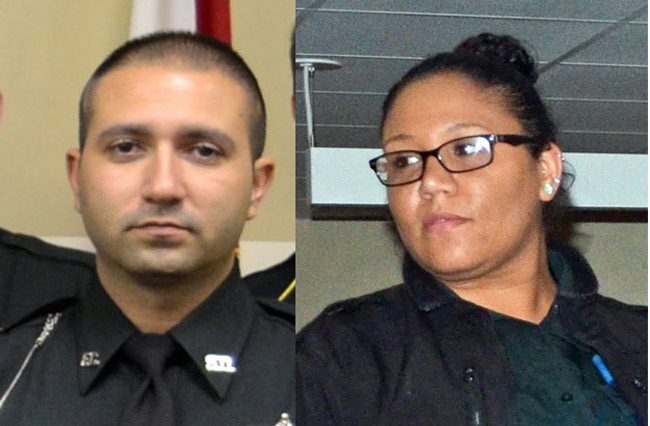 The Flagler County Sheriff's Office fired detention deputy Mark Sousa two weeks ago after Sousa violated the terms of his six-month probation. He'd nearly been fired in March after an investigation found he'd reported to work drunk, but was severely disciplined instead and given a chance to save his job.
In March he was suspended without pay for a month, removed from certain choice duties, required to serve six months' probation and submit to random drug and alcohol testing. But the Sheriff's Office discovered a picture of Sousa drinking in a bar and making a gesture the agency interpreted to be obscene.
According to an internal investigation report completed the day of Sousa's firing, fellow-detention deputy Laura Gadson had posted the March 28 picture on Instagram, featuring herself, Sousa, and two other detention deputies at Farley's, the bar at European Village. The picture was taken just hours after the article about Sousa's suspension had appeared (with Gadson coincidentally featured in a picture at the jail, alongside Sheriff Staly). Gadson told a commander investigating the matter she did not think the picture "would not be or that it would be an issue." She'd been under the impression that her Instagram account was set to private. It wasn't.
The hashtag was #NoLeoLeftBehind, after a shirt Gadson was wearing that night. "Detention Deputy Mark Sousa is pictured with a glass in his hand that appears as alcohol and his middle finger pointed up resting on his chin," the report states. The middle finger on the glass was also extended. It was Sousa's birthday, or at least the celebration of his birthday. Other deputies there confirmed to an investigator that everyone was drinking alcohol. Sousa subsequently told an investigator the apparent gesture had not been intentional. "I can see how it can be perceived the wrong way now but it really had no meaning whatsoever, we were all joking around the whole night and silly poses and stuff," Sousa told an investigator. He described the gesture as an inside joke, more as scratching one's chin rather than flipping the bird.
A Sheriff's Office policy requires deputies to uphold agency decorum even when their images appear on social media, "and that any comments, activity or behavior that could bring discredit or create an unfavorable view of the agency, individual or administration may not be protected speech and could subject you to disciplinary action up to and including termination." The policy is overly broad and undefined for a public agency, and as such may not survive a court challenge–as a federal appeals court ruling in a similar case suggested less than two years ago. Private companies have far greater leeway to impose speech restrictions, but so do public agencies, if on narrow grounds, and both do so routinely.
It's not clear how Sousa's gesture brings discredit on the agency as opposed to, say, the photographer, or Sousa's friends, or the bar. But the investigation's finding is unequivocal: the picture, the investigation found, "does perceive offens[ive] behavior that discredits the Flagler County Sheriff's Office."
Laura Kruger, a civilian classification officer in the Flagler County Sheriff's court and detention division and a 14-year veteran of the agency, had been at work the morning of Jan. 29, when Sousa walked in at 6:30, and she first noticed something was off about him. She then concluded he'd been drinking. It took some persistence with Kruger supervisors but she eventually got them to take action. The supervisors concluded Sousa had come to work drunk, and issued the disciplinary measures.
Gadson, employed at the Sheriff's Office singe April 2015, subsequently sent Kruger an email, calling her a "Okay Great Rat," then said it'd been a typo generated by autocorrect: she'd only meant to say "Okay Great" in reply to a work email. She apologized to Kruger twice in writing and once in person. Kruger did not report her, though supervisors found out about it and questioned her. Her explanation was accepted and a finding of violation in that regard was not sustained. But the charge of unbecoming conduct was sustained over her posting the image on Instagram.
Sheriff's policy also addresses alcohol. Employees are not prevented from drinking off-duty, but they are required to refrain from drinking "to the extent that it results in offensive behavior which discredits the agency, or renders the personnel unfit to report for their next regular tour of duty."
The violation would normally result in a minor disciplinary issue. But since Sousa was on probation, it was grounds for termination, and he was fired.
"This is an unfortunate situation and I am extremely disappointed in his actions," said Undersheriff Jack Bisland. "This employee was given a second chance by Sheriff Staly to turn his life around and it is truly a shame that he decided to throw his career away. We will not tolerate employees that chose to bring dishonor and discredit to the Sheriff's Office or tarnish the badge."
The agency issued a release on the disciplinary actions this evening, immediately after 5 p.m., as it was the last day when Sousa could appeal his firing.