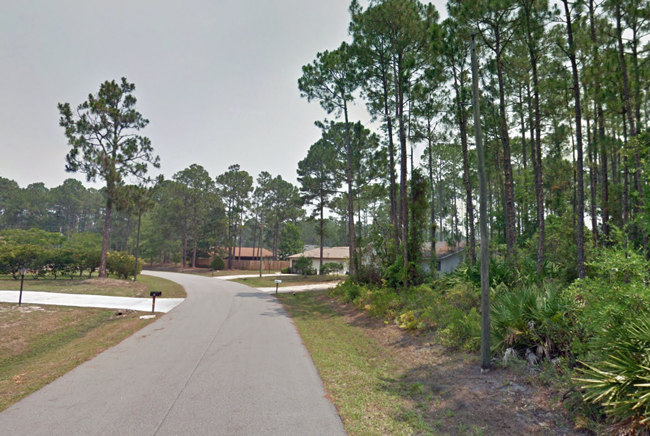 Update: Sophia Zhudro entered into a pre-trial intervention agreement, which she completed satisfactorily, leading to all charges against her being dropped as of Oct. 20, 2014.



The 30-year-old mother of a 15-month-old girl was arrested on Jan. 24 on a charges of marijuana possession and child abuse over a minor pot possession. As she was being arrested, Sophia Zhudro, 30, a resident of Beuford Lane in Palm Coast, said she was shoved and pulled by cops while her child, who, according to Zhudro, screamed for 20 minutes during the search and arrest, was traumatized and turned over to the Department of Children and Families.
At the Flagler County jail, Zhudro said she was denied a phone call and given a faulty pin number, and would not have been able to call out had it not been for another inmate's pin number. DCF almost immediately returned her child to Zhudro's mother—with no signs of abuse—while Zhudro herself bonded out the following day.
During the ordeal, Zhudro protested that the arrest was unjust, and that it was a matter of time before Florida would legalize recreational use of marijuana. A proposed constitutional amendment to legalize medical marijuana will appear on the Nov. 4 election ballot, but the legalization of recreational marijuana is not yet on Florida's horizon.
That aside, the arrest on a quiet residential street points to an unusually brutal use of force by four deputies over a minor charge, and in the presence of an infant.
A Flagler County Sheriff's deputy noticed Zhudro's car just south of Beechway Drive, on Beckner Lane—a few blocks from Zhudro's home—parked on the residential street opposite a wooden lot, with the window open and the door slightly ajar, according to a police report. It's not clear how the car was, according to the report, "illegally parked," as it is not illegal to pull off on a residential street where "blocking" traffic is not likely, when traffic is extremely light and there is no emergency. Nevertheless, the car's position prompted the deputy to intervene.
Zhudro says she was in the grass, parallel to the wooden lot, and that her door was not ajar. Her window was cracked open a couple of inches. "The car was not parked illegally, it was not in the middle of the road, it was on the side of the road," she said in an interview Wednesday afternoon.
The deputy smelled pot emanating from the car, and noticed an infant in the car seat. Zhudro was detained in the deputy's cruiser, "for officer safety," according to the report, then spoke with deputies while her car was searched. She was given the child to hold during the search, according to the report.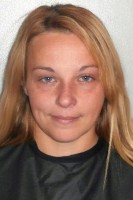 That's not how it went down, Zhudro said. "He went and searched my car for 20 minutes and had my baby strapped to the back of my car for 20 minutes, crying," Zhudro said. It was only because the child was terrified that the deputy finally had her unstrapped and turned over to her mother in hopes that she would calm her down, Zhudro said. Those details are not in the police report.
An orange and black marijuana pipe, less than 20 grams of marijuana wrapped in a clear plastic bag and a blue lighter were recovered from in or near the car seat.
Zhudro was then told she was under arrest and asked to hand over the child. Zhudro refused, moving, according to the police report, to the center of the rear passenger seat of the cruiser to keep the cops from taking the infant. According to the report, she eventually agreed to exit the car.
That, too, is untrue, Zhudro said. She said one deputy shoved her from one side and another grabbed her arm from the other, forcing her out of the car—a detail not in the police report.
It is almost routine that, between the word of a police officer written in a police report and the word of a suspect, the word of a police officer will be taken as true or valid, and that of the suspect as not, regardless of the actual truth. It is also well documented that police officers will sometimes lie even under oath to protect their case. Arrest reports are written with such certainties in mind.
With the four deputies intervening, Zhudro said, her child was pried from her hands. "Oh my God, she was screaming the whole time, she couldn't even breathe," Zhudro said.
"Ms. Zhudro," her arrest report states, could not understand what she did wrong, or why she was being arrested. Ms. Zhudro acknowledged that she knew marijuana use is illegal in Florida, but thought that the arrest was unjust as it was just a matter of time until the state of Florida legalizes its recreational use. Ms. Zhudro stated that she didn't feel she was putting her child's life in any danger by smoking marijuana and operating a motor vehicle, or smoking marijuana with her infant child."
In fact, there is little evidence tying recreational—as opposed to "acute"–use of marijuana to traffic hazards. And only one study's conclusion that "acute" smoking could impair driving concluded that the acute smoking had to have taken place within three hours. Zhudro was arrested at noon. She told police she had smoked in her car at 7 a.m. There is also comparably little to no evidence indicating that smoking marijuana in the presence of a child carries the second-hand smoking dangers of the far more frequent, accepted and legal smoking of cigarettes in the presence of a child. But Florida law makes no such distinctions and cops are required to apply the law even when their judgments may compel them to do otherwise.
Yet the arrest affidavit does not explain the child-abuse charge other than by way of a dot-connecting assumption that relied more on the deputies' subjectivity–and judgment–than on law. What abuse or trauma to the child may have taken place was likelier the result of the child being pried away from the child's mother, as described in the affidavit, than by the mother's actions by the side of the road.
Zhudro admits to having "barely a gram" of marijuana in her possession, but said she would "never smoke with my baby in the car," and wasn't smoking that day. She'd pulled over, after returning from Publix, to pry open a snack for her child.
Zhudro was charged with marijuana possession under 20 grams, possession of drug paraphernalia, child abuse, and resisting arrest without violence. She was released on $2,000 bond. Her daughter, she said, cried for two days, but is calmer now.
Unemployed for now, Zhudro has an 8-year-old son who attends third grade. She said an attorney told her he would take her case for $5,000, a sum she cannot afford.
"This is very wrong, and I have every intention of suing them for this," Zhudro said of her arrest.