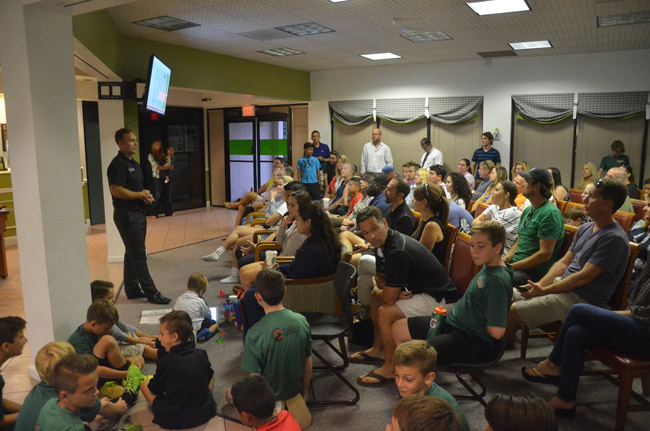 The focus on the future of the Belle Terre Swim and Racquet Club has been on a community group formed mostly of long-time members of the club and senior citizens. That group's leaders say they can take over the loss-plagued club and run it for the Flagler County School Board, which owns it, by rebuilding the club's membership and using volunteers to defray personnel costs. That's the direction the school board appeared to be heading at a workshop last week.
But it's not the only direction. With an Oct. 20 deadline looming for Superintendent Jacob Oliva to submit his recommendation to the school board—and a school board eager to make a final decision on the fate of the swim club–a high-intensity soccer academy that also operates as a school for some 60 homeschooled students is making a serious pitch for the facility. The soccer academy sees Belle Terre Swim and Racquet as an ideal home after outgrowing its current location in an old bank in the Palm Harbor shopping area.
"It's about time that we release the plan on what we hope to do," Pro-Pathways Center of Excellence Director Ryan Maloney told dozens of parents, "and hopefully get your support as parents and get your political weight behind it." Maloney was addressing parents of children are enrolled in the academy at a meeting at the academy's facility Monday evening. (The private academy operates just like a school, combining soccer training with academics, charging tuition of $4,000 a year. Its students are currently enrolled in Florida Virtual School, with a combined GPA of 3.6, and a third of its students at 4.0.)
The community group that wants the facility has garnered a lot of press, and turned out its supporters in large numbers at school board, county and Palm Coast City Council meetings. It's been effective.
Maloney was at the school board workshop last week and heard Superintendent Jacob Oliva appear to give the nod to the community group. "I was under the impression it was a bit of a political answer in the sense that there were 60 senior citizens in the meeting and there was me in the corner," Maloney said. "The actual words that he used were saying that he was going to find a better solution with one of the groups that came in."
Pathways considers itself to be one of those groups. The organization is looking to take over the entirety of Belle Terre Swim and Racquet. It would run the place as a health club, Maloney said, grandfathering in the current membership, ensuring that the Synchro Belles team and high school swim team have a place to practice at the pool, but also going after new memberships. Pathways would revamp the gym portion of the operation. It also has its eyes on 60 adjoining acres that Maloney says are zoned for recreation, and can be turned into six soccer fields for the academy, which currently uses public fields around town, including space at Belle Terre Swim and Racquet Club.
The school board has been losing around $135,000 a year on the Belle Terre club. It cannot continue operating at a loss. Any organization that would take over would have to turn that loss around and either break even or net some profit. Maloney says his organization can do that with its homeschooled students enrolling in some iFlagler online classes, which would then tap into state dollars: every credit hour in iFlagler draws down education funds.
Maloney says the 60 or so homeschooled students enrolling in iFlagler would yield close to $135,000 for the district, erasing the loss at Belle Terre Swim and Racquet Club. Oliva says the figure may be "inflated." The superintendent says organizations often don't take in consideration numerous other factors that diminish what dollars are available. In Pathways' case, it's also possible that not every student will enroll in the maximum of three classes students are allowed to take on iFlagler and still retain the designation of homeschooled students.
"We've been meeting with them since the program started to see if there's a way we could partner and move those students into iFlagler," Oliva said, but the teachers involved in the program would have to be local teachers, and their schedule would have to mesh with that of the academy. "It's something we've actually been discussing for quite some time. I wouldn't say that any deal has been solidified."
Pro-Sports Pathways was one of the three organizations that responded to the school district's request for proposals to run the racquet club. The community group headed by Doug Courtney and Carmichael McMillan was another, as was a proposal from a bridge club. In its bid, Pro-Sports Pathways proposed to rent the facility at $1,000 a month in a 25-year lease, "understanding that Professional Pathways will absorb all the operating costs of the entire facility as well as keep the facility open to the current users (seniors and students) for the same fees charged." The bid also requested an option to buy the facility within two years and a first right of refusal if the board sought to sell the property, two options the board is unlikely to endorse in any arrangement.
All three proposals were thrown out last week because they lacked a non-profit designation, and because the RFP process was tainted by district communication that went to the McMillan group without going to the other applicants. As it turned out, that was to the advantage of both the McMillan group and Pro-Sports Pathways, as it kept both in contention, under different guidelines.
Both groups now say they can have a non-profit designation that will enable them to operate the club. Maloney says he was approached by Courtney to discuss a partnership, but Maloney rejected the approach. "We'll just run it ourselves, we're not really interested in running it with you," Maloney told parents he said to Courtney in a recent meeting.
But, Maloney said, the process is nowhere near clear: "Where we're at in actual terms of getting it is a nightmare," he said. "It's become a bit of a who-can-shout-louder match between the senior citizens group and ourselves."
Courtney doesn't see it that way. While he was under the impression that the school board had given the community group the nod, "that didn't mean that things couldn't change. The decision wasn't going to be made until Oct. 20," Courtney said. And even if the community group doesn't get the final nod, who runs the place is less important than whether it stays open. "As long as that's done, we're willing to work with anybody including the soccer group," Courtney said. "Right now to us it's let's do what we have to do to make sure the place stays open."
In the end, it'll come down to whoever can assure the school board that the club can remain open without a loss, and without sidelining its core membership.
"We're on a very, very tight timeline," Kristy Gavin, the school board attorney, said today. "I know that Jacob has promised the board that he would have a decision in hand." What that decision will be remains impossible to predict—even for Oliva, who is studying all options.
"It may be something completely different than saying it might be an agreement with the community group, or whether it's the sports academy. It may be a third option that he's considering as well."