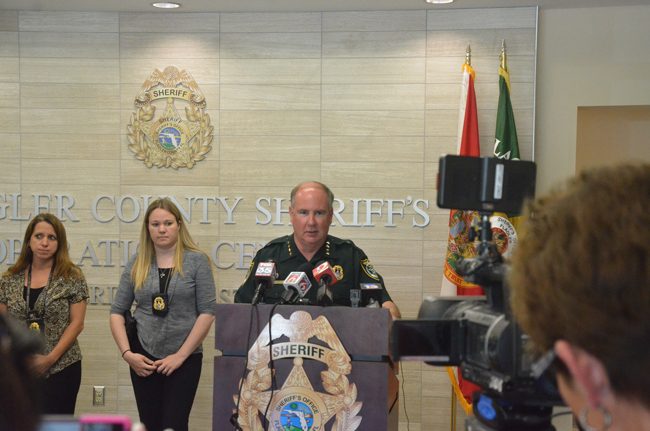 Last Updated: 2:06 p.m.
The body of Charles Singer, a 48-year-old resident of 80 Pine Tree Lane in western Flagler County, was discovered buried on his property with gunshot wounds on April 7. Today, Flagler County Sheriff Rick Staly announced the arrest of his wife, Dorothy Singer, 52, for first degree murder in Charles's death.
She was arrested in St. Johns County following an investigation by Flagler County sheriff's detectives that Staly compared to a "Dateline" episode in an 11 a.m. news conference at Sheriff's headquarters in Bunnell.
He was not exaggerating. The investigative details of Dorothy Singer's arrest describe an elaborate succession of events dating back to January, when Charles's sister Elizabeth Ellis lost contact with him. From that point on, detectives found through assiduous analysis of cell phone records, banking transactions, employers' reports and supposed messages from Charles to his sister (which proved allegedly fabricated by Dorothy), that Dorothy had woven the intricate story of a husband who'd laid his hand on her for the last time, whom she'd kicked out, and who'd gone to Kentucky to think it over.
In fact, the investigation revealed, she had allegedly shot him execution-style, apparently as he was in bed in the couple's master bedroom on Pine Tree Lane, emptying a .22-caliber pistol she had borrowed from her sister–with three bullets to the top of Charles's skull, one to the right temple, and one to the chest. The area was then bleached to the point that no evidence was visible to the naked eye, though investigators would later pick up blood evidence through forensic analysis, and she allegedly buried Singer in a tarp, literally mothballing him with mothballs she'd bought at Dollar General, beneath a boat in the backyard.
The investigation also revealed that the murder and its attendant web of stories were carried out more sloppily than cleverly, creating splatters of evidence rather than hiding it and committing several revealing mistakes with the very same electronic means–cell phones, text messages, bank cards–used in attempts to dissimulate the alleged crime: it was more "Dateline" than Agatha Christie.
The detectives who broke the case were the Flagler County Sheriff's Annie Conrad and Jodi Glasgow, who were present at this morning's news conference.
There is no motive yet for the killing. The sheriff was obtaining a search warrant for Dorothy Singer's vehicle, where, it is believed, she had written a letter to one of the sheriff's detectives. There were two calls for authorities to the Pine Tree address previously–one over an employment issue, the other deemed a "suspicious incident."
Staly had said last week that arrests were certain, if not quite imminent. He said the case was building, but he wouldn't say against whom, though he hinted that it might involve more than one person. It may still, he said Tuesday, though that possibility is now considerably diminished.
Singer had gone missing officially in March, though he'd stopped communicating with his sister two months earlier. When authorities asked his wife about him, she said he'd not been heard from since moving out of the trailer "months" before.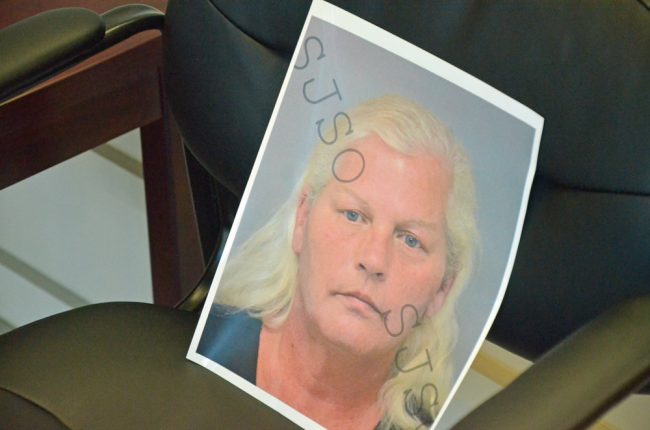 His sister reported him missing on March 23. Detectives served the warrant on April 7, finding his body. During the search they located blood residue in the master bedroom. On April 10 the Medical Examiner revealed through the autopsy that Singer had been shot four times in the head and once in the chest.
His wife was purportedly attempting to fake her own death and flee the area, the sheriff said. She did try to flee, and was arrested by St. Johns County Sheriff's deputies on State Road A1A, and booked at the St. Johns County jail Monday. She is to be transferred to Flagler later today.
Dorothy had two prior husbands, one of them, Ward Everett Barnes, dying "suddenly" at age 38 in Putnam County. The sheriff's office has proposed to authorities to look into that death again. But Barnes's body was cremated. "We are still trying to determine the status of her other husband."
Of the Singer murder, Staly said, "There was a lot of attempts by our suspect to cover up this crime, and we have lots and lots of evidence."
He was underneath a John Boat, wrapped in some material, mothballs were used to cover up the smell, and tree debris and limbs were piled on top of the boat "not in a natural way, like it fell from a tree," Staly said.
When Charles's sister first reported her brother missing, a sheriff's deputy turned up at the Pine Tree address on March 23, when Dorothy, according to a missing-person report that had previously been more heavily censored, told the deputy she'd kicked Charles out after an argument two months earlier. She claimed he'd taken a black car to an unknown destination (though Charles was legally blind to the point of using only speech-to-text applications on his cell phone). But, the incident report notes, "Dorothy did not want to report Charles as missing."
The report censors a conversation between the deputy and Charles's sister, Elizabeth Ellis, though the substance of what the sister had said is in the arrest report: she told the deputy back then that she had invited Dorothy and Charles to a gender-reveal party on March 18, that Dorothy had told her they'd attend, but that the day of the party, Ellis got a message, ostensibly from Charles, saying he couldn't make it, and that he would explain later.
---
Audio: Sheriff Staly's Full News Conference

[media id=420 width=400 height=275]
It was one of many such messages, investigators found, that Dorothy allegedly fabricated, posing as Charles and using his phone, which, ping analyses would reveal, was always in the immediate proximity of Dorothy's phone since his disappearance. It had never been taken to Georgia, Kentucky or elsewhere, as Dorothy claimed to investigators.
"After the missing person report was filed," Dorothy's arrest report states, both Ellis and her mother "received a text message from Charles' cell phone stating he made a mistake and is working in Kentucky while he figures this situation out. There was a picture attached to the message that appeared to be taken at his place of employment. Elizabeth noticed mistakes in the message that were odd as Charles is legally blind and only utilizes the talk to text function. The mistakes made would not be made utilizing that function, according to Elizabeth."
It isn't clear when Charles was shot, but the investigation points to a key date: he did not show up to work at Flagler County Roofing on Feb. 8, nor did Dorothy show up to work that the following day, at AO Precision Manufacturing. Dorothy contacted her place of work only on the 10th to say she'd not be in. On Feb. 8, Dorothy contacted a Flagler Roofing official, who aparently knew the Singers well enough to be told such intimate details, and told her that "Charles put his hands on her again," according to the arrest report. Dorothy also told the official that she'd given Charles an ultimatum–move out to your sister's place or go to jail.
If that ultimatum was ever given, Charles got the opportunity to do neither.
Those dates and allegations are outlined in the arrest report, but they may reflect, in neutral but chilling words, the last days of Charles Singer and the aftermath at Pine Tree Lane.
On February 9, bank records show that Dorothy used a bank card to buy $37.72 worth of goods at Bunnell's Dollar General, and, as indicated by her signature on a receipt from that store, $36.35 worth of goods from Ace Hardware in Bunnell the following day, and again $40.23 worth of goods from Dollar General on Feb 13. The goods purchased included 409 carpet cleaner, Clorox bleach, a camouflage tarp, moth balls, and moth crystals.
A camouflage tarp and mothballs were found on April 7 as investigators, using a cadaver-sniffing dog, dug up the Singers' backyard.
The investigation took further morbid turns after that. "We received information that she was going to attempt to flee the county and the state and fake her own death," Staly said. "So we put a surveillance on her, with not only my agency but Putnam County and St. Johns County sheriff's assistance. So we basically followed her, and when we felt it was the right time she was stopped on A1A and arrested." She was not stopped in Flagler because there was evidence the sheriff's office was trying to corroborate, and that corroboration came through just after Singer crossed into St. Johns, where the arrest was made.
Dorothy Singer was interviewed by investigators. "She made a bunch of inconsistent statements that really led the investigation to where we're at today," Conrad, one of the two detectives, said. "Unfortunately I can't give too much detail on that."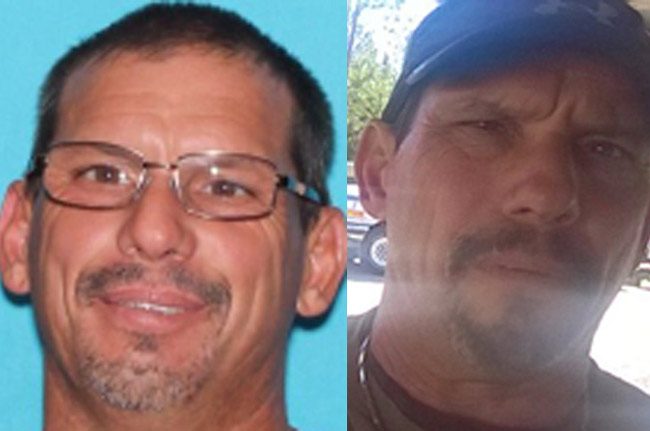 An article on FlaglerLive published last week, the sheriff said, may have precipitated the arrest. "This is my speculation," Staly said, referring to his answers to questions about the Singer murder in that article, "I suspect that as a result of my answers to that in the article that FlaglerLive wrote, she probably felt that we were closing in on her, and then was getting ready to flee." The sheriff later specified that the article "accelerated the conclusion of the case, but that's OK. Actually, it worked out to our advantage," as Singer after the article "started doing a lot of activity, and I can't release the activity, because of the continuing investigation, but my personal opinion is, it was precipitated by that article."
Four murders have been recorded in Flagler County since September 2015. Three of the four involved domestic situations, with two of the three involving wives killing their husband, and one, in Flagler Beach earlier this month, allegedly involving a father killing his son.
"You never know what goes on behind closed doors, and unfortunately this one resulted in a murder," Staly said of the Singer killing. He again spoke of an upcoming domestic violence initiative he will reveal in coming weeks.
The State Attorney will decide what charge to file, potentially including capital murder, which would expose Singer to the death penalty.

Dorothy Singer Arrest Report (2017)