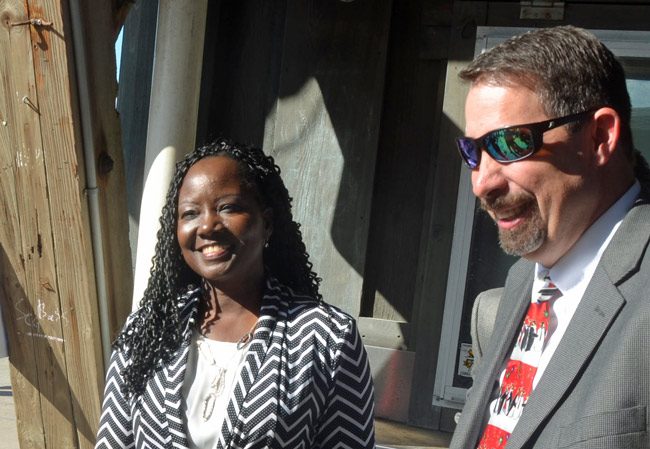 Sally Sherman, who "retired" as deputy Flagler County administrator on Feb. 28–but not really–was "rehired" under her previous title starting Oct. 1.
Sherman never left the job. She clocked out as a county employee on Feb. 28 but returned to work the next day to her same desk, her same office, email account and phone extensions, and largely the same responsibilities. But to skirt state law that required employees like her to leave the government job they'd previously held, she returned under the pretense of a "consultant" employed by a private employment agency called JMI Solutions. The county contracted with that company for Sherman's services (as it has for other temporary employees). Thus, Sherman was able to continue working for Flagler, albeit at a much higher rate of pay and cost to county taxpayers, who were footing the bill either way.
Sherman left the job on Feb. 28 making $136,468. The next working day, she was making $149,000 a year (if her salary were annualized) and the county was paying JMI solution an additional $41,000 "mark-up rate" to employ her, for a total weekly cost to the county of $3,661 (or an annualized cost of $190,372).
The arrangement lasted seven months, and after FlaglerLive revealed it in a pair of stories in June, the contract with JMI was renegotiated in July, eliminating JMI's mark-up and bringing down the weekly cost to $3,019.
"Initially, the total cost to the county was higher because of administration charges of JMI – to the tune of $19,000 annually and not the $200,000 headlined," a county press release issued Wednesday about Sherman's re-hiring stated. "Three months ago, the contract with JMI was revised so that the total cost to the county was slightly less than when Sherman was an employee."
That paragraph in the release was inaccurate. First, based on documents provided by the county and the clerk of court outlining the contractual arrangement, the cost of Sherman's contract to the county and its taxpayers was $33,400 higher, annualized, not $19,000. Second, the contract was not revised three months ago, but on July 6, and the slightly lower rate of pay did not kick in until the July 18 transaction date–that is, two months ago. Third, there never were $200,000 headlines. FlaglerLive's headline on June 8 was: "To Keep Sally Sherman, a $136,000 Employee, Flagler County Is Paying Private Agency $190,000."
Since Sherman is being "re-hired" as a county employee on Oct. 1, she will have worked as a consultant for seven months. The actual cost to the county: $99,111.
The release also stated that "Sherman's take-home pay from the consultant was slightly more" than her previous county salary–an odd way of referring to a $12,500 pay increase. The release justified the higher pay because Sherman was having to pay her own benefits, "a net loss in total compensation of about $20,000." But that was yet another inaccuracy: Sherman's "total compensation" now includes her taxpayer-supported retirement pay of $68,172 a year, making her total compensation when she was a consultant $217,000 a year.
Her current total annual compensation is $215,000–$136,468 in county pay, $10,500 in health benefits, and $68,172 in retirement pay.
The county press release on Wednesday was unusual. It was issued as FlaglerLive was requesting records about Sherman's re-hiring, signaling to the administration that a story was in the works. "We knew you were going to fry us," Coffey told FlaglerLive. So the announcement of Sherman's hire was speeded up in an attempt to beat the FlaglerLive story with the county's brightly pre-emptive perspective.
Its inaccuracies aside, the release was unusual also for its purple style and lavish praise of Sherman, using phrasing and hagiography more commonly associated with the introduction of a presidential candidate at a party convention than with a government employee in a position that doesn't commonly warrant the attention of the agency's PR office: "Sherman's story before entering the public sector is nothing short of amazing," the release stated. "Her strong work ethic harkens back to her humble roots as one of 13 children of migrant family." And: "While she may not think of herself as a role model, she is indeed a role model for anyone who believes professionalism, hard work, and ethics are a path for success," the latter a quote by Commissioner Charlie Ericksen.
The style took at least one county commissioner aback for its style. "It was written in a defensive, 'let's answer all the concerns up front' kind of way," O'Brien said. "It wasn't written in the same way the way you would hiring somebody new. It was very flowery and defensive in nature."
Defensive, because the revelations of the county's end-run in June provoked a strongly critical reaction, not least from some commissioners. While all commissioners had been made aware of Sherman being rehired as a "consultant," none was aware of the dollar figures behind the arrangement.
"I was not happy about what happened then, I stand on those comments," Commissioner Dave Sullivan said on Tuesday, a day before the county announced the re-hire. "I'll wait and see what that decision is. I don't make that decision, that decision is made by Mr. Coffey, or Mr Coffey and HR. But I did make comments on this earlier and I'm not taking those back."
In June, Sullivan had said: "We were foolish–I was foolish, I'm not going to speak for the other commissioners–I was foolish to let this happen. There should have been a better way to carry this out. Sally Sherman is an excellent employee but she's not worth what we're paying at this point, and we should have advertised and let the chips fall where they may."
Still, a majority of commissioners defended the contractual hire–and are defending her re-hire. "Coffey told me that now that the time limit is up for Sally, that he's going to go ahead and advertise the position," Sullivan said.
The county had purposely sat on the position by not advertising it for six months, saving it for Sherman.
Sullivan's wish that the position was advertised was followed, as was legally required: the position was advertised earlier this month. But that, too, was a pretense: the position's advertising closed last Friday. The county officially announced Sherman's re-hire on Wednesday (Sept. 19), but Coffey had already told commissioners Sherman would be rehired regardless. (Sherman was asked in an email, when the position was advertised, if she was applying for the job. She did not respond.)
Aside from her, four people applied: Lyndon Bonner, the former Bunnell city manager who was a recent and unsuccessful applicant for the manager's position there, Douglas Bentley of Palm Coast, Dianne Huges of Stuart and Diana Seydlorsky of Jacksonville.
Sherman is not Flagler-based: her home is in Lake Mary. The resume she submitted did not mention working for Flagler County from March to the present, but rather listed her job as "senior special projects coordinator/consultant" for JMI Solutions, and described her job this way: "Providing government services in project management and mitigating risk while optimizing operations. Services include: drafting various policies, editing codes and operational procedures for consideration, assisting in human resource needs and staffing support." The resume then provides "highlights" of her job achievements, again not mentioning Flagler. Only when the resume jumps to the period between September 2008 and February 2018 does it refer to her job as deputy county administrator in Flagler. Her letters of recommendations included only one current letter–from County Engineer Faith Alkhatib–with all other letters culled from 2008 and before.
Coffey today said that innumerable government employees return to work after entering the state retirement program, and that Sherman's decade of experience in Flagler alone allowed him to provide a continuity in management that would not be possible with a new hire who would have to be trained for at least a year. "You are hiring merit, but it's not her fault the way the law is written," he said. "It's a matter of trying to get jobs done for the citizens and holding on to good people."
He said Alkhatib had been offered a job in Daytona Beach a few months ago, at a $150,000 salary. He didn't want to lose her, prompting a change in her job category's salary range (to up to $155,000 a year), which the county commission approved, thus enabling Alkhatib's current salary of $150,000, plus a $5,000 car allowance.
Sherman is being re-hired at her previous salary of $136,468, but she is in line for the automatic 3 percent cost-of-living, across-the-board raise that kicks in on Oct. 1, raising her salary by $4,000, to just over $140,000. She may be in line for further raises as the county commission gave the go-ahead to the administration to raise salaries in line with a new study, showing many county employees to be underpaid, compared to their peers in other counties or cities. But Sherman's current salary is already $10,000 higher than the mid-point salary of deputy administrators, according to the salary study.
State law required Sherman to leave her job because she had elected to be in the Florida Retirement System's Deferred Retirement Option program. The program allows participants who have elected to retire to continue working for four years while their retirement benefits accrue and collect interest. But at the end of the four years, they are required–by law–to stop working in any government agency that's part of the Florida Retirement System, though they may work elsewhere. They may then either take the retirement funds they've accrued or have them paid to them in installments. The prohibition on FRS-related jobs is for six months.
Sherman was in Drop. She "retired" on Feb. 28. She collected a one-time $330,148 retirement payment, and started collecting a recurring, monthly retirement check of $5,681, or $68,172 a year, which she is still collecting.
If she were following the spirit and the letter of the law, Sherman would have had to leave her job at the county in earnest. She and Coffey only followed the letter of the law. By taking advantage of a loophole in the law and returning as a "consultant," she was technically not a county employee, though she was violating the purpose of the retirement program, designed in part to provide government employees a comfortable retirement, but also to provide government agencies a means to prepare for succession and allow new blood to course through an organization. Coffey said there is "merit" to that approach, but stressed the invaluable experience Sherman ensured.