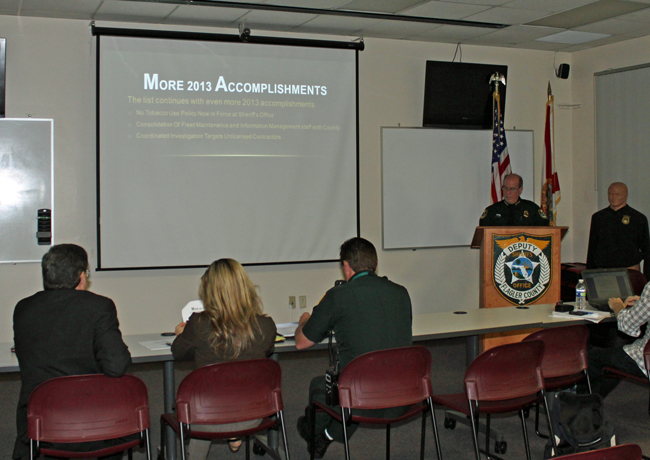 This past April, when Sheriff Jim Manfre announced the 10 appointees to his new Citizens Advisory Council, the accompanying news release explained that the council "will be reviewing citizen complaints and concerns that are submitted to the Sheriff's Office." The council would then be expected to address these issues by making "recommendations" to the sheriff. But last month, when the council convened its third meeting and the first of this year, there were a few things missing: complaints, concerns, recommendations, and most of its members.
If the council's original mission was to hear from members of the community about Manfre's department, Manfre appeared to have a different plan, at least for that session. The posted agenda stated, "The purpose of the meeting is a 2013 review of agency accomplishments," and the sheriff stuck to the program, ticking off 13 highlights of the first year of his latest term as the county's top law enforcement officer. Standing beside a striking dummy–the sort used in homicide investigations–Manfre addressed a room at the Flagler County Sheriff's operating center in Bunnell that was less than half full. Only two of the council's 10 volunteer members bothered to show up.
Manfre delivered a review of his department's year, including a management reorganization, more community-oriented policing, the introduction of body cameras worn by officers, and an arrest in the murder of Mobil convenience store cashier Roman Rosado. He then pronounced 2013 "a year of significant change in the way the agency conducted business," and no one disagreed. Manfre touted the advisory board as an example of the transparency of his administration, though the first two meetings weren't even advertised.
With no complaints or suggestions to review, the only two council members present, Flagler County Commissioner Nate McLaughlin and James Callender, a retired New York City deputy chief fire marshal, made only brief comments. Callender, whose daughter died of a heart attack, praised the department for equipping deputies with emergency defibrillators. "It means a lot, and that's something that's not done throughout this country," he said.
---
A council set up to hear citizens' complaints hasn't heard a single one in a year.
---
McLaughlin was silent until Manfre moved past his 13 main talking points to a list of secondary accomplishments, including the reassignment of a deputy to the Agricultural and Ranch Unit in McLaughlin's rural western district. "That's huge for me," McLaughlin said.
After the council meeting, McLaughlin seemed satisfied with Manfre's presentation and with his own volunteer role. "It appears to me that the sheriff has some goals and plans in mind and that he's executing those plans and accomplishing those goals," McLaughlin said. The Feb. 12 session was the first advisory council meeting that McLaughlin has attended, missing the others due to what he called scheduling conflicts, which he pointed to as the likely reason for his colleagues' absence. "In my case, I was just too busy," he said. McLaughlin added that when he's had issues with the department in the past, they've been resolved in private meetings with the sheriff.
As for the lack of criticism of the sheriff's office, constructive or otherwise, at that session, McLaughlin said, "I just saw it as an opportunity for the sheriff to update the public and bring the public up to speed," adding that, at least as far as his district is concerned–which includes the Mondax, also known as Daytona North–he's not aware of complaints, other than those that resulted from "personnel changes."
Asked later whether the advisory council appears to be fulfilling its purpose, Callender, a recent addition to the panel, admitted he wasn't quite sure what that purpose is supposed to be, though he found the meeting "very enlightening." Of Manfre's presentation, Callender said, "The preparation of information, I can talk with other people and tell how we are being serviced." As for the community's voice being heard, Callender said, "I'd like to see more participation. Sometimes it's good to let our officials know what our experiences are, what is working, so they can keep it going and keep it working."
Commander Bob Weber, the department's public information officer and himself a member of the advisory council, sees the meetings as more than simply community gripe sessions, but also as "an opportunity to give an overview of what the agency is doing and where it's at."
Weber took the blame for not getting the word out about the council's second meeting (he was not involved with the first), but was at a loss to explain Wednesday's sparse turnout. "We sent out a notification to the public, we let them know the opportunity is there for them to express their opinion about the agency," he said. "But there are other mechanisms in place where people can call into the sheriff's office and speak directly to the sheriff, if he's available, or to another member of the command staff, to express concerns about a particular situation." There's also a link on the department's website that citizens can use to register a complaint or make a suggestion, Weber said.
School Board member Trevor Tucker, along with his father Martin, the owners of Sun Country Pest Control, are both on the advisory council and explained their absence by saying that "we both still work so you can't make all of them," adding that the meeting had been rescheduled from its original date of January 29. If it hadn't either he or Martin would've likely been there, he said. Martin was the one asked to be on the council, Tucker said, and he's just there as backup. Tucker believes that the sheriff's main purpose with the council meetings is still to provide a forum for citizens to air grievances with the department's community policing strategy whether or not that's happening. If a citizen feels "the sheriff's department treated me badly, the sheriff really wants to know," Tucker said.
Tucker did attend one previous meeting, at which he noted no one had much of anything to report. Like this last one, Manfre was mainly updating without anything coming back at him. Asked if the meetings are fulfilling their purpose, Tucker said, "No one has complained to me about the sheriff's department. So I can't say one way or another."
Jose Jimenez is another council member who was absent at Wednesday's meeting, but he did attend the two previous sessions. A retired executive for a law enforcement and homeland security business, Jimenez said what he'd taken away from the meetings was how aware Manfre is of fiscal restraints, and how he's "really trying to maximize the performance with the bucks."
While Jimenez said he is impressed with Manfre's efforts to run the sheriff's office like a business, he sees the advisory council meetings as confronting a learning curve. "Are we there yet?" he said, in terms of taking the pulse of the community. "I don't think so."
At the same time, Jimenez doesn't feel that simply tallying the number of complaints from citizens is the best indicator as to whether the council meetings are productive or not. "You don't want the advisory council to circumvent the structure of the organization. So you don't want it to be a bitch session, or a hearsay type thing," he said. "To make it effective, you need participants willing to provide the sheriff with a dialogue to provide comments and engage in a back and forth. It cannot be a rubber stamp."
As for encouraging citizens to come forward and be heard, Jimenez said, "that's the hard part."
The next meetings of the advisory council are scheduled for June 11 and October 15 at 10 a.m. at the Emergency Operations Center in Bunnell, behind the Government Services Building. The meetings are open to the public and include a public participation segment.