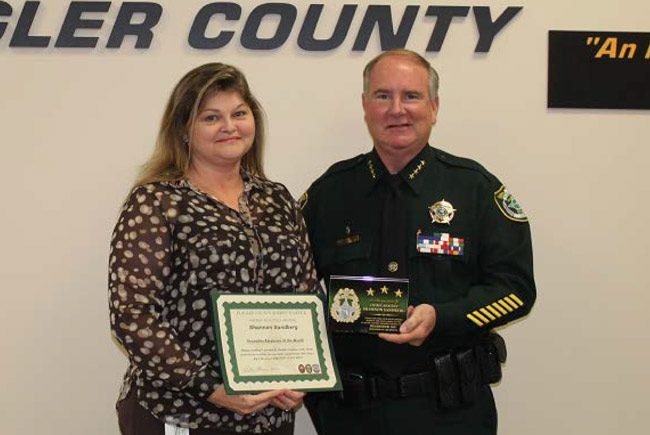 A police agency's awards ceremony can be a story of contrasts: individual and agency success is proportional to mayhem endured and contained, to the people held accountable for the brutality and crimes they inflicted on the community. Success is also measured by acts of bravery and lives saved. By those measures, the last few months in Flagler have been especially active, as reflected by the quarterly award ceremony Sheriff Rick Staly hosted Wednesday afternoon in Bunnell.
Staly recognized 70 agency members for exceptional service, including employees of the month for the past three months. Like all internal award events, the sheriff's ceremony isn't usually newsworthy beyond a few paragraph's notice. But Wednesday's event and its award recipients added up to a summarized chronicle of a calendar's quarter replete with high-profile policing cases that impacted many segments of the community.
The ceremony also seemed to reflect the particular vigor and style of policing Staly ushered in just over a year ago, when he became sheriff–a style that has combined aggressive policing on the streets with deep analysis behind the scenes, all cemented by an alert 911 center and flashes of compassion there and in the ranks, when time and circumstances allow.
Communications Supervisor Amy Sisti, a member of the 911 dispatch team, was named October Employee of the Month for her handling of a call involving what would turn out to be a murder-suicide. On Oct. 12 she took a call from Edward Douglas Ratcliffe, 73, who said he thought he had killed someone. In fact, Brevard County police would later confirm he'd killed Amy Mitchell, his step-daughter, earlier that day in unincorporated Cocoa.
Ratcliffe was driving through Flagler, determined to reach St. Johns County. Sisti stayed on the line to gather pertinent information while another dispatcher relayed the information to St Johns County. Minutes later Ratcliffe said he was going to shoot himself. Amy used her negotiating skills to calm him and keep him talking. The call was transferred to St Johns County, where Ratcliffe shot himself, just over the Flagler-St. Johns County line.
"This was a very difficult call but Amy did an outstanding job keeping a calm demeanor and gathering all needed information to ensure officer safety," a sheriff's release stated.
Detective Nicole Thomas is the November Employee of the Month and the recipient of a commendation for her work on a similarly harrowing case. On Nov. 27, Thomas and detectives from Volusia County Sheriff's Office began an investigation into a sexual assault against a woman who had been found naked and bleeding on the Flagler-Volusia County line, off Old Kings Road. An investigation led to charges against Obtravies Watkins, who'd allegedly brutalized, raped and attempted to murder the woman. Thomas used investigative techniques to identify the suspect's vehicle, which led to the identity of the attacker, while showing great compassion toward the victim.
The December honor went to Crime Analyst Shannon Sandberg, who's been implementing the agency's Intelligence Led Policing vision since January 2017. The release states: "Her attention to detail and expertise in analyzing crime trends and identifying likely persons of interest, coupled with her superlative organizational skills, has been key to the success of CRIMEMAPS and instrumental in the success of dozens of criminal investigations. Shannon is a great asset to the FCSO and we are pleased to name her our December Employee of the Month. She is also receiving the Distinguished Service Certificate."
The award ceremony included numerous other honors.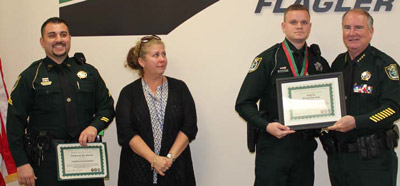 Deputy Philip Conway got a Lifesaving award and Corporal Joe Barile got a commendation for their work on Oct. 8, when they saved Iris Sciandra's life after her vehicle hydroplaned, rolled and ended in mud and water, submerging Sciandra. Barile removed the windshield and relayed information to dispatch while Conway pulled Sciandra, who was present at the award ceremony, from the vehicle.
On October 2, deputies were dispatched to an armed robbery at the Circle K Gas Station in Palm Coast. Deputy Daniel Parthemore was on special detail in the Seminole Woods area due to recent car burglaries in the area. Parthemore saw a vehicle in a cul-de-sac and recognized the passenger in the car as matching the description of Devaughn Williams, the suspect from the armed robbery. The firearm used in the robbery was also located with the suspect. "Through the diligent efforts of Deputy Parthemore and his keen investigative efforts, a violent armed offender was taken off the streets," the release states. Parthemore got a Commendation.
On November 6, deputies tracked a stolen vehicle to Capri Trailer Park in Bunnell where they found Matthew Nesbitt asleep behind the wheel. Nesbitt awoke and sped away, nearly striking deputy Jacob West in the process. The vehicle was soon located abandoned in Palm Coast's Z Section. A perimeter was set up and Nesbitt was seen threatening to kill deputies with a large knife in his hands. Nesbitt was ultimately taken into custody for multiple felony charges. A Unit Citation was awarded the Sheriff's Alpha Squad, the Investigative Services Division and Communications Specialists for their work in identifying, tracking, and detaining Nesbitt (who remains at the Flagler County jail on $75,000 bond).
The agency's Charlie Squad and Delta Squad also received a Unit Citation for proactive police work and teamwork in apprehending suspects, recovering stolen vehicles and seizing narcotics and firearms in several incidents.
On December 26, the drive-thru workers at the Taco Bell in Palm Coast were robbed at gunpoint. The suspect fled the area and was seen on State Road 100. Sgt. Goncalves and deputy Craig Rossi attempted a traffic stop but the vehicle fled south on I-95 then crashed into Deputy Rossi's patrol vehicle but continued to flee. A short time later, the suspect and passenger, Jason Klokow and Christopher McMillan, were arrested. Due to the actions of Delta Squad and Communications Specialists, both suspects were arrested and positively identified as suspects in two other robberies in Volusia County.
Taco Bell Loss Prevention Director Dan Lieberman, Area Coaches Katherine Conway-Jenkins and Ray Williams and Manager Lonnie Brinson presented plaques to the deputies and dispatchers who handled the case, and presented a $2,500 check to Sheriff Staly for the newly created Flagler Sheriff's Employee Assistance Trust fund.
It isn't just about chasing down rapists, armed robbers, would-be murderers and other lawbreakers, of course. A look at this week's reports highlights to what extent deputies end up, by default, taking on roles more aptly suited for mental health professionals. At times they shed their shields and take up badges of kindness.
On Christmas Day, Conway, the lifesaver of a few paragraphs ago, contacted Grand Oaks Health and Rehab Center in order to arrange a visit to those staying at the facility. He and Deputy Kocorowski visited Grand Oaks Christmas night and handed out Christmas cards to the residents. "This act of kindness shows the big heart that Law Enforcement Officers have and it was wonderful for these two deputies to spend a part of their shift spreading joy to members of our community," the release states. Both got commendations.