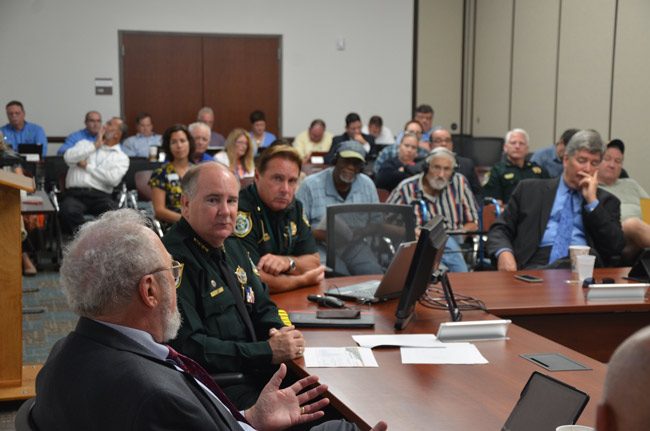 Flagler County Sheriff Rick Staly this morning made his $550,000 pitch to the Palm Coast City Council for five additional deputies to add to the 23 uniformed deputies and supervisors the city is paying for. The full addition and a built-in annual increase in the overall contract cost would bring city taxpayers' bill for policing to $3.3 million—a 27 percent increase since the last time the council approved a contract with the sheriff. That contract, still in effect today, was enacted in October 2014.
Absent the five additional deputies, the cost of the contract would be $2.8 million, a 6 percent increase over the 2014 contract, though that last contract provided for some incremental increases for the cost of deputies, so its cost has risen since.
Staly was making his pitch ahead of the council approving the first contract-renewal for policing on Staly's watch. He had a receptive audience, though only Council member Steven Nobile said he'd support the full addition of five deputies. Other council members may want a more incremental approach, which even Staly is willing to work with, up to a point.
"I will work with you but I think the community would be best served for five," Staly told the council, "or authorizing five and choosing how much you can afford for this next fiscal year."
Whether incremental or full, the council will decide its approach at next Tuesday's meeting.
The additional deputies would form a traffic unit focused almost exclusively on traffic issues at the city's most crash-prone intersections. Three issues drive Straly's request: First, there's been a spike in fatal crashes and a doubling of crashes in Palm Coast between 2012 and 2015, to 1,730 in that single year. (The doubling coincided with the city's splurge on more than three dozen red-light cameras, the last of which went dark, after relentless controversy, earlier this year. Studies have repeatedly linked red-light cameras to an increase in crashes. The city administration maintained for 10 years, against evidence, that cameras increased drivers' safety.) Second, traffic issues are a leading complaint by residents. Third, in deputies' ranks, "we've kind of been behind the curve because of the Great Recession," Staly said, with the Sheriff's Office not adding to its ranks in almost a decade even as traffic and population have increased. Crime nevertheless has remained flat.
The traffic unit will focus on traffic, but also respond to crime calls in its periphery. And it is not intended to replace the duties currently filled by the Florida Highway Patrol, among them traffic homicide investigations (in other words, investigations of crashes involving deaths).
"I still want that to stay with FHP," Staly said. "I think we need to get our money's worth out of the state, because they should be working many more crashes than they are, and if I start working more state responsibilities, then I'd probably have to double what I'm asking for, because traffic homicide takes so long to investigate."
"I personally support the five deputies. I trust the sheriff has done his homework and he knows what he's doing," Nobile said. "We just have to look at how to pay for it."
That was for City Manager Jim Landon to help clarify based on a contract update with the sheriff he prepared. Landon submitted that proposed contract renewal immediately after Staly's presentation this morning. But the city manager's presentation was vague and lacked analysis, and the numbers submitted to council members were without context, as was the proposed contract. (The lack of focus is likely not coincidental: Landon was just back from a two-week vacation in his RV, and facing growing dissatisfaction from council members, his future with the city is uncertain. He's been privately discussing an exit strategy with some of the council members.)
Landon did not make previous years' or current-year numbers available to the council. Only numbers projected for 2017-18 were included. Landon presented the finished product to the council for the first time today, for after-the-fact discussions (the council barely discussed it) ahead of the contract being presumably approved at next Tuesday's meeting.
When a contract is updated in other governments, the version put forth for board discussion reflects every change, addition or deletion through red lines, strike-throughs or underlines. Not this one, though there were changes. Landon only referred to a few in his verbal presentation to the council. Some of the changes were more than the "tweaks" he referred to. Most notably, a jump in the amount by which the cost of the contract may increase every year. It is currently 3 percent. The new contract increases that to 5 percent. It would be in effect for three years and four months, through the end of January 2021.
The council had no say in the increase. Landon presented it as fact: "Five percent is reasonable in today's world," he said, then moved on, even though the recurring 5 percent increase could potentially directly affect whether and how the council might add the five new deputies to Palm Coast Streets: the difference between a 3 percent annual increase and a 5 percent increase is $56,000, or more than half the cost of a deputy's position. Sticking with 3 percent increases over the next two years would make it easier for the city to afford absorbing the full cost of a deputy, thus potentially adding more deputies to streets quicker than if it were saddled with the full 5 percent annual increases and the pressure to add deputies.
That analysis might have been possible had Landon presented council members more complete numbers. But the proposed contract put before council members and made available to the public makes no reference to existing costs—only proposed costs for the 2017-18 fiscal year, thus preventing comparing numbers or putting them in context. The contractual figures only include a note that they reflect an additional 3.1 percent increase over previous years' costs.
The contract that went in effect in October 2014 called for 16 deputies, two corporals, three sergeants, one commander and one school resource deputy on the city's dime, for a total of $2.6 million.
Next year's cost for the same ranks would amount to $2.8 million, according to the proposal. Each additional deputy costs $110,500. A deputy starts at closer to $43,000 a year, but between benefits, training, equipment and liability costs, the price of a uniformed deputy rises steeply. (It's $140,000 for corporals, $153,600 for sergeants, $166,000 for the precinct commander, in this case, Mark Carman.)
The total cost with the five additional deputies would then be $3.34 million.
Staly after his portion of the meeting declared himself satisfied with the council's direction. "The mayor and the council are very supportive of public safety and the Sheriff's Office," he said. "Now there's lots of competing demands and now they have to make the hard decisions, what they can fund for next year, not just for the Sheriff's Office, but for the other requests coming in for the community."
In the audience this morning was Nate McLaughlin, chairman of the Flagler County Commission. He was there like a scout in the stands at a revealing ballgame: Staly is asking for 10 additional deputies from the county commission, a $1 million request that has yet to play out at the county.

Sheriff's Presentation to the Palm Coast City Council (2017)