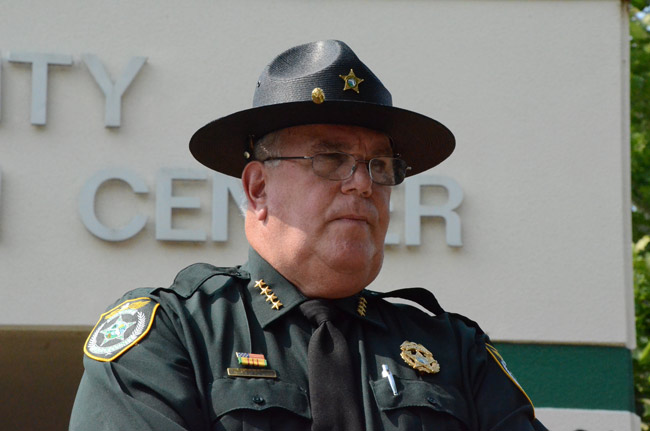 Flagler County Sheriff Don Fleming was asked to respond to criticism leveled at his administration by candidates for the position in the 2012 election, particularly comments by Jim Manfre, who was sheriff from 2001 to 2005. Manfre was critical of Fleming in an article earlier this week and in announcement, in a news release, of his run for sheriff this year. (See the full release below.) After unsuccessful attempts at phone interviews, Fleming responded in writing. That response follows.
By Don Fleming
During my tenure as your Sheriff in Flagler County, I have focused on being fiscally conservative, keeping the budget stable, yet increasing professional services to our citizens and visitors alike. As the budget has decreased I have still increased the number of deputies that are actively patrolling our neighborhoods. Through intelligence-led policing, the community has experienced a decrease in in crimes, contrary to those
during Jim Manfre's one term as sheriff.
While Jim Manfre served as Flagler County Sheriff he implemented policy that he seems to have forgotten. It was the policy of the Flagler County Sheriffs Office during the Robert McCarthy era to have law enforcement respond to all medical calls for service. Jim Manfre implemented the "no response" to medical calls policy during his term. While this practice has continued during my tenure, there have not been any issues or concerns that have been brought to my attention with the exception of the tragic incident involving Francoise Pecqueur.
Mr. Manfre's statement about "community outcry" in regards to my involvement, or lack thereof, in this incident is nothing more than sensationalism. There were phone calls with John Fischer. I have acknowledged that. However, what Jim Manfre fails to mention is that at no time was there any attempt to influence the investigation conducted by an independent law enforcement agency. As an elected official, I regularly receive telephone calls from members of governing boards as well as citizens inquiring as to how to handle an incident that is criminal in nature. Mr. Fischer asked for direction and I referred him to our Communications Center to report the incident. That is what I would do for any person who called me.
While Mr. Manfre was in office he maintained the "friends and family" hiring practice. He hired and retained people who were closely related to his personal endeavors including his executive assistant, administrative staff, corrections officers and others who were unqualified for their positions.
The Flagler County Sheriff's Office follows the military guidelines for span of control with one supervisor per seven to nine members. As the Agency has grown, despite budgetary constraints, it is only logical for the number of supervisors to increase as well. Adequate supervision is,the foundation for limiting liability exposure. As an attorney, Mr. Manfre should be aware of this concept.
Along with adequate supervision, the agency increased training to reduce liability exposure. The training program was non-existent during Manfre's term. Upon taking office in 2005, there were 27 deputies who were at risk of being de-certified by the State of Florida because Manfre failed to provide the mandatory training. There was not a field training program which is a fundamental component to providing professional deputies for our citizens. This was also corrected with new deputy now receiving the high level of training that is required to efficiently perform their duties.
During the last four years, the budget for the Sheriffs Office was cut 4.3 percent in 2009, remained level during 2010 and 2011, and being cut again 1 percent for this fiscal year. I have returned in excess of $1 million to the county during my tenure.
Jim Manfre has built himself to be a legend—in his own mind. He has repeatedly sought public office. Manfre's "rule by fear and intimidation" practice resulted in not only a poor working environment but also one that seeped into the streets of Palm Coast. As Manfre touts concerns for the citizens of Flagler County, his memory has failed. The citizens of Flagler County recall the many negative actions that greatly affected those he swore to serve and protect. Flagler County residents have not forgotten his calendar fiasco; his chief deputy urinating in a public park after consuming alcohol in public; or that same chief deputy resigning in the middle of the night and leaving the state. He has continuously sought public office and has failed due to his inability to communicate effectively with governmental agencies and work within the confines of the law. After Manfre's tumultuous relationships with the Board of County Commissioners, municipal entities and the judiciary, I spent the first year as Sheriff mending fences and building bridges. In doing so, I have established a strong, professional rapport built on mutual trust and respect.

The news release Jim Manfre's campaign circulated earlier this week follows in its original form:
Jim Manfre, former Sheriff of Flagler County, is determined to restore law and order to our community.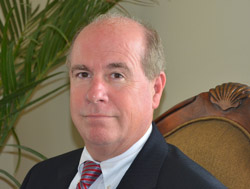 Having been troubled over the past four years about a continued pattern of cronyism, carelessness and corruption in the Flagler County Sheriff's office, and now observing the community's outrage over the conduct of Sheriff Fleming and his department in the handling of the recent hit-and-run fatality, Jim Manfre is announcing his candidacy for Flagler County Sheriff.
Manfre, who held the position of Flagler County Sheriff from 2001 to 2005, indicates that the conduct of Sheriff Fleming regarding the recent hit-and-run incident is indicative of many of the problems within the department:
• The Sheriff's office never dispatched a deputy to the scene to investigate the causes that led to a fatally injured person being left on the side of Palm Coast road;
• The Sheriff violated his oath of office by engaging in conversation with the suspect's husband during the course of a pending investigation, an act that he repeated over six times;
• When confronted by the media with the facts of the incident, he misrepresented the details three times.
Community concern and outrage over this incident, the increase in crime in Flagler County, and many other Sheriff's department failings—infamous overspending, excessive in-house personnel promotions, and a record of unresponsiveness to the needs of the citizens—has spurred Manfre to enter the election arena. With a background as a prosecutor, a Flagler County attorney, and former Sheriff, Manfre feels it is time to restore the high standards of law and order that were instituted and maintained when he held that office. Manfre, if elected, pledges to bring back to the Flagler County Sheriff's Office his professional, proactive policies.