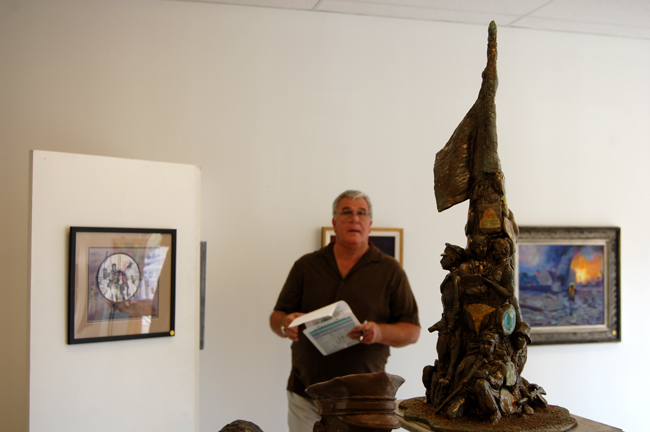 He was unarmed, aside from a legal pad. He was out of uniform, though he was surrounded by them, in a manner of speaking. Or drawing. Or painting. Or sculpting. And he was doing something he'd never done before: judging an art show, though of his own admission he's never been much into art. "I used to get zeros in grammar school," he says.
But this was different. Flagler County Sheriff Don Fleming had found a new way to pay tribute to old colleagues, many of them killed nine years ago. The Flagler County Art League just moved to its new home at City Walk. Its inaugural show in those digs opens Saturday. "A Hero's Call," conceived by Art League President Weldon Ryan—who was a New York City cop and forensic artist for the police department on 9/11—is a commemoration in art of first responders. All first responders.
Fleming had spent 30 years as a cop, many of them as police chief in Little Ferry, a small town in the New Jersey Meadowlands, across the Hudson River, within sight of the Twin Towers. He had just retired to Palm Coast when the attacks took place. "I lost my wife's nephew and about 11 Port Authority cops I worked with," Fleming said.
"It was traumatic," he remembered, moments after finishing to judge the Art League's show. "I was sitting in my living room and my son said, turn on Fox News. The first one was a plane they thought was an accident, then the other one hit, it was chaos. I called my nephews' wife, and she said Bernard had called her, and he says, plane just flew into the building. I'm leaving, I'm going down, and that was the last time they spoke. Said I love you, goodbye." Bernard worked on the 103rd floor of one of the towers. "They found his remains four months later."
Ambling from paintings to sculptures to photographs, Fleming was drawn to more realistic, more clearly heroic portrayals of soldiers or police officers, not least his own—Ann DeLucia's photograph, "Lt. Steve Birdsong and Kaos" of the Flagler County Sheriff's Office K9 unit. (It got an honorable mention.) "I like this one here," Fleming said of the Alice Johnson sculpture of firefighters and other rescuers with their wards as if fluting around a flagpole toward the sky, "you can see the different type of things that they have, the oxygen mask on this guy, carrying the person. It seems like a lot of work went into it."
---
A Hero's Call: The Juried Results
| | Title | Artist | Medium |
| --- | --- | --- | --- |
| Best of show | All of Them | Alice Johnson | Air dry clay |
| First place | Rescue Me | Richlin Ryan | Plaster |
| Second place | New York Skyline | John Schumacher | Wood sculpture |
| Third place | WWII American Cemetery, Luxembourg | Ann DeLucia | Photo |
| Honorable mention | Lt. Steve Birdsong and Kaos (FCSO K9 Unit) | Ann DeLucia | Photo |
| Honorable mention | Stairway to Heaven | Doreen Hardee | Acrylic |
| Honorable mention | Beauty for Ashes | Doreen Hardee | Mix media |
| Honorable mention | Here's to You Pops | Jackie Buirago | Photo |
| Honorable mention | Short Timer | Frances Ward | Acrylic |
| Honorable mention | The Unsung | JJ Graham | Mix media |
The sculpture ended up winning Best in Show.
Fleming had his reservations. "The Unsung," an arresting painting by J.J. Graham, of a police officer's literal last instant of life before being obliterated inside one of the towers (picture being inside Munch's "Scream" but having all the screaming sucked out of you from an imploding world), struck him as too abstract. "This one," he said of a black and white photograph, "I couldn't figure out. Looks like a fireman sitting having a beer."
"There was one over here with people jumping out the windows," the sheriff said of Doreen Hardee's "Stairway to Heaven," which won an honorable mention. "I thought that was too far. I don't think a parent or a husband or a sibling should look at something like that, and maybe it was one of them, you know, one of their parents that hopped out of that window. To me that was too far. It brings back too many memories."
Fleming was one of three judges Friday afternoon. He was joined by Anthony Neste, the photographer, and Hanneke Jevons, the recently retired art teacher at Flagler Palm Coast High School. They each brought their own eye and sensibilities to the show. "No matter what it's wrapped around, the image still has to be powerful enough to stand on its own," Neste said, before seeing the work. The theme doesn't elevate an a work of art's worth, in other words: if an artist is depending on, say, 9/11 to provide a boost from the ordinary to the artistic—to ride the coattails of a powerful subject matter—it won't work. "So whether it's in that kind of environment where everything else is all so wrapped around that theme, it shouldn't matter. You have to kind of separate it from that and just look at it as an individual piece of art. That's the way I would do it."
By the time the judges were done, they'd awarded First Place to Richlin Ryan's plaster sculpture, "Rescue Me" (two hands cut off from the world and enveloped in a desperate moment), Second Place to a framed, wooden sculpture by John Schumacher called "New York Skyline," and third place to Ann DeLucia's photograph, "WWII American Cemetery, Luxembourg." Six paintings, including Graham's "The Unsung" and Fleming's K9 favorite, received honorable mention.
"The show I thought was better than what I thought it could be," Jevons said. "I was very impressed with the different images, the diff media." And the different subject matters: "I thought it was going to be specific to 9/11. I was really surprised to see that it was probably more expanded to calling it a heroes' call. It covered heroes in our community from a canine hero to a firefighter to search and rescue team."
Fleming may not have been too familiar with the job at hand. But that also made him ideal as a judge, particularly for this show. To call him out of his element would be inaccurate. In some ways, he was more in his element that the other judges (though Neste is a New York City native). "I always like to keep everybody in my mind that was there," the sheriff said. "This is a good way to show tribute to that."

"A Hero's Call" opens Saturday afternoon with a reception at 4 p.m. at the Art League's City Walk gallery, 160 Cypress Point Parkway, suite 237C (on the second floor, a few doors down from the Hollingsworth Gallery). All welcome. At 6 p.m., Hollingsworth Gallery nearby is hosting its encore reception for "Music Is the Muse."