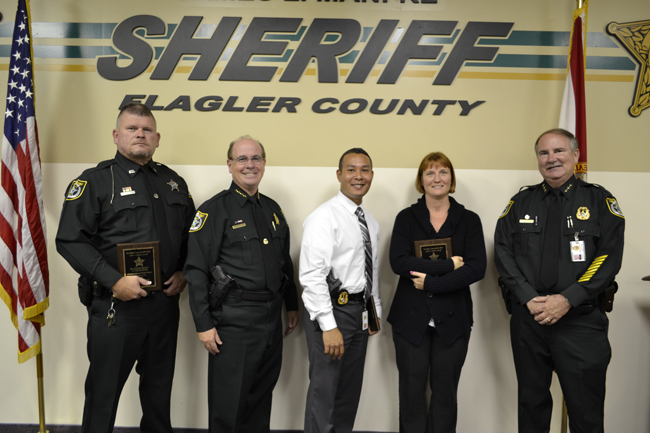 Unlike the Nobel committee, it looks like the Flagler County Sheriff's Office knows a winner when it gets one: Communications Supervisor Genice Caccavale was one of three department employees to win Employee of the Quarter awards, Sheriff Jim Manfre announced this week. Also winning were Detective Mark Moy and Detention Deputy Randy Vickers.
[media id=332 width=200 height=200]
There was not going to be any argument about Caccavale: She is the 911 supervisor who, on a Saturday afternoon in July, got a 911 call from Alicia Fennell, a panicked grandmother, reporting that her 2-year-old granddaughter was pulled from the family swimming pool, limp and not breathing. Calmly and professionally, Caccavale spent several minutes guiding Fennell through Cardio Pulmonary Resuscitation (CPR) on the child. After several minutes, the grandmother–all in the 911 call–told Caccavale that the child had regained consciousness and was breathing on her own, by which time paramedics had arrived at the Zollinger Place house. (You can listen to the 911 call in full, to the right.)
Caccavale's training as a dispatcher, coupled with her calm, levelheaded response to the call until the arrival of paramedics was vital to saving the life of the child, Kelisa. She received the Employee of the Quarter award for the third quarter of 2013 during a ceremony at the Sheriff's Operations Center.
There was going to be no argument about Moy, either: Moy is the detective who broke the case of the murder of Zuheily Rosado, the store clerk at the Mobil station-convenience store on State Road 100 in Palm Coast who was gunned down, execution-style, on Feb. 21.
The murder was one of the most heinous crimes to have taken place in Flagler County in many years, drawing extensive media coverage. In the early stages of the investigation, investigators turned to Crime Stoppers in hopes of developing leads. Moy, assisted by Cpl. Nate Koep, Det. Erick Kuleski and Det. Gabe Fuentes followed up on numerous leads. Eventually a lead provided through Crime Stoppers led them to a suspect in south Florida–and the arrest on Oct. 12 of Joseph Bova, who was indicted last week by a Grand Jury in connection with the case.
In the Detention category, Detention Deputy Randy Vickers was recognized for his vast knowledge of detention services as demonstrated through his attitude, work ethic and interpersonal skills with inmates at the Flagler County jail. Vickers provides guidance to juvenile suspects in an effort to steer them towards making better decisions in their lives and on the importance of remaining in school and continuing with their education.
Each award recipient was nominated by their immediate supervisor for their exceptional service and is now eligible for further consideration as Employee of the Year in their respective category–Law Enforcement, Detention Services and Civilian. (Caccavale is in the civilian category.)
"The residents of Flagler County should be extremely proud of each of these men and women and for the service they provide to our community," Manfre said. "Knowing the degree of professionalism and dedication each of these employees has displayed is very rewarding to me as Sheriff."