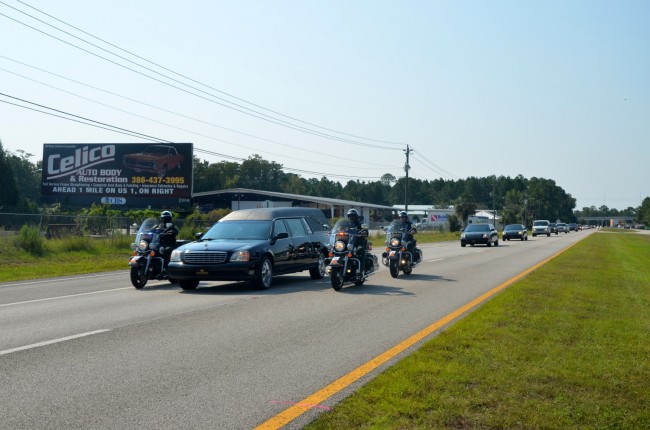 An image gallery appears below.
Parts of Palm Coast and Bunnell came to a standstill today as the funeral procession for Sgt. Frank Celico weaved its way—and roared to the motorcycle sounds that were symphonies to his ears—around the two cities, to his father's Celico Auto Body shop on U.S. 1 where he came of age with his older brother Carmine, to his famous "Shellico" station and pit stop on Old Kings Road, to his home and his parents' home in the F section, across the bridge over I-95 that's inevitably one of every local cop's professional focal points, onto to his family's Catholic church at St. Elizabeth Ann Seton for more than two solemn hours, and finally to his resting place at the Craig Flagler Palms cemetery on Old Kings Road, after a 21-gun salute and a final dispatch that went unanswered, at least here.
Celico, just 33, a native of New Jersey, a proverbially loving son in an Italian family of proverbial closeness, had been a deputy, a corporal, and a sergeant in his 11 years with the Flagler County Sheriff's Office when, inexplicably and suddenly, he died on Sept. 9 after complaining of chest pains. The outpouring of collective sorrow culminated at 11 a.m. this morning in a church that overflowed with family, friends, many strangers and fellow-officers from several law enforcement agencies across northeast Florida, and of course almost the entirety of the Flagler County Sheriff's Office, absent those deputies on crucial beats.
"He did this in 33 years. I couldn't do this in 300 years," his long-time friend, Mike Bennici, said toward the end of today's eulogy, taking in the mass of people who had turned out.
---
21-Gun Salute, Taps and Last Call for Sgt. Frank Celico[media id=248 width=300 height=250]
"As I was at the hospital, and even here today, you can see what an impact Frank had on everybody's life," Bennici said. "I've never been somewhere where so many people gathered, and as I looked at the hospital, and even as I look here today, I can't discount anybody's relationship with Frankie. My relationship was when, in 1993 when I moved here, Frank was kind of my first friend, we were inseparable for three years, and it wouldn't be fair for me to talk and tell stories about what I had with Frankie, because I'm sure if everybody had their chance we'd be here to probably next year."
Celico worked seven of his 11 years under Sheriff Don Fleming. "He was very outgoing, always had a joke, always willing to help. He's just one of those people that you got to like. The kind of person that gave you a smile," Fleming said toward the end of the day. "He was a credit to the agency, well respected, well liked. He will be missed."
Fleming had an explanation for Celico's popularity–the sort of popularity that often goes unspoken because of the nature of the job: men and women in uniform are always in the community, making contact with people in very particular–and often hard to forget–circumstances. "Law enforcement is different than corporate America where you have a CEO on the top and everybody falls underneath," Fleming said. "I think you take that pyramid and reverse it in the sheriff's office," with deputies always on the beat, being the first, and often only, point of contact between residents and the department.
Rev. John Reynolds led the service, which included a reading from Isaiah ("do not be afraid, for I am with you… I will help you," 41:10 and 13) and a St. Paul letter to Romans ("Hope does not disappoint, because the love of God has been poured out into our hearts…" Romans 5:5-11). The chosen reading from the Gospels was Matthews' Beatitudes, which never lose their power to console and fortify for being standard reading at funerals.
"When I look up at our banners and I see that they represent the countless men and women that gave their lives for innocent people," Reynolds then said, looking at the rows of uniformed men and women before him, "and I look at each and every one of you who do so each and every day, then the funeral for Frankie puts things in perspective. A life, although cut short by our human standards, was a life that was dedicated to the service, the protection of others.
A family member was beyond comprehension, Reynolds told the congregation, repeating: I don't understand. "And I said, but Frankie does," the priest said. "All of the questions that each of us hold so very heavy in our hearts he now knows not only the purpose of his life, but knows that faith he had in God was real, and for him it's come to fruition. So we gather this day with all the solidity and the honor that his young life deserves, and we come for ourselves, because in our catholic faith we believe that this is the last thing that we can do to honor his life, is to present him to God, the God who he joined in his baptism."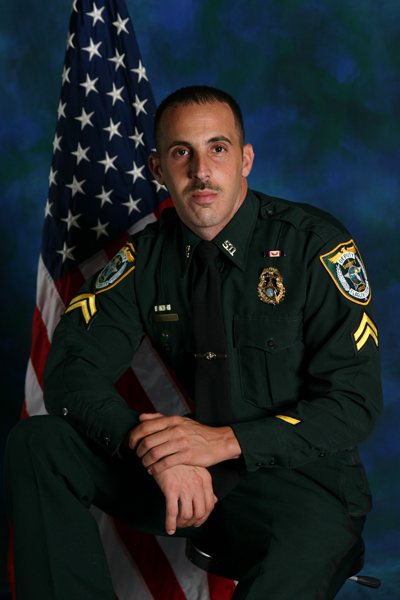 Bennici, who owns Joe's New York Pizza in town, summarized Celico's brief life—his birth in New Jersey, on Jan. 9, 1978, his growing up in Lyndhurst, a suburb of Newark (or New York City, depending on your perspective), until the Celico family's move to Palm Coast in 1993 and the opening, shortly after that, of Celico Auto Parts, where Frankie, as he was known, and his brother Carmine worked at the shop, developing a passion for cars and racing and collecting them, too: Firebirds, low riders, Mustangs, Corvettes, BMWs, Mercedes, motorcycles. "The two brothers were always together and became known for their four mustangs and their loud music around town," Bennici said.
Celico graduated Flagler Palm Coast High School in 1996, and soon after that graduated from a technical school as a jet-ski technician. Both he and his brother signed up for the police academy in 1999. The Sheriff's Office hired Celico in 2000, not knowing that it would be getting a de-facto substation at the Shell station on Old Kings Road, just north of Palm Coast Parkway: that's where Celico could be found, on or off duty, on more occasions than could be reasonably counted.
"Frankie was only 33 when he passed, but in his short life, he touched so many of us," Bennici said. "Maybe none more so than his two nephews, Joseph and Carmine, and his niece, Mia. Frank would go and take these kids any and everywhere. Many people actually thought they were his own kids. There is a short saying that says, 100 years from now it will not matter what kind of house I lived in, how much money I had, nor what my clothes were like, but the world may be a little better because I was important in the life of a child. Frank did just that. Frank left his mark on the world, and God called him home on Sept. 9, 2011. Frank's work here on earth was done." He added: "he Flagler County Sheriff's Department will never be the same. Frank's friends will never be the same. And most of all, the Celico family will never be the same."
Several times Bennici tried to break the tension by reminding the assembly that Celico was not a dour man. To the contrary. Or that, in an illustration of his skills as a soccer player in New Jersey, his grandmother had once pledged to give him $10 for every goal he scored in matches until she realized what a mistake she'd made from the bunches of goals he kept scoring. She cut the pledge to $5 a goal.
Shortly before he died, Celico went to Bennici's pizzeria with Capt. Mark Carman, and told Bennici that he would be driving back to New Jersey, alone, for visits. He was looking forward to the drive. Back home, he visited everyone he'd known, and even looked up some of his family or friends whom he hadn't seen in years. For whatever mysterious reason, Bennici said, the pilgrimage was no coincidence.
"A lot of times when people die, everybody makes them like a saint and they forget all the bad," Bennici said, concluding. "There really was no bad. I mean, nobody's perfect, but this guy came as close as it gets. His cousin Joe said something at the house that kind of made sense to me. He said an artist is always known, but it's not until he dies until you appreciate his work. And if you think back of all the poets and artists and musicians, it's not until they're gone when people start to appreciate them. I think Frank was appreciated in life. I really do believe that. Now we're really going to appreciate him even more. But if you could take anything, take the good things that he had, and maybe try to instill one of those values in your children or maybe yourself."
At graveside, Reynolds again led the prayer service, the Flagler County Sheriff's Cpl. David Williams recited the Policeman's Prayer, deputies from the St. John's County Sheriff's Office fired the 21-gun salute, Taps was played, the flag folded and presented to the family, and the final call went out as helicopters flying the missing-man formation flew overhead.
The Frank Celico Funeral (for best, large viewing, click on an image)
[nggallery id=86]