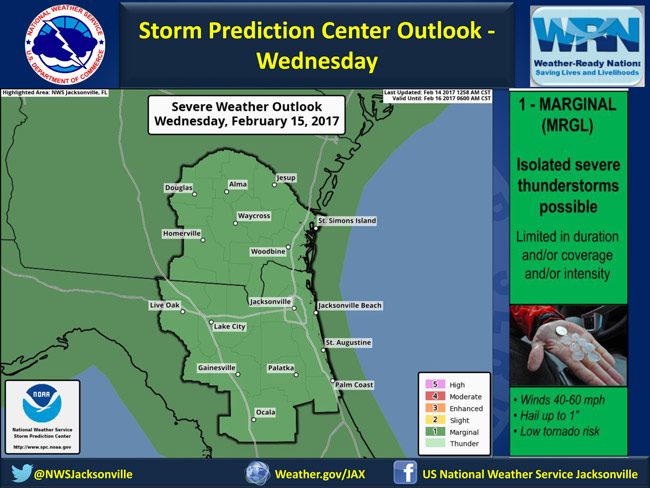 Last Updated: Wednesday, 11:44 a.m.
The National Weather Service Tuesday afternoon cautioned that Flagler County is included in an area that may experience "strong to severe thunderstorms" in early afternoon Wednesday, and into late afternoon or early evening. The Storm Prediction center is placing the region "within a marginal risk of severe thunderstorms," with damaging wind gusts, hail, and isolated tornadoes possible.
The weather center's simulation of the storm front, issued Tuesday, places the most active parts of the storm above Flagler County at 3 p.m. Wednesday. That can change with subsequent simulations. Wind is expected to become stronger starting at noon, with scattered thunderstorms starting at 2 p.m.
Low pressure currently developing over eastern Texas will move rapidly east-northeastward this afternoon and tonight, reaching west central Georgia by Wednesday morning, the weather service notes. A squall line containing strong to severe thunderstorms has developed ahead of this low pressure center, continuing to move east along the northern Gulf coast states this afternoon and tonight. The storm had injured at least seven people as it moved through Texas Tuesday, flipping RVs and causing some damage to structures in Van Vleck, Texas, and causing power outages in Houston.
Thunderstorms will move rapidly east-northeastward at 40-50 mph, which will place this activity over coastal southeast Georgia and northeast Florida by the early to mid-afternoon hours on Wednesday.
All modes of severe weather, including damaging wind gusts, hail, and isolated tornadoes, will be possible on Wednesday due to very strong wind shear and moderate atmospheric instability forecast to be in place over our region, the weather center cautions.
The storm line will give way to a dryer, clear, cool night, with local temperatures falling into the upper 40s.
Sign up for Weather Alerts here. Keep up with the Jacksonville National Weather Service webpage here.

Weather Briefing for the Region (Tuesday).
Weather Briefing for the Region (Wednesday).