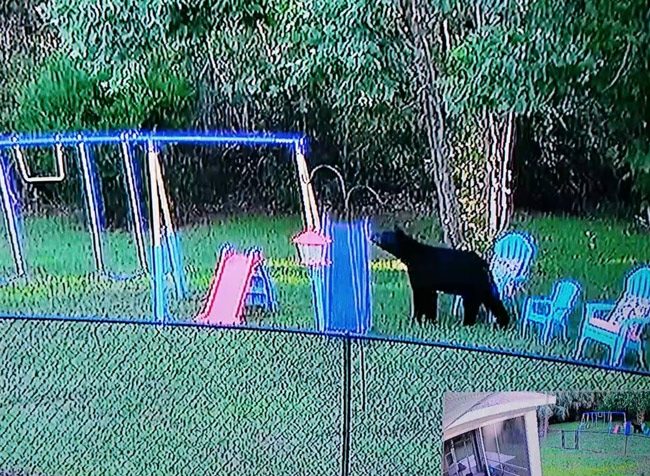 A black bear roaming around Seminole Woods in Palm Coast for at least the past four days has caught the attention–and guarded concern–of residents there and that of the Florida Fish and Wildlife Conservation Commission, which sent officials to analyze the sightings and educate neighborhoods on how to respond.
The bear, which appears to be five feet tall, was caught by surveillance video in resident Richie Maher's backyard, eating out of what appears to be a bird feeder. Other residents have posted images of the bear's foraging through garbage and, this morning, leaving a coil of its less appetizing calling card on a resident's lawn. The bear has been linked to areas around Ulaturn Trail, Ullian Trail and Selma Trail.
On June 10, the Flagler County Sheriff's Office got a call about a bear chasing a man on Ullian Trail and eating out of a garbage can. "Black bear on Ullian trail just chased our neighbor who was walking then stopped to get in the trash," Jackie Buckingham reported on the Seminole Woods's Facebook neighborhood page. "The neighbor ran to our house to let us know because we were out cleaning our car 4 houses down."
The conservation commission has since responded by canvassing the neighborhoods, handing out brochures and asking residents to secure garbage cans and bird feeders, among other food sources, said Greg Workman, spokesman for the conservation commission's central Florida district. The brochure is "A guide to living in bear country," which addresses the steady rise, from the low thousands to the upper thousands, in calls to FWC reporting bears in residential areas. The rise is due to the combination of increasing development, which encroaches on and destroys the bears' natural habitat, and the rebounding population of bears from as few as 300 in the 1970s to between 4,000 and 5,000 today.
The Seminole Woods bear, the conservation commission has determined for now, is there because of a few food sources that must be made more bear-resistant–garbage and bird-feeders, Workman said. There are no immediate plans either to relocate the Seminole Woods bear or to kill it, but if other measures designed to encourage the bear to move on don't work and sightings persist, FWC will return and consider what to do at that point, Workman said.
"Just because a bear gets in your trash doesn't mean we're going to kill it," Workman said. "We relocate quite a bit of bears and other wildlife." If bears are considered a nuisance, the priority for the conservation commission is to eliminate the reason they've become a nuisance, which is usually traced back to humans developing a food source for them, intentionally or not. Eliminate the food source, and the bear generally moves back to its own habitat, away from humans.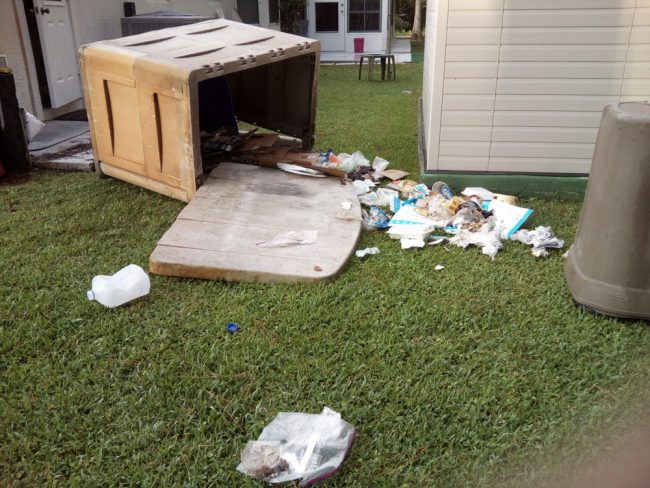 "When it comes to the conclusion through our process that a bear has been habituated, meaning it's been so introduced to human interactions and food sources to where that's all it knows," Workman said, "then it's a problem. It's not just a problem for the bear, it's a problem for us, we've done that to that bear." The top two food sources are unsecured trash cans and bird feeders. But other "attactants" abound, including, for example, big, deep fryers for turkeys that residents leave in the yard to cool, then forget. A bear can smell that from a mile away. All those food sources develop habits.
"When it starts breaking into homes, breaking into vehicle, is going into garages and threatening and killing dogs," Workman said, "that's a behavior that's not natural and it's a behavior we can't take from one area to another area and release it in another area."
In other words, that's when the more drastic measure of killing a bear may come into play. But contrary to certain popular beliefs, calling the conservation commission does not mean those measures kick in. Workman said the commission's biologists are devoted to preserving animal life and see other measures as unappealing last resorts that go against their training.
But "any time there's a potential conflict between wildlife and humans it is a concern to us." The goal is to reduce the conflicts and ensure that bears and humans cohabitate. "They're here, they're here to stay, and so are we." Workman said it's all about educating residents.
Most of the reactions to the bear's roams in the Seminole Woods area, judging from postings on the neighborhood's Facebook page, have been in turn admiring, humorous, cautious and only somewhat concerned. The neighborhood is populated by residents who appreciate wildlife. Several residents have been contacting the commission (a biologist there said she'd received "a handful of calls") and providing information enabling biologists to track the bear or to help determine what is causing it to roam about.
Black bear sightings in Palm Coast and Flagler are not common, but steady. One was sighted at night in May 2017 ambling about the Emergency Operations Center in Bunnell, on its way somewhere: it was never seen again. There was a brief B-Section sighting in 2014. There's been a few others that never went past a few Facebook pages' attention.
"We don't get as many calls from Palm Coast as we would from Seminole or Volusia County," Workman said. "Seminole we get a bunch."
In 2015, the conservation commission allowed for a bear-hunting season in the state and called it a "success" after 304 bears were killed. The hunting window was set to last seven days. It was halted after just two, when the targeted number of bears was reached. It was the first bear hunt in the state in 21 years. There was some talk of another bear hunting season in 2016, with the NRA joining the fray for an open season, but the response to the 2015 season, while popular among hunters, drew widespread criticism from conservationists, including a lawsuit, while some counties said they would want out of the next bear hunt. No additional bear hunting season was enacted, and none is being discussed now, Workman said.

Click to access You-Live-in-Bear-Country-and-Securing-Attractants-Double-Sided_NE.pdf