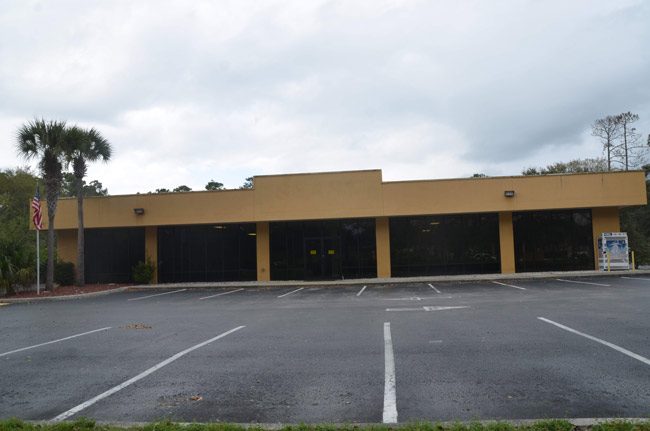 Last Updated: 5:35 p.m.
The former Sears building on Palm Coast Parkway that Flagler County government just reluctantly agreed to buy for $1.1 million, though it didn't need it, and last week opted to use as stop-gap space for the sheriff for two years, is now Mold Ops II: it is plagued by water intrusion and "substantial mold," county officials discovered this morning, just like the sheriff's Operations Center in Bunnell, which the sheriff had to evacuate last June after dozens of employees became sick.
The county closed on the building purchase in March. Litigation is likely.
"Give me a break. I'm still mad about that. I tried like hell to get it stopped," County Commissioner Dave Sullivan said this afternoon. "I don't know what to say other than it's embarrassing." He was upset and did not hide it. "It's infuriating to me that this has happened," he said. Last March he'd attempted to stop the purchase of the building when it became clear that the tax collector did not want it, though the county administration had ostensibly acquired it for her initially.
Today Sullivan blamed Universal Engineering, the firm that inspected the building, and Margaret Sheehan-Jones, the real estate broker who handled the sale, for not detecting or disclosing the building's issues. But Sullivan and other commissioners in March heard the county staff tell them the time to back out had passed. "One way or another it's going to cost the taxpayers more money that we shouldn't be spending."
[See: "How Flagler Government Bought the $1.1 Million Sears Building Nobody Wants, With Scarce Money Needed Elsewhere."]
Just last week the county commission directed County Administrator Jerry Cameron to spend about $40,000 to get the 8,000-square-foot Sears building ready for the sheriff's occupancy, to relieve what Sheriff Rick Staly has described as an "untenable" fracture of his operation and the overcrowding of his staff in shared spaces at the county courthouse. The sheriff himself had never asked for the building. But now, with the Sears building in the same rather sinking boat as the old operations center, it is again unclear when and how the law enforcement agency will catch a break, short of the planned construction of a $12 to $15 million sheriff's district office near the library in Palm Coast. That building is not scheduled to be ready for at least two years.
Cameron informed commissioners and the sheriff of the Sears problem in a memo and phone calls today.
"We both agreed in the conversation there's no way sheriff's employees are going to go in there, we're not going to leave one mold infested building for another one," Sheriff Rick Staly said, referring to his conversation with Cameron. "It's not an option as far as I'm concerned. My employees are never going to accept a repaired moldy building." The sheriff stopped at the Sears building today to see for himself, and saw what he described as damage from "years of water leaks" and a "major structural issue."
Cameron's memo today summed up the situation this way: "As of today, our General Services staff discovered significant water intrusion in the walls of the Sears Building resulting in the rusting out of the bottom plate of the metal stud wall as well as substantial mold growth," Cameron wrote. "This property was inspected prior to purchase by Universal Engineering and these deficiencies were not noted. Staff has concluded that this has been a long term problem which would have resulted in water running out onto the showroom floor during rain storm events. There was no disclosure to the County with regards to this problem by the owners or the selling agent." (See the inspection report here.)
Cameron told commissioners that County Attorney Al Hadeed is "preparing notices to the owner, selling agent and Universal Engineering, advising the County will be seeking remedies as are available to them." It is not yet clear what those remedies are.
"He is notifying everybody that was involved in the transaction there is a high likelihood of litigation here," Cameron said in an interview in early afternoon. "The engineering firm gave that building a clean bill of health. The owner–this has been going on for some time–probably should have know that was there, that was not disclosed." The building was owned by the Darnell Group, whose president, Andrea McIntyre, signed the warranty deed on March 29.
Hadeed said certified letters are being sent to the seller, the engineering firm and Sheehan-Jones asserting certain claims, depending on the recipient. "We claim that they negligently breached their duty to us as our independent consultant," Hadeed said of the inspector, while Sheehan-Jones "breached her duty as a broker to disclose to us facts about the building that would have affected our views about the property transaction." He said there's no evidence that the broker concealed information. "With respect to the broker, I don't know. She knew, or she should have known, and thereby had a duty to disclose to us, since we were so dependent on her. She was the one who brought the property to our attention, we did not call her."
But there "definitely was concealment" on the sellers' part. "You have the pictures, which should speak for themselves," Hadeed said. (See the pictures below.) "Universal, if they had given us a proper report it would have given us a totally different perspective on how or whether we could do the transaction."
The county will seek various remedies, including getting the $1.1 million back.
Meanwhile, the county and the sheriff are thankful the issues were revealed now rather than after employees had moved into the building, which would have led to further issues and possibly more workers' compensation claims.
"Quite frankly it's because we were putting the sheriff in it that we were taking extraordinary precautions," Cameron said. "Our guys walked into the building and said there's a problem. I ordered the sheet rock to be taken off. I didn't want to go through this thing of should we drill a hole or not drill a hole." Cameron personally inspected the building as well. What he saw was alarming.
"It's a situation I would never have put the sheriff into without him agreeing to some remediation, and quite frankly he is justifiably concerned because of what he's been through," Cameron said. "He doesn't want to risk putting his employees in there so we're probably left with a building that's going to be vacant until the legal issues are resolved. It could be a while."
For the county, that makes two buildings in that situation, assuming it can resolve issues at the old Wachovia Bank building it acquired last year, and that was supposed to be ready in January for occupancy by the sheriff's Palm Coast district office. That building too has generated its own list of problems, and won't be ready for occupancy until around September, if then.
"This should have come out in the inspection, so they're responsible, the Universal inspection company," County Commissioner Joe Mullins, who himself buys and sells real estate, said. "Where did that inspection go and did we not do due diligence? This is a part of buying buildings, you're going to have things like this, but we seem to be doing it over and over." Mullins said discoveries of the kind are "deal-breakers," allowing a buyer to walk away from a building. But for Flagler, that's too late. "I knew something was going on with it and I did not want to buy it. I knew some of the other guys were hesitant with it," Mullins said. One commissioner, Dave Sullivan, had sought to stop the purchase earlier this week but was told it was too late to do so, even though the transaction had not yet closed at the time. When the commission cast the final vote on the building in late March, it was 4-1 to buy the building, with Mullins the only dissenter.
Sheehan-Jones, who'd handled a majority of real estate transactions for the county in recent years, approached then-Administrator Craig Coffey last August with a query about buying the building. Coffey hurriedly told Sheehan-Jones that it would be a go, and he set in motion the process that led to the contract and a Nov. 19 vote by the County Commission exercising the option to buy. No commissioner objected. The aim at the time was vague even then: the building was intended for use by the tax collector, even though the tax collector had not expressed a dire need for it and later was content ceding the space to the sheriff. (Sheehan-Jones could not be reached this afternoon.)
Sullivan recalled his experience with his own real estate license a few years ago. "If you're aware of any problem on a piece of property you're selling, you have to tell the buyer about it, the seller, you're kind of obliged the same way," he said. As much as the commission tried to ask the right questions and make the right moves, he said, it still couldn't get out of a deal it did not want. "No matter how you cut this, I think the commissioners look like idiots."
The problems with the Sears building means there's renewed pressure on county commissioners to decide how to resolve the sheriff's space crunch at the county courthouse, where dozens of sheriff's employees, including two dozen detectives, have been using space on three floors. The arrangement has created tensions with the clerk of court, who is saying that he cannot provide further space. Commissioners, including Sullivan, have previously said that since they're responsible for ensuring that constitutional officers have the space they need to do their work, they may force the issue and require Clerk of Court Tom Bexley to give ground. the alternative is to lease space elsewhere at significant cost, with money commissioners say is not available.
Staly is staying out of that fray. "That's a question for the county administrator and the county commission, because it's their responsibility to provide adequate space for the sheriff, just as it is for the other constitutional officers."
Cameron isn't committing to a recommendation on that score, saying he'll seek the commission's direction at a commission meeting Monday.

"Forensic photographs were taken Wednesday morning showing black mold on removed sheetrock, wet insulation, rusted out bottom plates of multiple wall sections, failed gutter repairs on the roof, and the ground level of an exterior area of the building that is higher than the finished floor – leaving the interior wall wet," a county news release stated today. Here are the photographs, shot and provided by the county's Julie Murphy: