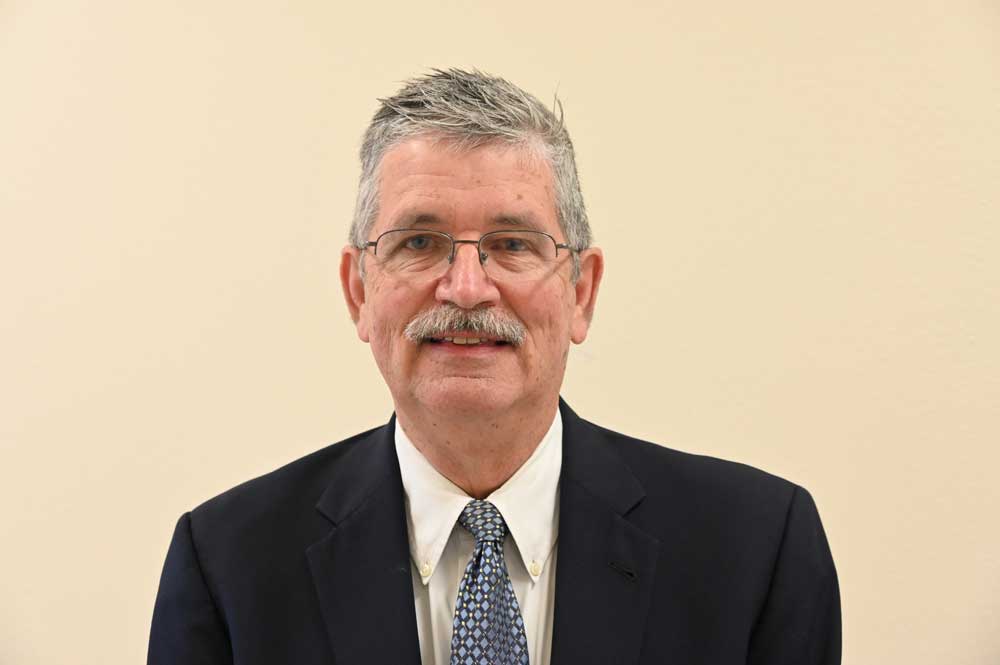 Scott Spradley is one of five candidates for two seats on the Flagler Beach City Commission, along with Rick Belhumeur, Bob Cunningham, Doug Bruno O'Connor, and first-term incumbent Deborah Phillips.
The non-partisan municipal election will be decided on March 7. Voters registered in Flagler Beach have been casting ballots by mail since early February. All registered voters in the city, regardless of party or non-party affiliation–Democrats, Republicans, independents and others–may cast a ballot. Here's a sample ballot.
The top two vote-getters will be elected to a three-year term on the commission, which is made up of five members plus the mayor. The position pays $9,502 a year.
FlaglerLive submitted identical questions to all candidates. The Live Interview's customary follow-up questions have been in most or all cases dispensed with in this race: the interviews are intended to provide a brief if substantive snapshot of each candidate while still eliciting as much candor and transparency as possible. We have asked candidates to refrain from making campaign speeches or make lists of accomplishments. We have also asked candidates to reasonably document any claim or accusation.
The candidates received the questions last Sunday and all but Phillips completed them before the meeting on Feb. 9, where the commission fired City Manager William Whitson. The questions had included one about Whitson's performance. Those answers have been preserved since they reflect the candidates' analysis of city leadership. An additional question went out after the meeting, asking what next.
Note: the Flagler Woman's Club is hosting a Candidate Forum featuring the five candidate for city commission, on Feb. 21 at at 7 p.m. at 1524 S Central Ave, Flagler Beach.

The Questions in Summary: Quick Links

Place and Date of Birth: Shelby, N.C., December 23, 1955.
Current or last job: Attorney, Law Offices of Scott W. Spradley, P.A., Flagler Beach.
Party Affiliation: Republican.
Resume.
Websites: https://www.flaglerbeachlaw.com/, https://spradley4flaglerbeach.com/, https://www.facebook.com/scott.w.spradley, https://www.spradleyphoto.com/
1. What makes you qualified to be a city commission member? How have you specifically prepared yourself to be ready to succeed from day one? Tell us about you as a person: your personality, your temperament, your foibles: what character flaw do you bring to the council? Who do you admire most in office today among elected officials in Flagler County—the person you'd consider a model of leadership?
As a Flagler Beach resident and business owner for nearly 20 years, I am a stakeholder in the community, and I intend to remain in Flagler Beach past retirement (whenever that occurs). For the past 10 years, I have been a voice in the community and have been active as a member, a chair or a vice-chair of multiple Flagler Beach committees and boards which report directly to the City Commission. I am currently the vice-chair of the Flagler Beach Planning & Architectural Review Board, and most recently was chair of the Flagler Beach Ad Hoc July 4th Findings Committee. I am also currently a member/participant of the Flagler Beach Centennial Committee, which was formed last month. In my capacity as a member of these Flagler Beach committees and boards as well as through my daily interactions with Flagler Beach residents and business owners, personally and through my law practice, I have developed a widespread and current understanding of the thoughts, concerns and expectations that other Flagler Beach stakeholders have of local government, including the City Commission and the City Manager. These interactions, combined with my own thoughts and expectations of local government, have led to my decision to seek public office as a Flagler Beach City Commissioner. Moreover, I have developed a deep understanding of the issues that are important to Flagler Beach and I have a genuine sense of the quality of life desired by our residents and business owners. Also, with my background as an attorney for 35 years, I am in the business of gathering facts, applying the law and analyzing issues in creating solutions to problems. All of these factors contribute to my knowledge base and my capability to perform as Flagler Beach City Commissioner, if elected. In preparation for the job, I have attended virtually all City Commission meetings the past 2 years, either in person or remotely, and for the past year, I have met with each of the 5 sitting Flagler Beach City Commissioners, the Mayor and the City Manager, to discuss various and important issues, dozens of times. I feel my background and my historical involvement with Flagler Beach provides an excellent foundation for my service as Flagler Beach City Commissioner. On the personal level, I have an even temperament. And I am a good listener. I represent clients who are typically confronted with difficult legal issues. That's the nature of my law practice. I work well with opposing parties even when the temperature is high. This will serve me well should I become elected. As far as character flaws, I can't think of anything obvious, although maybe my former wife can weigh in on that. In all seriousness, I always strive to improve myself, whether on the personal or the professional level. That is a never ending process for which I take daily inventory.
As to local leaders I admire, I believe there are positive traits (and negative ones) in the make up of all current local elected officials. For me personally, the leadership style most influential to me and which I most admire, however, is that of former Flagler Beach Mayor and former Flagler Beach City Commissioner Linda Provencher. Along with attorney Dennis Bayer, Linda P. was among the first people I came to know when I bought a home in Flagler Beach in 2004. Since then, I closely followed Linda's career in local government and saw first hand how she gathered facts, listened to residents and analyzed issues in making thorough and thoughtful decisions that had short and long term effect on Flagler Beach. I would like to think that I too, will strive to be as thorough and as thoughtful as Linda P. in making recommendations and decisions if I am elected Flagler Beach City Commissioner. In summary, I have the desire and have shown my commitment to serve the residents and business owners of Flagler Beach. I have a track record of exactly that. I have also recently served the community through my actions as Special Legal Counsel to Flagler County, in assisting in the resolution of the infamous dune holdout issue, which is big step in saving our Beaches. I am willing, able and excited about the prospect of becoming a Flagler Beach City Commissioner, and appreciate your vote.
 See how they answered:
Rick Belhumeur | Bob Cunningham | Doug Bruno O'Connor | Deborah Phillips |


2. Cite three issues or concerns that in your view the city is addressing poorly or not at all, and explain with as much specificity as possible how you intend to convince the commission to change course.
Going through the alphabet, I would start with: Accountability to residents, Budget oversight and Communication between residents and between Commission and City Manager, are three pronounced concerns that plague Flagler Beach residents and business owners at this time. As to Accountability, there is a large core of residents who feel their expressed concerns are not being acted on or even being listened to. Worse yet, when mistakes or errors by the City occur, the view is that there are no consequences to those who caused the mistakes. The loss of 4th of July Fireworks in 2022 and the failure to make application for the $675,000 grant at the same time, come to mind. Likewise, there is a view that Budget oversight is lacking, since we routinely face infrastructure failures and then learn during budget season that routine maintenance was not provided for, which could have prevented the scope of such failures. Likewise, a lack of structured, timely and effective Communication between residents and the City Commission and between the City Manager and the City Commission is a pronounced area of concern for all residents. The topic has been a centerpiece of City Commission meetings for the past year, at least. If elected, I intend to make improvement and resolution of the issues surrounding Accountability, Budget oversight and Communication between residents/City Commission/City Manager a priority of the highest order for the City Commission. Part of the solution is to encourage greater participation in the process (attending City Commission meetings and workshops) by residents and business owners. Another part is to improve the debate and exchange of information at City Commission meetings on these issues. Answers are available. We just need commitment to find and implement those answers, and I am anxious to do just that.
 See how they answered:
Rick Belhumeur | Bob Cunningham | Doug Bruno O'Connor | Deborah Phillips

3. Flooding is now a recurring problem in various parts of the city. Evaluate the city's response to flooding from last fall's storms. To what extent is the city capable of addressing the problem, at what cost, and with what revenue?
During City Commission meetings the past several months following the catastrophes brought to us by Hurricane Ian and Tropical Storm Nicole, we have seen first hand the extent of the failure of Flagler Beach infrastructure which worsened the effect of flooding caused by climate events. Can we prevent floods? No. But we certainly can reduce the effect of flooding by upgrading, improving and in some cases, simply maintaining the existing infrastructure as it relates to stormwater control. This issue rightfully comes to a head following the effect of storms, whenever they occur. But it shouldn't be such a reactive process. Once the flood occurs, it is too late. The City Commission has the power and the resources to make infrastructure improvements and flood management a higher priority than it is. If elected, I will ensure that all reasonable measures to lessen flood damage exposure to Flagler Beach are brought to the City Commission, with policy developed and action ordered and completed.
 See how they answered:
Rick Belhumeur | Bob Cunningham | Doug Bruno O'Connor | Deborah Phillips


4.Relations between business and residents on one hand and the city on the other seem poor, and "communication" appears to be a problem, judging from the long but not entirely conclusive discussions of the city commission to date. Have relations deteriorated, in your view? Is there a communication problem? If so, explain why, and what your specific remedy would be.
See my answer #2 above. Communication between the City Commission and the residents and business owners is a very real problem. The topic is one of great concern and makes it presence known in various manners at virtually all City Commission meetings these days. The current set up is unworkable. We have a City website that is of limited value. We instead are steered to a very good social media site maintained by our Police Chief. At a recent City Commission meeting, it was actually being entertained that the City would contract to use a website developed and maintained by a local realtor. These piecemeal approaches to City communications are not the answer. In my view, a global resolution to the communication issue, is the answer. By that, I suggest to you that it is imperative for the City Commission and the City Manager to create and implement a workable, comprehensive and coordinated combination of website, social media and mailings that routinely and accurately keep the residents informed about actions the City is taking and/or is planning. We are on the eve of 4 major projects that will collectively control the destiny of Flagler Beach: Demolition and rebuild of the Flagler Beach Pier; building of the new downtown hotel; dune and beach renourishment; and A1A design and rebuild. We are at a point that Flagler Beach simply cannot afford to have anything less than complete, adequate and accurate communications between the City and its residents and business owners. If elected, I will ensure that a global communication resolution is sought, achieved and implemented for Flagler Beach.
 See how they answered:
Rick Belhumeur | Bob Cunningham | Doug Bruno O'Connor | Deborah Phillips |






5.City Manager William Whitson's tenure has been rocky, as reflected by a recent three-month probationary term. Since you've attended almost every meeting for most of his tenure, how would you evaluate his strengths and weaknesses from your vantage point? Given the chance would you fire or retain him?
I first met Mr. Whitson when the Flagler Beach Ad Hoc 4th of July Findings Committee was formed in the Summer of 2021. I was chair of that Committee and Mr. Whitson was a City Staff member, who attended and participated in all Committee meetings. I found him to be a delight to work with. After five months of Committee meetings, we recommended to the City Commission that 4th of July Fireworks continue, so long as the event could be properly staffed and safely conducted. The City Commission unanimously approved our recommendation in December, 2021. Consequently, it was a monumental disappointment to learn in May 2022 that the City failed to retain a fireworks vendor for the 4th of July Celebration. Following that, I was not shy in my public expressions of concern and criticism of the City Manager due to the failure to timely engage a fireworks vendor for the July 4th Celebration, 2022 and for the failure to make application for the $675,000 TDC grant, at about the same time. As you point out, the City Commission placed Mr. Whitson on 3 months' probation, to be followed by another performance review. As circumstances would have it, that review is scheduled for this evening. With that said, I will be in attendance at tonight's City Commission meeting and will be closely attuned to the City Manager performance review. Whatever the outcome, Flagler Beach must have competent leadership, particularly in view of the volume of critical projects that will occur in the next three years. When it comes to the City Manager, if elected, I will have a critical eye on City Manager performance for the entirety of my term. In that regard, it would be my duty to support capable City Manager leadership but also to support change in City Manager leadership, if warranted by the facts and circumstances under my watch. I am committed to upholding my oath and making proper decisions for the betterment of Flagler Beach, if elected, including supporting a change of City Manager leadership if warranted.
In light of the commission's firing of Whitson on Feb. 9, What key factors would drive your decision, first on an interim manager, second on a permanent manager? What skills would you bring to the table to avoid another managerial misfire?
The City Commission has a monumental task in front of it by having to hire not one, but two City Managers going forward. The first hire will be an interim city manager, whose job it will be to hold down the fort while an extended search is conducted by the City to hire a full time, permanent City Manager. For that first hire, it is imperative that the City find a capable but highly experienced candidate, who is able to hit the ground running. This is for obvious reasons as we are on the front end of multiple extensive projects, consisting of the Flagler Beach Pier demolition and rebuild; the construction of the new downtown hotel; and the ongoing projects to renourish our beaches and dunes. The interim manager must be experienced in handling these kinds of high profile projects and of course, must be experienced at high stakes multitasking. After filing this position–hopefully, at the Monday Workshop on the issue, the City must embark on the search for a full time, permanent City Manager. Obviously, the needs of Flagler Beach have become greater and more sophisticated with the continued local growth, and again, with the multiple long term projects then underway. The candidate for this position must therefore have significant experience, preferably as a City Manager, but perhaps a candidate can come from the ranks of an assistant City Manager or like position. If elected, I will undertake to perform all proper vetting that is appropriate for the circumstances and will place this search as yet another high priority for Flagler Beach and its residents and business owners.
 See how they answered:
Rick Belhumeur | Bob Cunningham | Doug Bruno O'Connor | Deborah Phillips


6. Have you ever been charged with a felony or a misdemeanor anywhere in Flagler, Florida or the United States (other than a speeding ticket), or faced a civil action other than a divorce, but including bankruptcies, or faced any investigative or disciplinary action through a professional board such as the bar or a medical board? Have you ever been demoted? If so, please explain, including cases where charges or claims did not lead to conviction or disciplinary action.
No. I have never been charged with a felony or a misdemeanor. I have had approximately four speeding or traffic tickets in my 50-year driving career—but nothing eye popping. Other than a divorce, and a few parking tickets when I lived in Orlando, I have never had any other action, civil or criminal, against me and have never filed for bankruptcy (although I have filed many bankruptcy cases for others through my law practice).
Although not asked, and for the sake of transparency, my law firm had two claims against it in my 35 years in practice. Both resulted in orders of dismissal by the court. I have never been subject to any investigative or disciplinary action by The Florida Bar, which governs my profession, or by any other board or agency. As an attorney, I was awarded and have maintained an AV Peer Review Rating by Martindale-Hubble for over 20 years. (AV Peer Review Rating – "shows that a lawyer has reached the height of professional excellence. He or she has usually practiced law for many years and is recognized for the highest levels of skill and integrity." martindale.com).
 See how they answered:
Rick Belhumeur | Bob Cunningham | Doug Bruno O'Connor | Deborah Phillips |