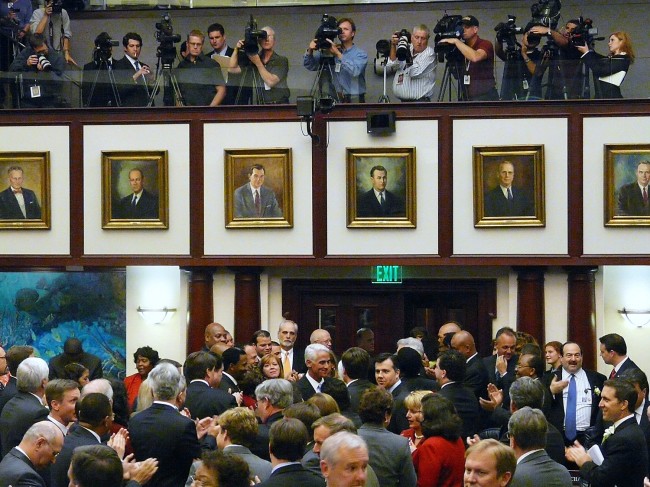 A day after a Public Policy Poll showed Florida Gov. Rick Scott losing a theoretical race against Charlie Crist by 12 points, a Quinnipiac University poll on Wednesday shows the governor losing by 16. Quinnipiac's polls are generally–if slightly–more reliable than PPP's, because they are conducted through live phone interviews. PPP's are automated phone interviews.
If the election were held today, according to the Quinnipiac poll, Scott would also lose a match-up against Democrat Alex Sink, his 2010 opponent, by 11 points.
Only 32 percent of voters say he deserves a second term in office, including just 28 percent of independent voters. His job approval rating is a negative 36 – 49 percent, compared to his negative 36 – 45 percent disapproval in a December 19 survey.
Scott's only silver lining is his prospects in a primary. Republican Adam Putnam, the agriculture commissioner from Lakeland who does not hide his ambitions to be governor (or president), does not appear to be posing much of a threat yet to Scott. In a primary match-up, Scott would beat Putnam 47 to 24 percent.
Sink would also beat Putnam, 37-29 percent, suggesting that the Republican brand, at least in the governorship, has been severely eroded. Republicans lost ground in the Legislature as well in the last election. Scott appears to be more of a drag than a help to Republicans, who now openly defy him in the Legislature.
"There isn't much good news in these numbers for Gov. Rick Scott, but there is some," said Peter Brown, assistant director of the Quinnipiac University Polling Institute. "His large lead over Agriculture Secretary Adam Putnam in a hypothetical Republican primary gives him some solace that he does not have to worry about an intraparty challenge. Scott's support among Republicans appears pretty solid, although he has a lot of fences to mend with independent voters and he has virtually no crossover appeal to Democrats."
In a Crist-Scott matchup, the incumbent carries Republicans 76 – 16 percent, but loses Democrats 81 – 7 percent and loses the crucial independent vote 49 – 29 percent.
"If Scott is to have any chance for a second term he needs to win a greater share of Republicans than he loses among Democrats and move into parity among independents," said Brown. "There is little gender gap: 49 percent of men and 51 percent of women back Crist."
Florida voters remain strongly behind the state's "Stand Your Ground" law, 56 to 36 percent, virtually unchanged from last June's 56-37. Support is strongest among white Republican men, weakest among Democrats. Black voters are opposed 62 – 26 percent. Hispanic voters are divided with 47 percent in favor and 42 percent opposed.
Scott's proposal that every public school teacher in Florida receive a $2,500 pay raise gets 74 percent support. And, by 50 to 40 percent, voters back his decision to expand Medicaid coverage to new recipients.
U.S. Sen. Bill Nelson wins a 49 – 28 percent job approval, with 48-33 percent for Sen. Marco Rubio. Voters disapprove 52-25 percent of the job the State Legislature is doing.
From March 13 to 18, Quinnipiac University surveyed 1,000 registered voters with a margin of error of plus or minus 3.1 percentage points. The survey includes 353 Republicans with a margin of error of plus or minus 5.2 percent. Live interviewers called land lines and cell phones.

The March 19 story:
Scott at Lowly 33 Percent Approval Despite Pivots; Would Lose to Crist by 12 Points
Gov. Rick Scott is in trouble.
For all his charm offensive of the past year, and for all his political pivots to the center or, in some regards—teacher pay, environmental protection, Obamacare—to the left, a huge majority of Floridians still don't care for him. According to the latest Public Policy Polling numbers, only 33 percent of Floridians surveyed approve of the job Scott is doing, against 57 percent who disapprove.
Equally dismal news for the first-term incumbent: if the election for governor were held today, he'd lose against three prospective Democrats, and would lose by the largest margin against Charlie Crist, who'd beat Scott by 12 points. He'd lose by 7 points against Pam Iorio, the author and former mayor of Tampa (2003-2011), and by 5 points if he ran against Alex Sink, the former state Chief Financial Officer and bank executive whom he beat in the 2010 election by 1 point. The only potential candidate he's beating is Nan Rich, the former state senator and minority leader from Delray Beach.
Scott's numbers are especially troubling for him when looking at Republican support. In a Scott-Crist race, Crist would take 29 percent of the Republican vote. Overall, just 46 percent of Republicans approve of Scott's performance. Any number below 50 percent from his own party, as the election approaches, suggests that victory is virtually out of reach.
"Rick Scott's decision to support Medicaid expansion doesn't seem to have boosted his re-election prospects," said Dean Debnam, President of Public Policy Polling. "He's still facing a very uphill battle for a second term." That decision (which followed two years of mischaracterizing and criticizing the Medicaid expansion to the point of ridicule) may have doubly hurt Scott by eroding some of his support among Republicans while doing nothing to gain supporters further to the left, who appear undisposed to give the governor the benefit of the doubt. Scott lost again when his own party's leadership in the Legislature snubbed his turnabout and rejected the Medicaid expansion anyway.
More bad news for Scott, from his own ranks. Some 43 percent of Republican primary voters want someone else to be the party's gubernatorial candidate next year. Just 42 percent support Scott and 14 percent are not sure. But there's a caveat: Republicans may wish to have a different candidate. But when faced with actual Republican candidates, Scott is still the clear favorite, leading such GOP possibilities as Pam Bondi, the attorney general, by 19 points, Adam Putnam, the agriculture commissioner, by 24 points, and Ted Yoho, the freshman tea party congressman, by 41 points.
Among Democrats, Crist has the best favorability rating (46 percent against 43 percent unfavorable) and highest name recognition (89 percent). But that's a decline for Crist. In January, he had a 49 percent favorability rating, against 38 percent unfavorable. Among Democrats, Crist has high favorability (66 percent against 24 percent unfavorable), suggesting that so far he has gained more support than he's lost by converting. His primary win would also be assured, if the election were held today, as he'd get 50 percent even in a four-way race, a crushing advantage.
PPP surveyed 500 Florida voters as well as 300 usual Democratic primary voters and 326 Republican primary voters March 15-18. The margin of error for the overall sample is plus or minus 4.4 percent, plus or minus 5.7 percent for the Democratic portion and plus or minus 5.4 percent for the GOP portion. The poll was not paid for or authorized by any campaign or political organization. The PPP surveys are conducted through automated telephone interviews, which are generally less precise than live phone calls.