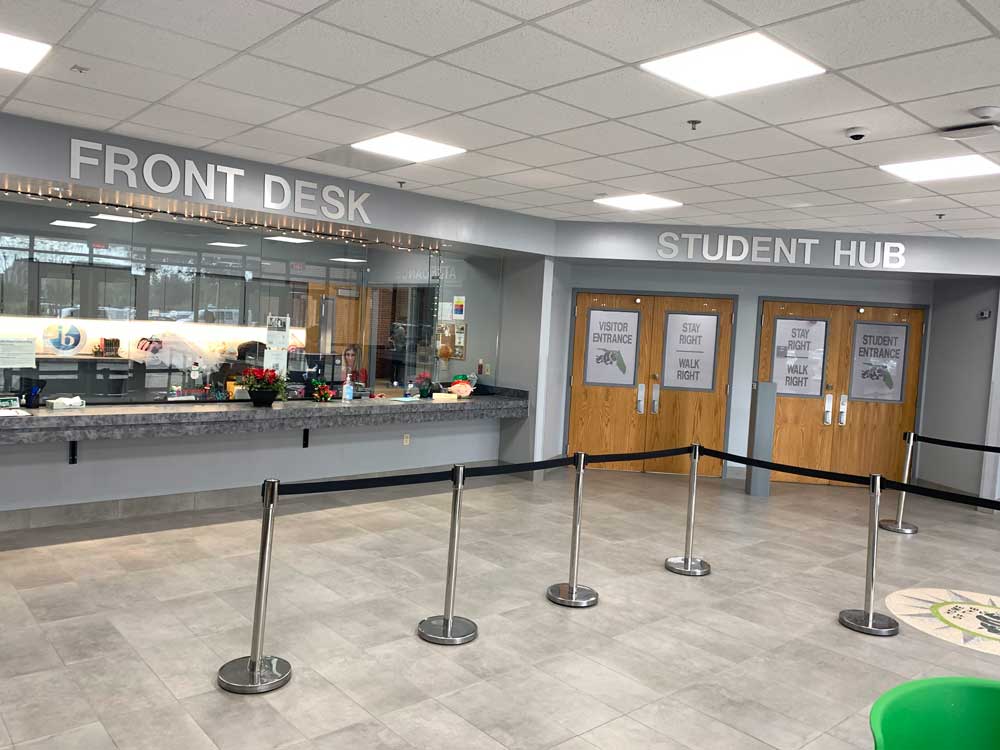 Over 80 percent of Flagler County's teachers and support staffers at the district's nine schools do not want to be armed on campus, according to a survey conducted by the district.
The survey was conducted at the request of the Flagler County School Board as the board studies the feasibility of arming some staffers in addition to the sheriff's school resource deputies.
Flagler Palm Coast High School and Matanzas High School got the highest proportion of staffers willing to be trained and armed to participate in the program. But even there, only 17 employees who took part in the survey at FPC (or 17 percent of participants), and 16 at Matanzas (14.3 percent of participants), said they'd be willing to participate.
The survey did not ask employees whether they supported or opposed an armed-employee program in general. It only surveyed their own willingness to participate.
A survey by the National Education Association, the teachers' union, in 2018 found that 82 percent of respondents said they would not carry a gun at their school, including 63 percent of NEA members who owned a gun.




The Flagler County school district's survey was conducted online through a Google platform, for district employees only. Tommy Wolleyhan, the district's safety specialist, presented the results to the school board at the end of a workshop this evening.
The numbers he presented included responses from off-campus school personnel–from the district office at the Government Services Building in Bunnell, the bus depot on Education Way off U.S. 1, and the multiple locations of Plant Services. While some of those employees visit schools, the state's "Guardian Program," as it is referred to in law, is designed to strengthen campus security with campus-based employees or hired armed guards.
So the survey as board members heard the results was somewhat skewed: 23.2 percent of off-campus employees who participated in the survey said they'd be willing to be armed, the largest proportion among the locations surveyed.
In all, fewer than a third of district employees–514–participated. Of those, 402 said they would not participate, while 112, including the 26 off-campus employees, said they would. So the board was told that 78 percent were opposed and 22 percent were in favor. When the 26 off-campus employees are removed from the equation, the proportion of those opposed rises above 80 percent.




How far above 80 percent can't be determined precisely because once participants said they would not take part in the program, the survey questions stopped; they were not asked what campus they were from. The survey only recorded "yes" votes by location. It was otherwise anonymous. It was open for five working days. Based on that approach, it elicited the following responses:
Off campus employees: 26 willing participants (23.2 percent of survey respondents).
Flagler Palm Coast High School: 17 (17 percent).
Matanzas High School: 16 (14.3 percent).
Bunnell Elementary: 11 (9.8 percent).
Buddy Taylor Middle: 11 (9.8 percent).
Indian Trails Middle: 10 (8.9 percent).
Belle Terre Elementary: 5 (4.5 percent).
Rymfire Elementary: 5 (4.5 percent).
Old Kings Elementary: 4 (3.6 percent).
Wadsworth Elementary: 4 (3.6 percent).
(Keep in mind: the percentages are of based on the number of people who participated in the survey, not the total number of employees at each school.) There was also one wiling participant at iFlagler, the district's virtual school.
The survey also indicates that just 55 teachers, or instructional staff, said they'd participate, along with four school-based administrators. Two custodians also said they'd participate.
Among the willing participants, only 15 percent had either some military or law enforcement background; 60 percent had a permit to carry a firearm.
The school board has not decided to adopt an armed-staffer program. It's been debating the possibility since last year. Should it go in that direction, the Sheriff's Office would train the participants. Wooleyhan said the Sheriff's Office will only train 13 participants at a time, meaning that if there were to be such a program, it would not be in effect until next school year, and even then, with just 13 participants among the nine school campuses, unless some end up being off-campus workers.
Board member Will Furry did not see a connection between the lack of interest and the feasibility of the program, nor did he give any weight to the opposing numbers. "If we only need 13 and we have 112 that are willing, that seems doable," Furry said.




There was never any question that the district would find some willing participants. But based on the context of board members' discussions previously, they clearly wanted to also gauge employees' response as at least a partial indication of the program's receptivity on campuses.
Board member Colleen Conklin made the point: "I wouldn't consider that at all–just because you have 112 that want to," she said. "Are we talking about retired military and law enforcement or are we talking about anybody?" For the program, Conklin puts much greater weight on former military and law enforcement personnel than civilians.
"This wasn't a survey on whether or not we want the Guardian program it was how many people are willing to do it," Furry said.
"That's great," Conklin said. "I know I was very clear when we were doing this that I would only be interested in this if we were looking at retired military and law enforcement."
Furry let her know she was just one vote. "My option I'm hearing is is 112 people said yes, I want to do it," he said. "So we only need 13. That's a good number."
With just 13 getting trained, Board member Sally Hunt raised the possibility that one or two could end up leaving the district for whatever reason (turnover has been unusually high in school districts), requiring replacements to be trained.
The survey was to give the board a sense of where interest among staff lies in the program, giving the board the "opportunity to continue to explore what model you could stand up–or not."
Reader Interactions