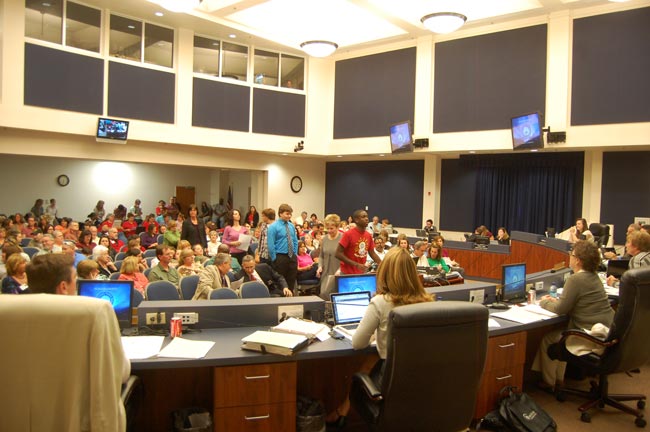 No such crowd has filled the board chambers of the Government Services Building in Bunnell in at least over a year. Every seat and most remaining square footage, including table-tops and carpeting, was taken up by a throng of school employees, parents and students who turned out for the Flagler County School Board meeting Tuesday evening, overwhelmingly to oppose the district's plan to cut next year's budget by $3.5 million.
The cuts are the result of the most severe drop in funding in memory as property values continue to drop, federal stimulus aid runs out, and the state refuses to make up even some of the difference by drawing from other sources or raising taxes: Gov. Rick Scott's budget projects a $1.3 billion cut in education funding in addition to tax cuts. The state is essentially leaving it to local school districts to keep together what pieces of their budget they can.
In Flagler County, that will likely mean lay-offs to 42 teachers, possibly more—the district told 177 teachers that their contract is not being renewed; they all have to reapply. It will mean the end of numerous elective classes in middle and high school and the reduction of the school day by about 45 minutes, the shrinking of Pathways, the alternative school for misbehaving students, by $250,000, which will translate to fewer students being able to attend–and more students being expelled. It will mean reductions in many employees' work schedules by five or six days, the elimination of tutoring and all but skeletal summer school programs, and cuts in other, less visible functions such as energy (which will mean that all but two schools will be functional this summer).
One striking contrast the unions are likely to seize on in coming negotiations: while teachers are being targeted in large numbers, not a single administrator appears in danger of losing his or her job–not at the school district offices, not in any of the schools, some of which have, according to one teacher who spoke later this evening, more assistant principals than the staffing formula warrants.
One after the other, students, parents and teachers spoke to the board, usually pointing to the specific consequences the cuts will have on themselves, their children or their students.It didn't help. The school board, a little after 7:30 p.m., voted 4-1 to accept the recommended cuts. Those cuts are not going into effect unilaterally: the board may put some of them into practice (energy savings, for example), but most must be approved through negotiations with the teachers' and service employees' unions. Board members Andy Dance, Sue Dickinson, Colleen Conklin and Trevor Tucker voted for. John Fischer, the newest board member, voted against.
At the end of the meeting, during board members' comment period, Fischer delivered a long, circuitous speech that sounded as if he'd forgotten how he'd just voted. Rather than explain his dissent, he spoke of "economic times" the district was going through and asked the assembly to remember that tough times mean that, "unfortunately, tough decisions have to be made." Speaking of the board from which he'd just dissented, he said: "We're making options and again they're not all solidified as of yet." Noting the public comments to the board about impending cuts, he said, "this hate stuff has to stop. It's kind of like forgive and forget." But one of the evening's distinguishing characteristics was one form of indisputable unanimity: those addressing the board did so with courtesy and a absence of animosity, as if understanding, at least to some extent, that these decisions are not all in the school board's control. Asked to clarify his vote after the meeting, Fischer said he disagreed with some of the proposals while others he would have approved didn't make the list. He said duplication in administrative ranks, inventory and transportation could all be options. "It's a government situation," he said. "There's a lot of waste."
Fischer during the meeting did propose that employees could give up a percentage of their pay–he cited 1 percent–which, might help make ends meet. That got a nod from fellow board member Colleen Conklin. "If everybody took a 3 percent cut, it would equate to $1.8 million," she said. "I know it's not popular, but I commend you for recommending it publicly."
The district is soliciting budget-cutting ideas through its web site.
Several students from Matanzas High School spoke about the effects of a reduced schedule on their ability to fulfill their requirements, or on the ability of lesser-achieving students to make the grade without room for any failure. A teacher spoke about the importance elective classes play in keeping students in school and interested. Electives are classes other than FCAT-driven basics such as English, math, social science, science.
John Seth, the band director at FPC and a leading force in lifting the profile of county's band program, made the point regarding the hundreds of students in band at the two high schools and the two middle schools. "We have a growing programs," he said, "doing things that from a school standpoint we've been asked to do." He was not referring only to his program but also to chorus, dance and visual arts classes that are facing the ax. Most of the students in those programs are among the district's higher achievers, seeking as they do the well-rounded profiles sought out by college-acceptance committees. That won't be possible for many if the school day is cut short. "We're really hoping to see our programs thrive and continue to grow, and we just feel like this will kind of put a stop on things."
Katie Hansen, the president of the Flagler County Educators Association, elicited the most extended round of applause when she objected to the district sending non-renewal letters to 177 teachers without exploring the consequences of, for example, the cost of 177 individuals' unemployment, how the district would meet its class-size requirements  and other matters when, Hansen said, "the state budget has yet to be determined, and, not to be mentioned, our bargaining team has yet to come to the bargaining table."
Of the 18 people who appeared before the board during a nearly hour-long public comment period, more than half were there to advocate for Phoenix Academy, the district-run charter school started to address students with particular learning needs. The school costs $161,000 to run. That funding will be left intact. But the school may move location. Those who spoke, including students from the school, enumerated their successes—and asked that those be preserved.
"We're fighting amongst ourselves for all of the wrong reasons," Conklin said toward the end of the meeting. "The bottom line is unfortunately we have to do with what we have been given." Fellow-member Dance said the budget-cutting process isn't over. He solicited ideas. Trevor Tucker presented one of his own, a broad, esoteric plan that would have all employees' pay rise and fall depending on available funding.