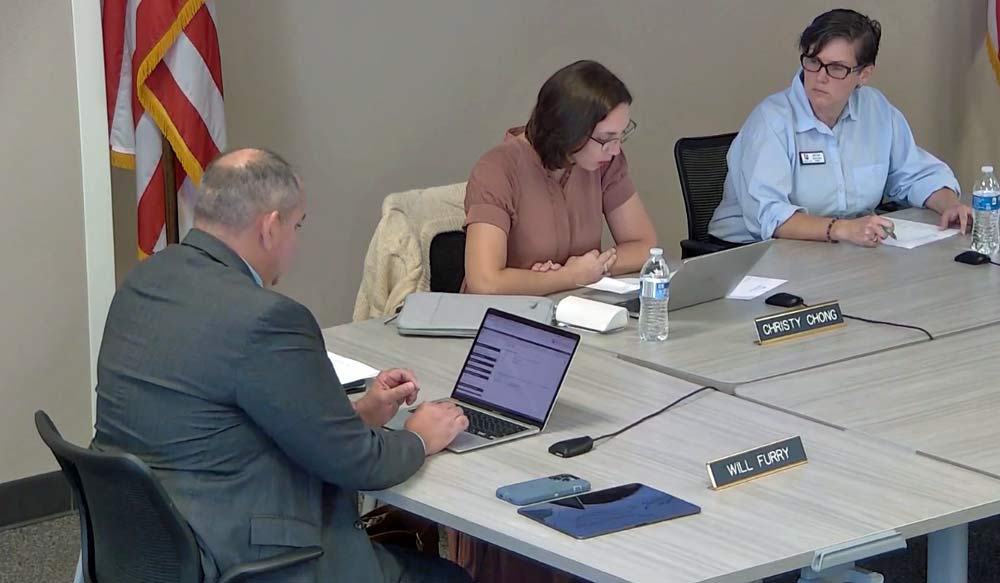 See today's related article: "Here Are the 3 Lawsuits Against the District the School Board Will Discuss Behind Closed Doors Tuesday."
The Flagler County School Board directed its attorney to schedule "standing" closed-door meetings every three months to get updates on litigation facing the district. Such meetings would be illegal, as was the board assuming the authority to set such meetings, according to Florida law and a veteran local government attorney.
Florida law is explicit on local government board meetings. All such meetings must be held in the sunshine, with only two exceptions: when boards have to discuss strategy for collective bargaining negotiations, and when board attorneys need direction and dollars regarding the settlement of lawsuits. School boards also may meet in secret to discuss specific, operational security issues–but not security policy or other security-related matters of public concern.




There is no provision in law under any circumstance for standing closed-door meetings.
In the Flagler County School Board's case, the closed-door meetings would violate the law in several regards, as might one such meeting scheduled or Tuesday. Past meetings may have already violated the law in some regards.
The process "is very strictly controlled by statute," County Attorney Al Hadeed said. "Any violation of the statute automatically voids and opens up those proceedings, which is a huge liability exposure because all of our conversations in confidence about the case will be completely exposed to the public, to anyone, to the adversaries. I say that because we are going to be very strict." Hadeed was addressing the County Commission this morning, preparing commissioners for a rare closed-door meeting of their own to discuss the three-year-old Captains BBQ case.
Hadeed could just as well have been schooling the School Board.
The strict conditions of closed-door meetings to discuss litigation are set out explicitly in Florida law as "conditions."




First, it is the board's attorney–not the board members themselves–who "shall advise the entity at a public meeting that he or she desires advice concerning the litigation." The board attorney must bring up the request for a closed-door session at an open, public meeting, must get consensus for that meeting, and may then scheduled it for a subsequent date. Board members themselves may not out of the blue call for a closed-door meeting.
"It is us, we the attorneys, we're the only ones that can trigger a shade meeting," Hadeed said, using a frequently used term for closed-door meetings (as in shade from sunshine).
That was not the case when the board asked for tomorrow's meeting when it discussed the matter at a Sept. 19 workshop. The idea originated with Board member Sally Hunt wanting more "oversight" and reports from the attorney. Then Will Furry suggested regular closed-door meetings, and Board Chair Cheryl Massaro agreed. (Colleen Conklin was absent, as she will also be on Tuesday, as she is tending to her ailing father.) Hunt then proposed Oct. 3 as the first such meeting. Massaro has since voiced second thoughts.
At no point had Kristy Gavin, the board's attorney, said she needed to meet with the board to discuss litigation.




Such closed-door meetings are required by law to "commence at an open meeting at which the persons chairing the meeting shall announce the commencement and estimated length of the attorney-client session and the names of the persons attending," the law states. "At the conclusion of the attorney-client session, the meeting shall be reopened, and the person chairing the meeting shall announce the termination of the session."
The Flagler County School Board has not followed that requirement at any of its recent closed-door sessions, and for now does not intend to. Massaro said she was not aware of the requirement. Instead, closed-door sessions, like the one on Tuesday at 1 p.m., are scheduled in a block of time outside of any public meeting, are never announced at public meetings either at their start or at their conclusion. If, for example, a member of the public were to walk into the superintendent's conference room, where those meetings are held, at 1 p.m., before the meeting starts, that person would be asked to leave–in violation of law.
Proper procedure would be to allow the public in, for Massaro to open the meeting–at which point it's public–to announce that the board will go into executive session, announce the participants and the estimated time, and then close the meeting. None of those procedures have been followed in past meetings.
The law requires that all closed-door sessions on litigation be transcribed by a court reporter. Massaro said she does not recall seeing a court reporter in at least two previous such sessions in her three years on the board. That, too, is a violation of law: the court reporter is to keep a complete record of the proceedings. "No portion of the session shall be off the record," the law specifies. The transcripts "shall be made part of the public record upon conclusion of the litigation," the law states.




That means the board is responsible for paying for the court reporter (current rate: $140 an hour) and the cost of transcription,m if and when the transcript is requested by anyone.
Board members are not allowed to make a decision in the closed session–not even by consensus. "You can't even look at each other and say, Do we have a consensus? You cannot do that," Hadeed told his commissioners. "What we have to do as lawyers is to listen to each of your views. And somehow we have to ordain what might be a good outcome based on that."
Finally, what may be discussed during such sessions is also narrowly defined: "The subject matter of the meeting shall be confined to settlement negotiations or strategy sessions related to litigation expenditures." General discussions about the case or other cases are prohibited.
"I may interrupt you while you're speaking because you may be getting ready to say something that would violate the statute," Hadeed warned commissioners. "We can only discuss two topics and that's it: settlement negotiations and controlling litigation expenses, and that's it. If we stray outside of that, we have violated the statute and it completely vitiates, completely undoes what we have attempted through our shade meeting."
The statement contrasted with Massaro's description of such meetings where the discussion is "an open format."




But any discussion about anything not related to a settlement, strategy or expenses of the specific case is prohibited–including what Furry described as "updates" on litigation in general.
Such "updates" may be discussed in one-on-one meetings between board members and the attorney. More appropriately and accountably, they may also be discussed in open sessions: it does not undermine the board's position to have the public be aware that it faces litigation, or for the public to know where that litigation stands. It's all in the public court record. The school board has generally refrained from discussing litigation at public meetings, even in general terms, more out of fear of embarrassment  or drawing negative press than for any justifiable reason.
The Flagler Beach City Commission and the County Commission have not been as skittish: while they keep strategy and settlement figures restricted to closed-door sessions, their attorneys update the board on pending litigation in open session when necessary–as did Hadeed this morning. But it was because the request for a closed-door meeting has been so rare at the County Commission that Hadeed felt compelled to explain the parameters of such meetings to the board–in essence, unwittingly illustrating where and how the school board was breaking the law.
Gavin did not stop the school board from settling on the Oct. 3 for its own first-of-many shade meetings, at one point telling board members that they did not have to vote on establishing standing meetings. Though she repeatedly cautioned board members about such meetings' parameters, she never told them that it was not in their authority to set them.




"It has not been the pleasure of the prior boards that I've worked with, to have executive sessions regarding active litigation," Gavin said. "Anything that is in active litigation, can be reviewed with the board for purposes of when I am seeking to have authority for settlement. But I have to be very careful and mindful because any reports that I issue to you are subject to public records, and now I am not able to, once I've tracked it, I can't pull it back and say: this was prepared in anticipation of litigation. It wasn't. It was a notification to you on matters not prepared in anticipation of litigation."
It was Gavin's responsibility to tell the board that standing shade meetings are illegal. But Gavin's position toward the board is extremely precarious. A majority of the board–Hunt, Furry and Christy Chong–appears ready to fire Gavin, who has served the board for 17 years. Hunt and Chong have openly spoken of their mistrust of Gavin. The discussion on "standing" closed-door meetings has its roots in the trio's undermining of Gavin's authority, which may explain Gavin's reticence, then and there, to remind the board that, in the case of shade meetings, they're not the boss. She is. Instead, she subsequently qualified whether these meetings would or would not take place.
A former superintendent and former school board members described her as a strict adherent to shade-meeting rules. She "always kept them in check," one of them said of Gavin, while Trevor Tucker, a former board chairman, "stayed above the fray and always consulted with" Gavin to keep all proceedings above board. But it is also unquestioned that past shade meetings' announcements and handlings, down to their court reporting, have not always followed the law.




Regarding the Oct. 3 meeting, Gavin somewhat retroactively sent a notice to the board members by email informing them that she needed to speak to them about pending litigation in certain cases. "It was requested by them," she said of the Tuesday meeting, "however, I do have two cases that were in the window of mediation for settlement authority." She added: "They've requested it. I have sufficient cases that they need to be briefed on regarding settlement negotiations, settlement authority, expenditures, where we are with respect to the evaluations of the claims. Those are appropriate to bring up." Gavin said that if there's nothing to bring up at the next standing meeting, the meeting would not be held.
Gavin defended the scheduling of closed meetings entirely outside the framework of open, scheduled meetings, and conceded that there have been closed meetings without a court reporter present. She recalled one instance where the litigation meeting "piggy-backed" on a closed meeting on collective bargaining. "Minutes were taken of that meeting," she said. "It was due to the disjointedness of that meeting."
Gavin already provides a quarterly update to the board members, and the board members are free to meet with her at their choosing. Not all do. When Gavin reminded them of her open door, Hunt was dismissive.
"Whatever the answer is, I as one of five board members, I am uncomfortable with the autonomy given" to Gavin, Hunt said. "If we have a school board attorney who just kind of owns everything and knows everything, should they quit, should they pass away unexpectedly, these things are the board's responsibility. The attorney is the board attorney. And so I know for me as one board member, I would just like more–whether the word is oversight into just knowing that piece of the business for lack of better words."
The discussion of closed-door meetings evolved from there, with Gavin on her guard.
"If in fact it is more of a collective consensus that we would like to do this more as a group, then we could look at it on a quarterly executive session," Furry said. Like Hunt, he wasn't big on one-on-one meetings. It would be "a quarterly update from the attorney that give us an update where we stand with all of our litigation. Then it would just be a standing meeting that we have scheduled and hopefully–because I think that to do it incrementally, that might be a little bit much. A little bit of a burden on the attorney. And it might be more, there may not be that much information, you know, every between those periods of time, right? So within a quarter there might be some meaningful updates because we know that when there is something meaningful, the attorney is going to call us when she needs us, right? to give her direction. But outside of that, maybe a quarterly update."




It is the "outside of that" part that would be illegal. Even specific discussions about such things as a party's intent to sue that the attorney has become aware of is not allowed. "We might get a notification letter of intent to sue," Gavin explained to the board. "Until it actually has a complaint filed, it is not actual litigation and I would not be able to meet with you on that in executive session." In fact, even after the lawsuit is filed, no executive session may be called unless and until the attorney needs board direction on settlement negotiations and a settlement offer. Merely to meet to discuss where the case stands is not allowed.
Hunt, Furry and Chong of the Flagler County School Board's members have held their seats for barely a year, and have shown an alarming inclination for closed-door meetings, which have multiplied during their brief tenure.  But not just the three of them only: last month, Massaro and Conklin seemed unconcerned even with the appearance of violating sunshine when the board held a closed-door huddle after a press conference, in the superintendent's conference room, where they insisted nothing of import was discussed.
It is unclear how Conklin would have reacted to the setting of regular shade meetings, since she wasn't at that Sept. 19 discussion (and was reached but not interviewed for this article, due to her circumstances). Having served on the board since 2000 and known shade meetings' pitfalls, it is unlikely that she would have conceded that scheduling as readily as her colleagues did. And while Massaro at first embraced the idea of quarterly closed-door meetings, she has since pulled back her enthusiasm and speaking today of "red flags."
"Why haven't we had them in the past and why are we having them now, that's my concern," Massaro said. "If they're against the law, we won't be having them, obviously."

Watch County Attorney Al Hadeed Explain the Strictures of Closed-Door Meetings to the County Commission: