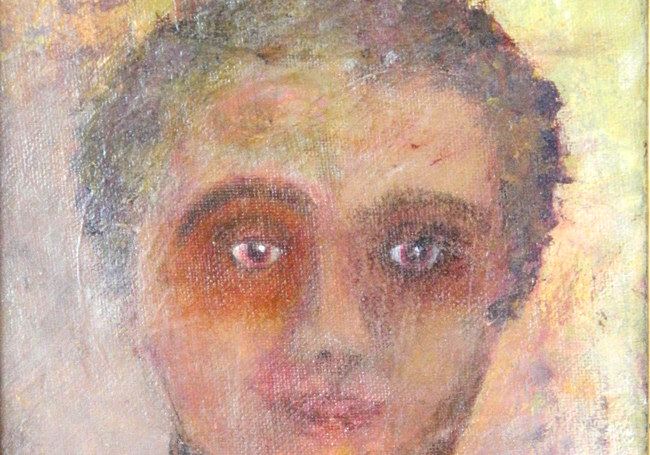 Saturday Afternoon With the Artists is back at the Flagler County Art League. It's your chance not only to let your eyes wander the walls of a new art show—this one featuring some 70 works—but to meet the artists in person and quiz them about their own work. As often as not artists can't—or prefer not to—tell you what they intended to do, letting the image or the object speak for itself. Words are not their forte. That's why they're artists, showing us what cannot so easily be verbalized. But it's just as fun to hear them try to use a medium at odds with their nature.
---
Saturday Afternoon With the Artists:
"Saturday Afternoon With the Artists" opens Nov. 12 at 4 p.m. when patrons can mingle with artists, and with a free reception from 6 to 9 p.m. at the Flagler County Art League's gallery, located at City Market Place, 160 Cypress Point Parkway, behind Walmart, in Palm Coast. Call 386/986-4668 for details.
---
---
The show opens Saturday afternoon (Nov. 12), when patrons can mingle with artists from 4 to 6 p.m., then stay on for the free reception from 6 to 9 p.m., part of the Second Saturday series the art league and Hollingsworth gallery organize every month. Hollingsworth Gallery a few doors down is opening its own new show the same evening, same time, with a retrospective of the works of Weldon Ryan, a former president of the art league (which moved to City Marketplace during his tenure) and this year's Artist of the Year.
"Saturday Afternoon with the Artists" is the Art League's annual juried show. It includes acrylics, watercolors, oils, colored pencils, photography, sculptures and any mixed media. "This will be our 21st year doing this show," the league's Bob Carlsen says. "The show grows each year. Last year, we had 109 different pieces submitted by 60 individual artists."
League President Bob Ammon is particularly excited about this year's show. "It's a tradition and it's always interesting to see what people might come up with," he said about the open-theme show. "We are expecting entries of all kinds." Ammon himself, whose use of color or themes gives his works an impish twist from time to time (you cans see that impishness in his grin when you meet him Saturday) is entering one large acrylic piece, portraying a grist mill, which he photographed near New York City, when his daughter lived there about 20 years ago. "I have thousands of references and photographs that I want to paint," he said. "But my wife has been wanting me to do this particular painting for years so I decided it was time."
Ammon used to work in the advertising business, producing television commercials, but shifted from the dark side to redemption—that is, from marketing to art—years ago. "I just love to paint and I enjoy teaching art at the art league. There is so much hidden talent in our community."
Lately, the art league president has been spending his Mondays at Tony's Pizza in the Publix Plaza in Flagler Beach, where he is painting the skyline of New York City inside the restaurant. "I do a lot of commission work as well on the side."
Michael Gleason, a retired math teacher, has collected art for years but did not start painting himself until about two to three years ago. Since then, he's created about 50 paintings and won three awards for his work. "I don't consider myself a great artist. I don't have an agenda, this is all for my enjoyment and hopefully others too," the artist said about his life as a "young" artist. Gleason will be entering three of his paintings this Saturday. "I start out with nothing, no ideas, no colors, and then it just progresses into something," he said. "Depending on the painting, it might take me a day or a week to finish."
"Hope," for example, an abstract acrylic, expresses hope in bad times. Another acrylic is the portrait of what may be a man, a woman or an adolescent: it's not as clear as the painting's disturbing suggestions of someone who's either been roughed up or suffered through something exhausting. The eyes are bathed in a purplish hue, the v-neck the person is wearing is as if bloodied on one side, but whatever suffering is inside that soul doesn't have a trace of bitterness: there is a tiny sparkle in the eyes, echoed in the tiniest suggestion of a smile behind the pursed lips. It's quiet sorrow. "I have a personal connection to this painting. My 4-year-old old grandson inspired me," Gleason said. "It started out as baby, then a woman, then a man, and finally this kind of generic suffering person."  The title of this piece is "Never Give Up."
The third entry is what Gleason calls a crazy experiment of black and white spirals. "I used colored pencil to get the motion going." The piece plays tricks on the eye with its patterns and swirls, like a mental trip through a maze. Look closely and you might be hooked for a while, wandering (and wondering) where the artist is taking you.
Stephanie Salkin, an award winning photographer whose eye can transport you from a Llama's soul to the rugged lyricism of the Maine coast, started photographing when she was a teenager. "I was thrilled to hold the camera," the New Yorker said. "I feel like I am a hunter, out to immortalize." Most recently, Salkin won $500 and the grand prize in Travel Leaders of Palm Coast's 2010-2011 Photo of the Year with "Arc de Triomphe," a photograph of the massive Paris landmark.
Salkin started out as a business journalist in New York City and came to love photo journalism. "A photojournalistic shot is more unique than most pictures because it tells a little bit of a real story," she says. The photographer takes her camera everywhere she goes. "I am not a tripod type photographer; I don't go out on assignments or do official photo shots," she said. "It's all about the right moment and shooting at the right second."
Salkin joined the art league shortly after moving to Palm Coast and has been very much involved since. She will be entering three pieces in the show but is highly secretive about these photographs. "One is straight photography and the other two pieces are photo journalistic type shoots, more conceptual," she said. "I want it to be a surprise Saturday."
Both galleries at City Marketplace—the art league and Hollingsworth—are trying to put more emphasis on photography. Hollingsworth just ended its "7 Cameras" shows, featuring the work of seven photographers. Carlsen, the art league's shows director, is a photographer. The art league's latest show runs through Dec. 10, when the league's first annual juried photography show will take its place, which is to say that, unlike most shows at the league, where artists can have any work on display for a fee, entries will be judged and selected before the show.