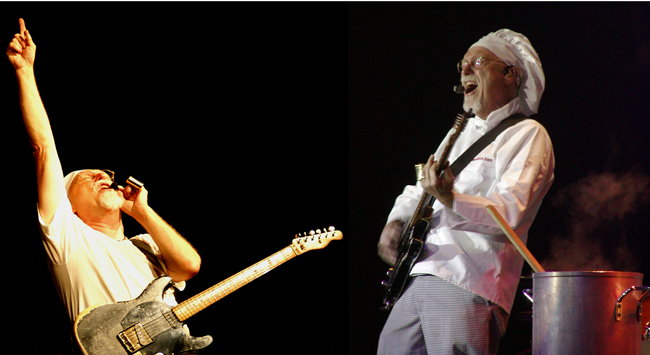 Feed Flagler isn't messing around this year: the county-led effort that raised more than $13,000 in six weeks last fall, fed 2,000 people the day before Thanksgiving and contributed about a third of that money to local food pantries, is starting its third edition early: the first fund-raiser of the year is scheduled for Saturday (Feb. 12) at the Florida Agricultural Museum, where chef Bill Wharton, better known as the Sauce Boss, will bring his pots, pans, slide guitar and gumbo to the stage for several hours of playing and cooking to benefit Flagler's poor.
The Hot n' Spicy Food and Musical Festival begins at 11 a.m. Jazz singer Linda Cole will take the stage at 1 p.m., the Sauce Boss will follow at 2 p.m., festivities will run until 5 p.m. The $5 admission will be contributed to Feed Flagler and the Agriculture Museum.
---
Listen to WNZF's Promo[media id=155 width=250 height=250]
Choosing the Sauce Boss was natural for such an event. The creator of Planet Gumbo (planetgumbo.org), Wharton since 1990 has devoted his career to playing and cooking to feed body and soul, "give hope and sustenance through music and the message of the gumbo," as he describes his organization's aims, and "Raise community awareness of the problems and solutions to the problems of homelessness."
"You don't always find people who bring about that sense of hope and strives for community like he does at each of his shows," says Milissa Holland, the county commissioner who started Feed Flagler and remains in charge of the organization. Team Flagler's first meeting of the year isn't scheduled before Sept. 1, but Holland and Tax Collector Suzanne Johnston (last year's lead fund-raiser) have been talking about various ways to raise money during the year. David Ayres, the general manager at WNZF and Beach-FM, contacted Holland about Wharton and suggested the fund-raiser at the Agriculture Museum. The idea quickly gelled.
Wharton has been playing since the 1970s, starting with a 1933 steel guitar someone had left at his house. He's since traveled across the United States, Canada and Europe to stage his shows and, always, share the gumbo." He's cooked for 170,000 people.
"He gives the feeling that can only come from a life lived in the eye of the storm," his website reads. He has weathered more than his share of hurricanes, sunburn, and mosquitoes – and he's got the chops to prove it. He has taken his blues and a huge pot of gumbo to the disaster zones of the Mississippi delta and to homeless shelters across America – where he's fed war veterans, hurricane survivors, and plenty of other regular folks who come for music but leave with much more. The Sauce Boss offers up sustenance and redemption in the form of music, food, and above all, the love of the brotherhood of man."
A Floridian who lives for song and sauce, he's been known to break out in impromptu performances here and there, as he did in St. Augustine on New Year Day in 2009–only to be stopped by police. He's played and cooked for the largest homeless shelter in Washington, D.C., for Hurricane Katrina victims, and wherever hardship has called.
Here he is playing and cooking for Hurricane Katrina volunteers: