Yes, some works in "Saturday Evening With Artists," the new exhibition by the Flagler County Art League," are what art snobs might derisively — and unjustly — label "little old lady paintings."
But even a casual perusal of the show's 78 works reveals a marvelous yin-yang balance between the traditional — shore-scapes, seascapes, landscapes and flora — and bolder works: color-bombed abstract expressionist paintings, striking tarot-worthy images and even some of those landscapes and harbor scenes that happen to have a few tricks up their sleeves.
"Some people think we're a group of little old ladies who paint only on Sundays," said art league president Ann DeLucia (who, it should be noted, slapped the "little old lady" tag on absolutely none of the show's works, and who conjured the term only as an inverted epithet for those who would use it as an epithet).
"Saturday Evening With Artists," which will have its opening reception from 6 to 8:30 p.m. Saturday (Oct. 10) at the Flagler County Art League's gallery in City Marketplace in Palm Coast, is a judged but not juried show.
That means that all entries were accepted from league members with no pre-screening jury process deciding which works would get into the exhibition.
"There is a lot of variety in terms of the skill sets here," said Joyce Gatonska, art league board director at large. Her colored pencil work, "Later, Gator," is one of the works in the exhibit.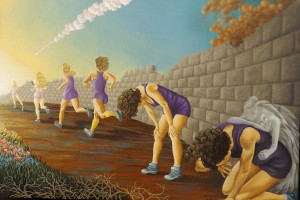 "Its wonderful people like Paul Beaulieu and Ann, who have a lot of experience, share their work with those of us who are not professionals," Gatonska said. "It's an opportunity to have our work sit along side them and make our work look better."
A press release says the exhibit is the league's "signature event, an open-themed art show where Flagler artists show off their best work, their newest work, their most recent forays, into other mediums or their latest artistic exuberances."
But the entries will be judged, with acclaimed DeLand artist-sculptor Harry Messersmith awarding Best of Show as well as first, second and third place. Patrons may vote for the People's Choice Award.
Messersmith and patrons will have their work cut out for them.
Consider "Four Corners," an oil work by Palm Coast artist Paul Beaulieu. (See the image at the top of the article.) The work doesn't recall Edward Hopper via Beaulieu's brushwork but rather in what Beaulieu chooses to leave out of his rural Massachusetts scene.
Hopper was a master not only at exiling the details out of his paintings but also at making viewers wonder what lies just beyond the frame.
In Beaulieu's case, what lies beyond are the foreground and the four corners' crossroad itself. We don't see the stop sign's base planted in terra firma, and the sign is perched at an extreme corner of the scene, a step away from terra incognito.
The result is a subconscious suspending of the viewer's perspective, as if one's psyche and perhaps one's feet are above the earth and somehow closer to the birds turning and turning in widening gyres amid the clouds like Yeats' falcon.
Patrons won't know that across the gallery is a work by Beaulieu's student, the Dutch-born Leo Valentin, whose oil work "Familiar Road" captures an autumn village scene in his native land by the exact opposite technique of his teacher: by inviting the viewer to step onto the very road, while the manor that might otherwise have been the painting's focus awaits in the background.
Two harbor scenes, though not exhibited side by side, provide a startling juxtaposition. Photographer Larry Mingledorff's "Sailboat Sunrise," virtually a two-tone piece, casts its blazing orange sun and deep shadows upon metal (yes, metal).
Not to be outdone by a camera, Barry Williams' modernist oil work "City Wide Marina" boasts spikey sailboats which look like Giacometti sculptures cast onto canvas, and all underneath a yellow sky.
Two abstract expressionist color bombs explode amid the exhibition. Dora Wacker's acrylic work "The World as Shelter" is the more unsettling, perhaps because its chaotic streams of reds, yellows and purples seem incongruous with its title, to the point where one wonders if some Giger-esque, alien beaked creature might lurk within.
While the colors of Dex Westphal's acrylic "River Walk" are just as electric, the artist's masterly flow of hues provides a serene respite — a yin in opposition to Wacker's yang.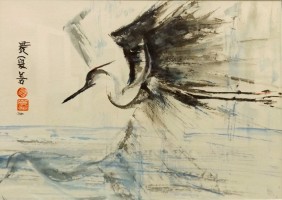 Two acrylics by Eric Bess, "The Path" and "Through a Glass Darkly," conjure a tarot-like allure: obviously allegorical images crafted in a fantasy art style. And, in true tarot card style, Bess felt compelled to explain his works' allegorical meanings in lengthy accompanying texts.
While it's fascinating to know how an artist perceives his own works, the texts rob viewers of summoning their own interpretations.
As if the aforementioned works as well as stained glass pieces by Lee Richards and a collage by B.J. Baughman weren't enough, the exhibition also includes "Flying Heron," a "Chinese paint and ink" work by Joan Mangano.
"The Tao that can be expressed is not the eternal Tao," goes a famous line from Lao Tzu's "Tao Te Ching." One wonders if Lao Tzu might change his mind if he were to witness the Taoist grace of Mangano's heron.
Good luck to Judge Messersmith.

"Saturday Evening With Artists," an exhibition by the Flagler County Art League, opens Saturday evening, Oct. 10, with a free reception at 6 p.m. at FCAL's Gallery in City Marketplace, 160 Cypress Point Parkway, Suite 207C, Palm Coast. The exhibit is on display through Nov. 10. Regular gallery hours are noon to 4 p.m. Monday through Friday and 10 a.m. to 1 p.m. Saturday. For information, call 386/986-4668 or visit the art league's website.