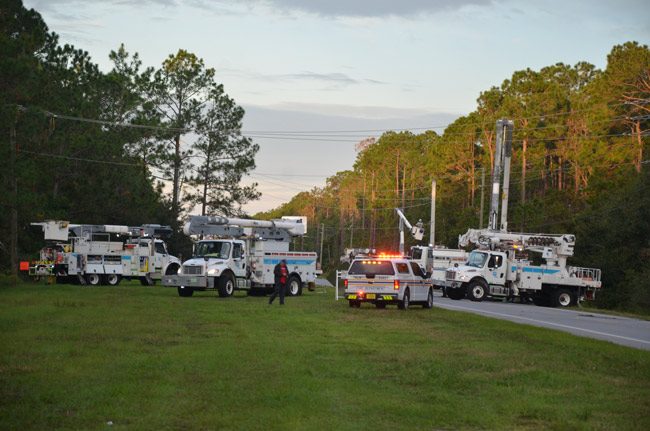 Last Updated: 9:42 a.m.
Some 3,000 residents in Palm Coast's P, E and R Sections lost power after midnight this morning following a car crash that knocked out a power pole on Royal Palms Parkway.
Nicole Qualls, 28, of Palm Coast, was traveling east on Royal Palms in her 2008 Lexus, around 12:30 a.m. With her was Joanne Ruggiero, 56, of Tolland, Conn. Just past Rickenbacker Drive, and for reasons yet to be determined, according to the Florida Highway Patrol, Qualls ran off the road, crashed into a wooden power pole on the north side of the road, took it out, then crashed through a residential fence.
That immediately knocked out power for surrounding areas, though many customers in each of the affected sections were spared.
Qualls and Ruggiero suffered only minor injuries and were treated at Florida Hospital Flagler.
But the power pole she crashed into ran lines along Royal Palms and fed lines across the road, to a pole on the south side. With lines on the road, the Palm Coast Fire Police closed Royal Palms at Rickenbacker on the west end and at Belle Terre Parkway on the east end, starting at half past midnight. The road was still closed at 8 a.m. as half a dozen Florida Power and Light crews were still at work restoring the lines.
Qualls was charged with careless driving.
The Palm Coast Fire Department and Flagler County Fire Rescue responded to the scene, as did the Flagler County Sheriff's Office, before FHP took over the investigation.
Royal Palms was reopened to traffic at 9:40 a.m.