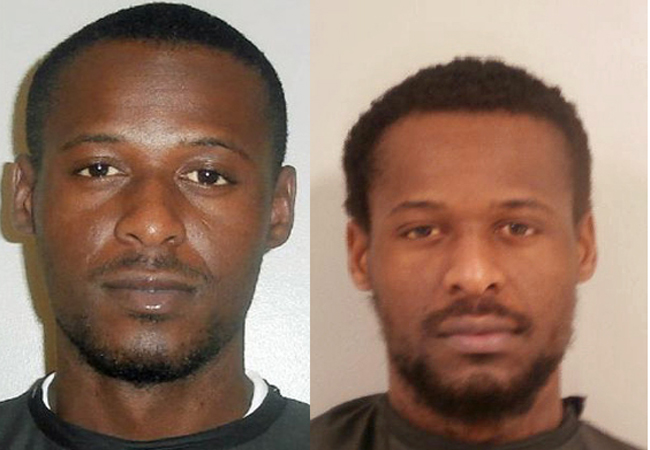 Steeve Leveille has not had it well with Roodlyn Mompremier, though until this week Mompremier has had it very well with the Flagler County judicial system: he's beaten a series of violent-felony charges against him, including an attempted murder charge, year after year, getting the State Attorney's office to drop the charges against him, and two judges–the retired Kim Hammond and the transferred Raul Zambrano–to go along.
That history raises questions about whether the latest charge against Mompremier will stick–a grim, murder-for-hire plot carried out from the jail.
It may seem a little complicated. But it isn't. This latest incident started last July. Flagler County deputies found Steeve Leveille, then 24, in Palm Coast's P Section, soaked in blood from what he said was a machete attack by Mompremier, then a resident of 85 Royal Oak Drive. Mompremier, 30, was dating Leveille's sister, but her family didn't approve. The family, originally from Haity, leveled a voodoo curse on the sister, whose name is Dahana Balde. A day later, Mompremier was arrested and booked at the county jail. He's awaiting trial on the machete attack, though he had bonded out and been returned to jail in February.
On Tuesday, the Sheriff's Office announced that Mompremier has been charged with plotting from jail to have Leveille killed, murder-for-hire style, in exchange for $10,000 to the would-be murderer. The charge was leveled after detectives listened to several phone conversations Mompremier placed from jail, as well as other conversations involving witnesses.
He now faces a first degree felony and a life term in prison–if convicted.
The investigation began in early April after an inmate reported to deputies that after he'd been booked into B-Block at the Flagler County jail, where Mompremier was being held, he was privy to a conversation—on April 9—Mompremier (whose nickname is Zoe) was having with a couple of other inmates. He was "soliciting them to kill a witness who was scheduled to testify against him in court," according to Mompremier's arrest report. Mompremier described the target as his girlefriend's brother– Steeve Leveille.
Initially, Mompremier allegedly offered "three stacks," or $3,000, to kill Leveille. The two inmates tentatively said they were willing to carry out the hit. But after another inmate spoke to Mompremier of possible complications, Mompremier upped his offer to $10,000. The would-be killer allegedly said that there would be "no body, no case."
On April 29, a detective contacted Leveille, who told him that his car was shot at sometime between the evening of April 26 and April 26, and that he'd received a phone call from an unknown woman inquiring as to whether he still intended to testify against Mompremier.
Detectives listened to numerous calls Mompremier made to his girlfriend from jail. In one, he discussed taking a plea deal and returning to Haiti. But he then told his girlfriend that once her family would get back to Haiti, "he would take care of them there," according to the arrest report. He argued with Balde—his girlfriend, who lives in Ocala—who told him that if he hurt her family, he was hurting her as well, and that he should leave them alone and forgive.
"God forgives, but I don't," he would reply.
Similar conversations were held in subsequent days, with the language changing between English and French-Creole, though the Sheriff's Office had a translator.
"It's my uncle's son, can't believe you are thinking this," his girlfriend told him.
"If they go to Haiti," Mompremier replies, "they are not coming back. There is nothing worse that can happen to me." He rebuffed her pleas. "As soon as they get to Haiti, they are dead. When people die in Haiti, they don't investigate it."
"Don't give up, you have a kid, you have a reason to be here," his girlefriend tells him. "God bless her, he can bless you."
"God will forgive, not me," Mompremier said again.
On May 1, detectives carried out an operation at the county jail with a source implanted to get Mompremier recorded in conversation.
Many parts of the conversation are inaudible, according to the transcript, but the "source" asks Mompremier how he was going to get the $10,000 to "my people." Mompremier tells him to contact his girlfriend.
"Check it," the source says, "I gotta ask you cause (inaudible) know what you're talking about in code (inaudible) your boy Savage, know what I'm talking about, don't wanna kill the wrong mother fucker, you gotta know the right car, the address, I know the pictures and everything."
Mompremier then inquires about the various ways the would-be killer was going to use to carry out the hit, according to the transcript, and gets assurances that the hit will be carried out, "point blank."
Detectives interviewed Mompremier  on May 27. He denied wanting to hurt Leveille. He was aware of where Leveille lived, the kind of car he drove and believed others who were familiar with his case might know as well. But he had "no reasonable explanation for the conversation which a normal person would perceive as threatening to kill someone," his arrest report states. He described the matter as "a dead issue," then said he was misunderstood.
The arrest report relates another inmate who, in a sworn statement, said that Mompremier, in "jail talk," said he should have killed Leveille while he was out on bond and had the chance, and that he'd heard Mompremier speak of hiring someone to carry out the hit.
Mompremier's arrest record in Flagler dates back to 2009 and includes five bookings at the jail, including a 2009 arrest on a charge of attempted felony murder, shooting or throwing a deadly missile and possession of a short-barreled shotgun. The shotgun and attempted murder charges were dropped. Adjudication was withheld on the deadly missile charge, which was turned into an improper exhibition of a deadly weapon." The judge was Raul Zambrano.
In 2010, he was charged with aggravated assault with intent to commit a felony. That charge was dropped.
Two years later, he was charged yet again with aggravated assault with a deadly weapon. And that charge was dropped.
For now, Mompremier remains at the county jail. No bond has been set. The judge in this case is J. David Walsh.