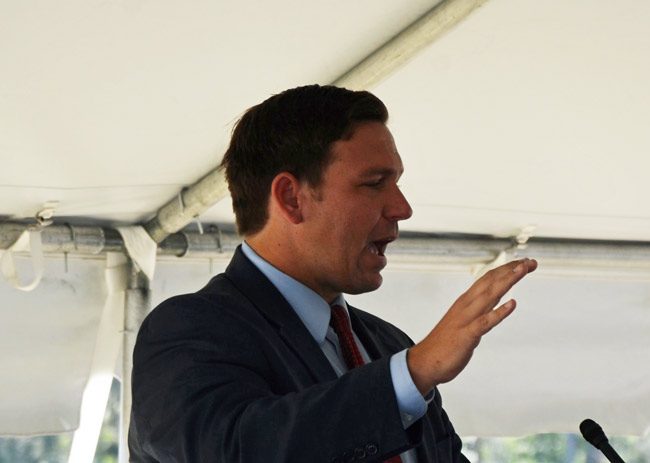 With the general election less than two months away, Republican gubernatorial candidate Ron DeSantis resigned Monday from Congress to concentrate on his campaign against Democrat Andrew Gillum.
In a letter to U.S. House Speaker Paul Ryan, DeSantis said the move is to "protect the taxpayers" as "it is clear to me that I will likely miss the vast majority of our remaining session days for this Congress."
DeSantis, has represented Congressional District 6 since 2012, was paid $174,000 a year for the federal office. The district includes all of Flagler and Volusia and parts of St. Johns and Lake counties. DeSantis owned a house in Lakeside by the Sea in northern Flagler, made only rare appearances in Flagler since his election.
According to GovTrack, which tracks Congress, DeSantis had missed 4.2 percent of the roll call votes since January 2013, but the percentage has spiked to 53.8 percent since July.
In the letter, DeSantis, who has been heavily backed by President Donald Trump, said the resignation should be retroactive to Sept. 1 "so that I do not receive any pay for the month of September."
DeSantis said resignation was in line with one of his "guiding principles," which led him to reject his congressional pension and health-care subsidy.
"I've done my best to live these principles: I refused my pay during government shutdowns and have slept in my office to cut costs and be a more effective legislator," DeSantis wrote.
The announcement comes six days after a Quinnipiac University poll found Gillum ahead of DeSantis, 50-47. The numbers are within the margin of error, but the poll also found that with independents, who will likely decide the race in the state, back Gillum 55-42. The poll also found that 97 percent of voters have already made up their mind. a Gravis Marketing poll released the same day found Gillum ahead of DeSantis, 47-45, and when the survey's uncertain respondents were asked what choice they would make if they had to immediately, Gillum ran away with that that group, 45-16. FiveThirtyEight, the polling and analysis site, rates pollsters to reflect the quality of the polls. It gives Quinnipiac an A minus, and Gravis a C plus.
Democrats quickly criticized DeSantis, who was the subject Monday of a Washington Post story that said he "spoke four times at conferences organized by a conservative activist who has said that African Americans owe their freedom to white people and that the country's 'only serious race war' is against whites."
"Today, Ron DeSantis quit on the people of Florida, in an attempt to distract from a firestorm of controversy over his attendance at extremist conferences," Florida Democratic Party Chairwoman Terrie Rizzo said in a statement. "Ron DeSantis can abandon his post, but he can't avoid questions about why he chose to associate himself with hateful, fringe organizations."
The liberal super PAC American Bridge called DeSantis' move a "desperate stunt" that will fail to shift the focus on his "racist comments and affiliations with hate groups."
In a Fox News interview after he won the Aug. 28 Republican gubernatorial primary, DeSantis drew allegations of racism from Democrats because of his use of the phrase "monkey this up." DeSantis was discussing Gillum, the Tallahassee mayor who is the state's first African-American candidate for governor and has run on a progressive platform.
"Let's build off the success we've had under Gov. (Rick) Scott. The last thing we need to do is to monkey this up by trying to embrace a socialist agenda with huge tax increases, and bankrupting the state," DeSantis told Fox. "That's not going to work."
DeSantis' campaign at the time accused Democrats of mischaracterizing the comments.
"Ron DeSantis was obviously talking about Florida not making the wrong decision to embrace the socialist policies that Andrew Gillum espouses. To characterize it as anything else is absurd," said Stephen Lawson, a spokesman for the campaign.
The Post reported that DeSantis's four appearances at the annual Freedom Center conferences in Palm Beach, Fla., and Charleston, S.C., in 2013, 2015, 2016 and 2017, only one of which was previously reported, "are coming to light at a time when his positions on matters of race are under scrutiny. In three of the four speeches reviewed by The Washington Post, DeSantis delivered sharp-edged conservative criticism of Democratic policies without explicitly touching on race."
Republican Michael Waltz and Democrat Nancy Soderberg are running in the Nov. 6 general election in Congressional District 6, which includes Volusia, Flagler and parts of St. Johns and Lake counties. Waltz is a businessman and former Army Green Beret, while Soderberg is a former U.S. ambassador.
Soderberg handily defeated two opponents in the Democratic primary, while Waltz received 42 percent of the vote to hold off former state Rep. Fred Costello and Palm Coast businessman John Ward in the GOP primary.
DeSantis reported a net worth of $301,971 as of Dec. 31, according to a financial disclosure filed in June with the state Division of Elections. His assets included a $400,000 home in Ponte Vedra Beach and a $275,000 home in Palm Coast.
–FlaglerLive and News Service of Florida