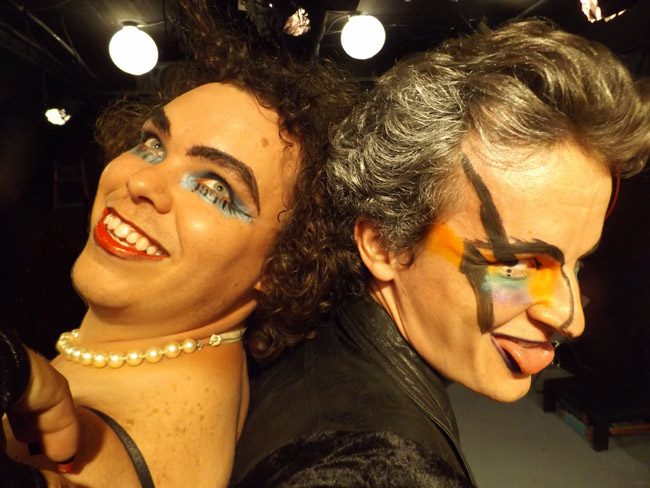 Easily book online tickets here.

Felicia Thornsbury was 11 years old when she sort of stole a DVD of "The Rocky Horror Picture Show," that crazy, campy, sci-fi/horror musical about, as one of its songs proclaims, a "sweet transvestite from transsexual Transylvania."
Thornsbury was growing up in tiny Augusta, Ky., a "very conservative, very white bread" town of 1,190 people, she says before a rehearsal at City Repertory Theatre, where she's portraying Janet in "The Rocky Horror Show," as the stage version is known. The play runs Oct. 12-28 at City Rep's City Marketplace venue in Palm Coast.
"I was a bit of a goth kid when I was in middle school, so I was very edgy," Thornsbury says. "I was very much into doom and gloom, and I was always fixated on black and red. I had a friend and her older brother actually cross-dressed, and he had this beautiful red lipstick. I told him 'I really like your lipstick' and he goes, 'Oh yes, it's very Rocky Horror, don't you think?' I thought it was funny and I obviously investigated that."
Thornsbury became obsessed with seeing the movie, but she knew her parents, and Augusta, would be nonplussed by a cult film whose cover featured giant, pouty, fire-engine red lips that oozed sex and raunch.
So she stole the DVD the next time she visited a nearby town with an FYE store. Well, she was a moral thief.
"I was too young to buy it, so I left $15 on the cash register and took the DVD," she says.
The 1973 musical, with music, lyrics and book by Richard O'Brien, is a wacky, campy and, yes, raunchy parody of vintage science fiction and horror B movies. The play, which became a movie in 1975, tells the tale of an engaged couple, Brad and Janet, a sort of Ozzie and Harriet in training who seek refuge from a storm in the mansion of Dr. Frank-N-Furter. The doctor, it turns out, is a mad, transvestite scientist with a host of minions such as Magenta and the creepy Riff Raff – creepy being a relative term here. Akin to Frankenstein, Frank-N-Furter is working to artificially create a perfect human.
" 'Rocky Horror' for me was kind of a door to be as weird as I wanted to be," says Thornsbury, who is traveling from Celebration to play Janet. "My hometown consists of less than 2,000 people and they're all very the same and my story was known and written for me the day I was born. This show was kind of the opportunity for me to be everything society told me I couldn't be. I could be weird. I could be funny. I could be out there within the scheme of things, and I've always found solace in that."
Beau Wade, a City Rep veteran, is portraying Frank-N-Furter, which means he's decked out in a leather dominatrix bustier, fishnet hose, blue eye shadow, pearls, red lipstick and red fingernails. With his curly hair, Wade even resembles Tim Curry, the actor who portrayed Frank-N-Furter in both the stage and movie versions.
City Repertory Theatre will stage "Scapino!" at 7:30 p.m. Friday and Saturday March 17-18 and March 24-25, and at 3 p.m. Sunday March 19 and 26. Performances will be in CRT's black box theater at City Marketplace, 160 Cypress Point Parkway, Suite B207, Palm Coast. Tickets are $20 adults and $15 students, available online at crtpalmcoast.com or by calling 386-585-9415. Tickets also will be available at the venue just before curtain time.
Click On:
---
"The appeal of the show is you get to be a freak and a weirdo without anybody calling you a freak or a weirdo," Wade says. "Or if they do, it's a term of endearment instead of a slur. So, yeah, this isn't something I would normally wear outside. But I'm enjoying the hell out of it."
Frank-N-Furter "is a consummate narcissist," Wade says. "He thinks everything is about him. He thinks he's a genius and a sex god and the consummate host, and just perfect in every way. He doesn't like the spotlight taken off of him. He will become violent if it is."
Frank-N-Furter's chief minion, Riff Raff, "is really creepy," says Ian Gray, who's travelling from his home in the Orlando area to play the role. "He's the greeter, the first face you meet at this whack house of a place. It's really fun to be that introduction and bring out the crazy to Brad and Janet."
As Janet, Thornsbury is dressed in white-picket-fence, girl-next-door garb — except for two rolled-up condoms in her hair. What's up with that?
Anyone who's seen the movie knows its fans have earned the term "cult-like" for the way they interact with scenes, brandish newspapers and other props, squirt water pistols, dance the Time Warp and shout out snarky retorts that have become veritable set responses, whether one is watching in Daytona or Dubuque.
"Anytime Janet is onscreen in the movie, people say, 'Why do you have condoms in your hair?' because she wears little circular barrettes," Thornsbury says. "It's a little running joke. I have a lot of hair so I need to keep it off my face, so I thought it was a good way to pay homage to that joke. The options were either use a shower ring or use actual condoms. Walmart was all out of shower rings, so here we are."
Somewhat akin to the movie, City Rep's production will be interactive, says director John Sbordone. The troupe's black-box performance space will be made even more intimate with seating spread around the stage – making these shows almost a theater-in-the-round.
And, given that the film often is screened at midnight showings, City Rep will be presenting two shows that begin at 11:30 p.m. (on Oct. 13 and 19).
"We'll move people," Sbordone says. "We'll ask them to get out of their seats and we'll move their seats and move things around and dance with them. It's participatory — for those who wish. We'll only invite people who really want to participate to sit around the action.
"In a lot of theaters, you can observe but you can't participate. That's fine. In this theater, you can be a participant. We expect that most people will want to dance the Time Warp somewhere."
–Rick de Yampert for FlaglerLive

"The Rocky Horror Show," directed by John Sbordone, at City Repertory Theatre, 7:30 p.m. Oct. 12, 11:30 p.m. Oct. 13, 3 p.m. Oct. 14, 7:30 p.m. Oct. 19, 7:30 and 11:30 p.m. Oct. 20, 7:30 p.m. Oct. 26-27, and 2 p.m. Oct. 14, 21 and 28. Performances at CRT's venue in City Market Place at 160 Cypress Point Parkway, Suite B207, Palm Coast. Tickets are $25 adults and $15 students. For more information or tickets, call the CRT box office at 386-585-9415 or easily book online here.