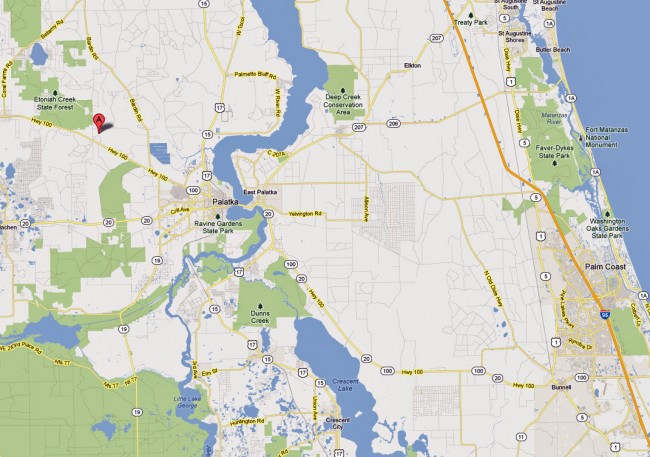 Robert Laks, a 33-year-old resident of Palm Coast, was driving west of Palatka on State Road 100 early Wednesday morning (around 6:30 a.m.), following all laws of the road–and following a Waste Pro garbage truck and a Chrysler 300. Within moments, he was struck by a rock hauler and driven deep in the woods, where local police at first did not notice his presence. It was only when paramedics arrived at the scene that they discovered Laks and his car.
It's not clear whether he was still breathing in the interim. But he was pronounced dead at the scene.
According to the Florida Highway Patrol, the Waste Pro garbage truck, driven by Willie Lane, 44, of Jacksonville, and John Manning, 52, of Palatka, made a left turn in front of the rock hauler, triggering the chain of events that followed: to avoid the garbage truck, the rock hauler–a 2005 Mack Semi driven by 59-year-old Mark Robbins of Palatka–swerved left. It did avoid the garbage truck. But it sideswiped the Chrysler, sending it spinning onto the north shoulder of SR100, then it struck the right side of Laks's F-150, catapulting it into the woods.
Lane and Manning did not suffer any injuries, and their garbage truck was not damaged. The rock hauler's driver suffered minor injuries and was transported to Shands hospital in Gainesville. The truck sustained $75,000 worth of damages.
James Chapman, 57, was at the wheel of the Chrysler 300. He had minor injuries. The vehicle had damages estimated at $10,000.
When FHP was initially called to the scene, it was on a report of a crash between the rock hauler and one other vehicle. The investigation is ongoing.