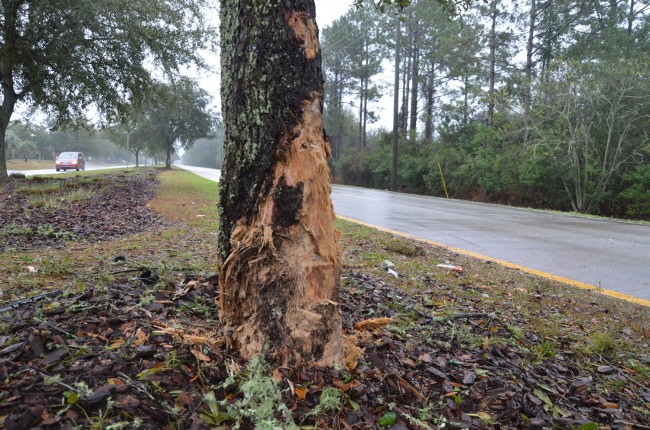 Robert Cronin, a 62-year-old Palm Coast resident, was at the wheel of a Toyota Camry early this morning, speeding east on Whiteview Parkway in Palm Coast, when he lost control of the car and crashed against a tree. He was pronounced dead at the scene, the Florida Highway Patrol reports.
The wreck took place at 3:25 this morning (Feb. 8), just east of Rolling Sands Drive. Cronin was in the left lane, going about 80 mph, an FHP investigator found, in a 45 mph zone. The four-lane, divided road, between U.S.1 and Belle Terre Parkway, stretches for a straight distance as drivers are heading east toward Rolling Sands, then curves. It appears Cronin did not see the curve. The Toyota continued going straight onto the grass median where the road starts curving to the right.
The Toyota traveled 111 feet east along the median before it started rotating clockwise. The car's front fender and the driver's side door struck an oak tree violently (the tree was left standing, but its bark nearer the ground was sheared off). The car then spun in the opposite direction, and came to a final rest facing Whiteview's eastbound lanes.
No other vehicle was involved. Cronin was wearing a seat belt. FHP notes that it has not yet determined wether alcohol was a factor.
Flagler County Fire Rescue, the Palm Coast Fire Department and the Palm Coast Fire Police responded to the wreck. The vehicle was removed by John's Towing.
Cronin's is the second road fatality on that stretch of Whiteview Parkway–within a few tenths of a mile–in 18 months. In August 2012, Pedro Riera, a 48-year-old motorcyclist and Palm Coast resident, was killed when his motorcycle struck a vehicle at the intersection of Whiteview and Rolling Sands.