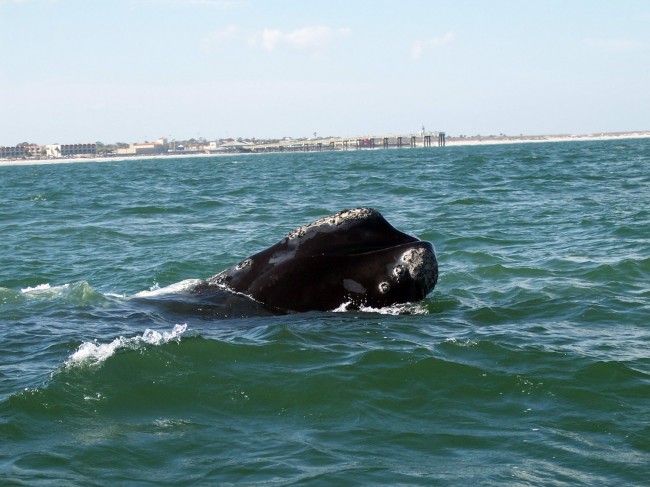 FlaglerLive is proud to welcome Frank Gromling, author and publisher–and owner of Ocean Publishing in Flagler Beach–to our pages. Coastal View, Frank's weekly, Saturday column, will gravitate around conservation and the environment, the business of publishing and the culture of the unexpected. Read Frank's full bio here.

In northeast Florida I've become known as "The Whale Guy," a sobriquet earned about 10 years ago when my first mainstream book, Frank's Whales (Ocean Publishing, 2003), was published and I became the project assistant for the Marineland Right Whale Project. Working with Dr. Jim Hain, the project's creator and lead scientist, and Joy Hampp, the project coordinator, I helped to establish survey protocols, train volunteers, and respond to whale sightings. Starting with the inaugural season in 2001, I have had a continuing role of one sort or another through this, the 12th year.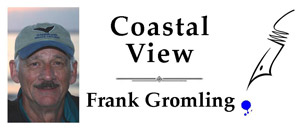 Because of my book, volunteer work, and numerous talks on behalf of the project, locals and snowbirds have associated me with the migrating North Atlantic right whales. This marine mammal, more than any other, captured my curiosity and interest as soon as I learned that scientists really didn't know much about it. I'd never heard about right whales, and I'd been around the Atlantic all my life.
Nearly hunted to extinction for their oil and baleen by early American whalers, as well as Basques and other Europeans, the right whale population of over 10,000 dropped to about 100 by 1935. Imposition of international whaling bans in 1937 and 1973 enabled the species to recover slightly. When the Marineland Right Whale Project started the known population of the species was about 325. In 1979 scientists discovered that pregnant right whales gave birth to calves in the shallow and warmer winter waters off Georgia and northeastern Florida, the only known calving grounds for this whale. Aerial surveys soon revealed that, in addition to new mothers and their calves, a variety of other right whales made the 1,400-mile migration, including non-pregnant adult females, juveniles of both genders, and some adult males.
One thing that amazes me about the right whales is that scientists believe the whales fast during their southern migration, a period of about four months. The southernmost feeding area is the Great South Channel off Cape Cod, Mass. Scientists have not found another location in southern waters with a large enough quantity of the whales' favorite meal, a zooplankton called copepods, to suggest the whales eat during their southern journey. Humpbacks, the other large baleen whales which pass our coast, do eat small fish, while right whales generally do not.
What started as a simple book about the whales and the volunteer research effort morphed into a life of its own, including a burgeoning publishing business and invitations to speak before audiences in Florida and elsewhere. This transition resulted in really cool affiliations and extensive opportunities to learn more about marine mammals and reptiles, and almost all things connected with the oceans.  Almost every day I am asked "Where are the whales?"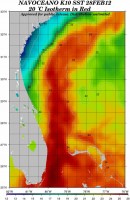 This right whale season has been really different than the prior 11 years of the research project. Warmer atmospheric temperatures have kept the ocean temperatures 10 degrees above the normal winter highs of 55° F. As a result, scientists believe these warmer sea temperatures kept the whales gathered north of Jacksonville, and more specifically along the Georgia and South Carolina coasts, as shown in the chart at the foot of this piece.
In an email exchange last Wednesday (Feb. 22), Dr. Jim Hain told me that "the cool 'finger' or 'pocket' along the coast that we associate with right whale sightings remained to the north of us … off Georgia and South Carolina … and did not come south as it has in many past seasons. Therefore, right whale sightings in our area were few. This has occurred in the past, most notably in the 1998, 1999, and 2000 seasons. What will happen next season is unknown."
Only one right whale, a yearling born here in the 2011-2012 season, journeyed past our shore this year.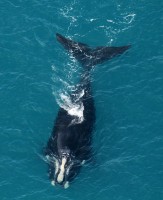 Because the whales are departing for the north, you are not likely to see any right whales now, but to prepare you for next year, keep these tips in mind:
North Atlantic right whales are protected under the U.S. Endangered Species Act and the Marine Mammal Protection Act. Federal law prohibits approaching or remaining within 500 yards of right whales, either by watercraft or aircraft.
NOAA Fisheries Service encourages people to report sightings of dead, injured, or entangled whales to NOAA at 877-433-8299.
Federal law also requires vessels 65 feet long and greater to slow to 10 knots or less in Seasonal Management Areas along the U.S. Eastern Seaboard, including the calving and nursery area in the southeastern U.S.
Speed restrictions are in place in various places along the mid Atlantic from November 1 through April 30, and in the southeast U.S. calving area from November 15 through April 15. For more information on seasonal ship speed restrictions, visit NOAA's site.
Anyone who spots a right whale during the winter calving season is encouraged to report the sighting by calling toll-free 1-888-97-WHALE (94253). Responders will arrive on scene to verify and document the sightings, even photographing the whales for identification.
For those looking for a fun and educational experience next winter, contact Joy Hampp by email for information. I highly recommend involvement in this great research project for anyone 18 and older who wants to help an endangered species and meet like-minded people. Being a part of this project changed my life for the better and launched a series of events that keep getting better and better.
Talk with you next week.

Frank Gromling is the owner of Ocean Publishing in Flagler Beach. Reach him by email here.
Click on the map below for larger view: