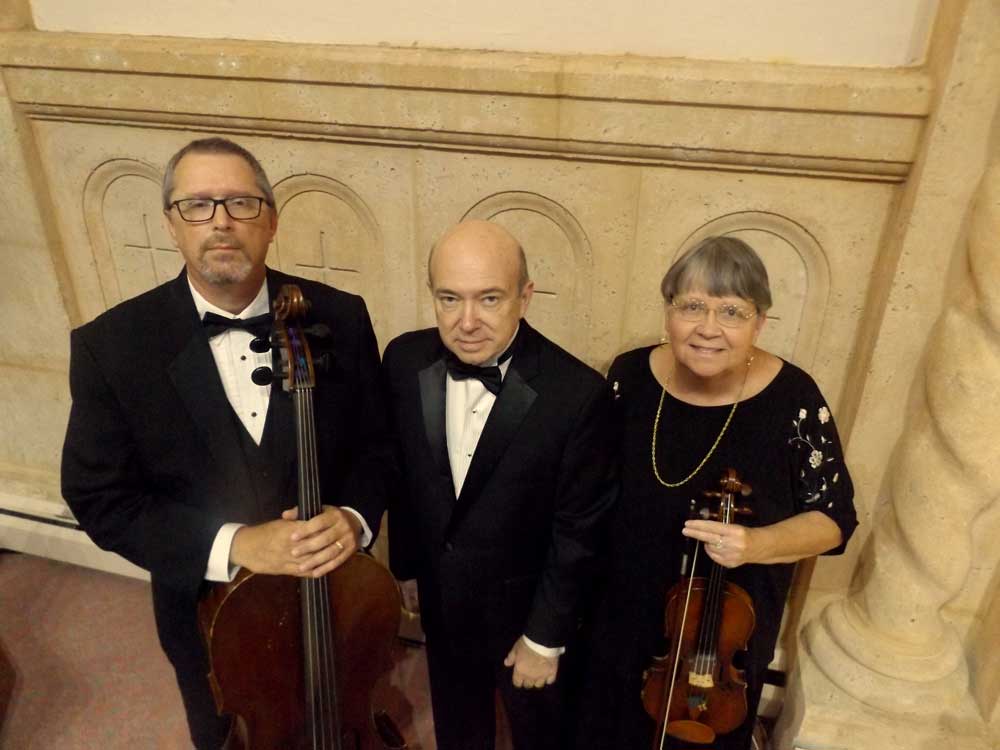 The intimacy of chamber music will be reflected in the depth of an under-appreciated master, a tortured genius, and a bridge between the classical and romantic periods in a concert later this month by the region's only professional trio.
The Rickman-Acree-Corporon Piano Trio will play the music of Clara Schumann, Franz Schubert and Johann N. Hummel during its concert at 3:30 p.m. Sunday, Jan. 29, at Lighthouse Christ Presbyterian Church, 1035 W. Granada Blvd., Ormond Beach. The trio includes pianist Michael Rickman, violinist Susan Pitard Acree and cellist Joseph Corporon.
The performance is part of the 2022-2023 concert season of Daytona Solisti, a chamber music ensemble which is in residence at the church. A $20 donation is requested at the door. For more information call 386-562-5423 or go online at daytonasolisti.com.
Schumann, a German pianist, composer and piano teacher who lived from 1819-1896, received acclaim during her lifetime – a 2019 New York Times article even called her a "celebrity pianist" during her day. But after her death, her much-admired musical accomplishments became overshadowed by her more-famous husband, Robert Schumann, who was regarded as one of the greatest composers of the Romantic era.




Both of Clara's parents were pianists and piano teachers, and she was recognized as a child prodigy and began touring across Europe at age 11. In 1840 she married Robert Schumann, and along with composing her own works and raising the couple's eight children, she premiered numerous works by her husband and their close friend Johannes Brahms.
After Robert's death in 1856 at age 46, Clara continued to perform and tour for decades, but she virtually stopped composing, leaving her oeuvre with just 23 published works. Still, that Times article labeled her as "music's unsung Renaissance woman," while also noting "the frustrating lack of recognition still accorded female composers."
The Rickman-Acree-Corporon Piano Trio will perform Clara Schumann's Piano Trio in G Minor, Op. 17, written in 1846 during a period when her husband was extremely ill and she had suffered a miscarriage. A year after its composition — her first and only piano trio – Robert composed his first piano trio. Music historians have noted the many similarities between the two works, which were frequently paired at concerts. George Hall, writing in the "Oxford Companion to Music," said Clara's piano trio was "probably" her "masterpiece."
The Rickman-Acree-Corporon Piano Trio also will perform Franz Schubert's Sonata No. 1 for Piano and Violin, D. 384 and Johann Nepomuk Hummel's Piano Trio in G Major, Op. 65.
Schubert composed his sonata in 1816 at the age of 19, but it wasn't published until after his death (by Anton Diabelli, no less, the publisher and composer after whom Beethoven named one of his most famous works, the Diabelli Variations). Schubert is considered to be one of the greatest composers in Western music. As a youth he showed unusual gifts for music, and played both violin and piano. He studied music theory and composition with Antonio Salieri and in 1808 became a pupil at the Imperial Seminary where he was able to study the works of Mozart, Haydn and Beethoven.
Hummel, a child prodigy and the only full-time student ever taught by Mozart, was an Austrian composer and virtuoso pianist who lived from 1778-1837. Music historians note his music reflects the transition from the Classical to the Romantic periods. Written in 1814, this Hummel work pays tribute to his teacher by quoting a Mozart work in its fourth movement.




The musical collaboration between pianist Michael Rickman and violinist Susan Pitard Acree has spanned 17 years. Rickman has performed at Carnegie Hall, Alice Tully Hall at New York's Lincoln Center for the Performing Arts, and at venues in London, Paris, Toronto, Chile, Latvia and across the United States. He retired from Stetson University in April 2017 after 34 years as professor of piano at the DeLand school, where he has been named Professor Emeritus. He also is a Steinway Artist, an honor bestowed by the prestigious piano maker, and is the Daytona Solisti Artist in Residence.
Acree founded Daytona Solisti in 2005 soon after she moved to the Daytona area from Atlanta. She previously played violin in the Atlanta Symphony Orchestra for 22 years, performing in New York (Carnegie Hall), London, Chicago, Paris and more. Joseph Corporon is principal cellist of the Daytona Solisti Chamber Orchestra and is Artistic Director of the Flagler Youth Orchestra. He is also a composer and an active freelance cellist in Central Florida.
Each year Daytona Solisti presents a concert series featuring performances by the Daytona Solisti Chamber Orchestra, the Rickman-Acree-Corporon Piano Trio, and solo performances by Rickman. The ensembles are composed of professional musicians from throughout Central Florida and Northeast Florida, with core members residing locally.
Reader Interactions