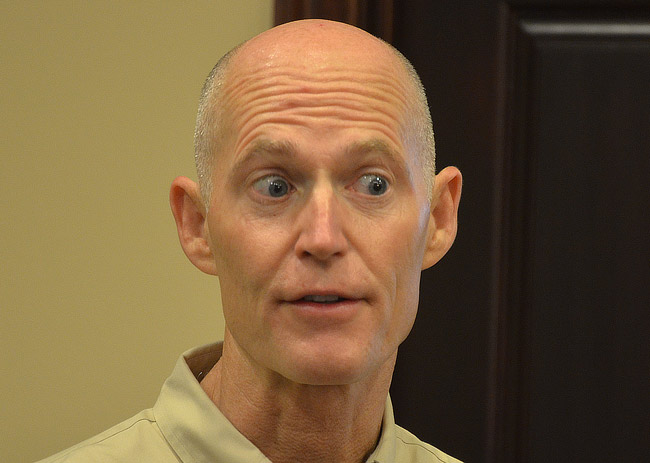 Anyone other than my doctor who'd ask me to pee in a cup isn't just out of line. He'd be out of his mind. Yet an entire industry thrives on such cup-holders, and millions of Americans are not only complying with the docility of circus animals. They're encouraging the indignity and asking for more.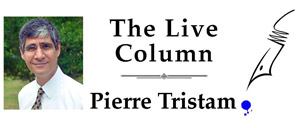 So it's occasionally heartening to see that Florida's goose-step toward a police state isn't undisputed. A few months ago a federal judge declared Gov. Rick Scott's plan to drug-test welfare recipients unconstitutional. Last week, another federal judge declared his plan to drug-test state employees unconstitutional. Those aren't your so-called liberal, activist judges. The first was appointed by the senior George Bush, the second by the junior one, although it shouldn't have taken a pair of judges to let our rights-challenged governor become acquainted with the 4th Amendment to the Constitution.
Without a shred of evidence, Scott thinks drug testing ensures an "efficient and productive work force." He points to the private sector, his Eden, where drug testing is routine. But the private sector is no authority on individual rights. Quite the contrary. "Abandon all rights, all ye who enter here" is the private employer's unspoken welcome to employees who cross onto company property, where Dante surely would have drawn one of his circles of hell if he were writing today. Aside from the worshipful hold the business sector maintains on the public imagination, there ought to be more lament than celebration in that black hole of individual rights, particularly as it infects people's submissiveness to government authority in the public sphere.
Scott is well aware of that infection when he points to public opinion, which supports drug testing by large margins, often on the premise that if you have nothing to hide, you have no reason to object to peeing in a cup. If you have nothing to hide, then you have no need for curtains, passwords, even clothe, for that matter: you have no privacy to speak of. Your privacy stops where your employer and your government say it stops. That's absurd, of course—until you realize that it's more the case than not, and it's just what gives Scott's obsession with pee its illusion of authority. The illusion works only as long as the public willingly suspends its belief in its constitutional rights.
Suspend it does. Just as employers are using the same nothing-to-hide argument to pry into job applicants' Facebook pages or dig into employees' credit reports and driving records, police now routinely use the nothing-to-hide argument to stop, frisk, search cars under the bogus but wonderfully Soviet presumption of "implied consent," and end-run due process in the name of preventive security. Peeing in a cup in comparison doesn't seem to amount to much, though it's a violation of one's person no less fundamental than an intrusion into one's home, one's papers, one's medical history.
Consenting to such violations turns individual rights on their head. It places the government in a position to define your privacy and dignity. That's the very opposite purpose of the 4th amendment, which gives an individual the right to tell government: I don't have to justify anything to you. Unless you have a warrant. (Imagine if the Second Amendment was turned on its head that way. Every gun nut would go postal, though the same Second Amendment fanatics have no problem seeing the state demolish the Fourth, especially when government workers, the poor and minorities are the targets.)
That's the legal argument. There's also the common sense argument. Whether an employee is on drugs or not is not the issue. The issue is whether that employee is doing the job. I frankly don't care if my daughter's teachers hit the reefers in the morning before facing battalions of teenagers. Like cancer patients who need a hit of marijuana to put up with the nausea, it's probably one of the best ways to get through the day in school these days. The more pertinent question is: Are they competent teachers? Soberness is not a definition of competence.
There are exceptions: train conductors, truck drivers, pilots, surgeons. There's a compelling public interest for them to be sober when they're on the clock. But those jobs are the exception, not the rule.
As for the drug-testing of welfare recipients, that's just state-sponsored vindictiveness, not to mention stupidity. Gov. Scott sold the idea as a way to save taxpayers money and make recipients of government dole more accountable. By that reasoning, recipients of the mortgage-interest tax deduction, of child tax credits, of homestead and business tax exemptions should all be drug-tested, their claim on the public dime overwhelming any such claim by welfare recipients. On top of that, the Miami Herald reported earlier this month that it cost the state more money to administer welfare recipients' drug tests, at $35 a pop, than it saved. So much for accountability.
Drug-testing companies must be high as a kite on the profits. Scott should be sobering up. Instead, he's appealing both rulings. Talk about an addiction to foolishness. Unfortunately, there's no test for that before qualifying for office.

Pierre Tristam is FlaglerLive's editor. Reach him by email here.