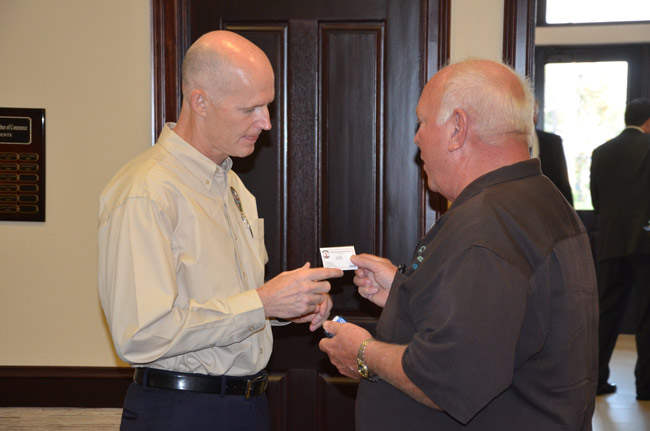 Gov. Rick Scott makes his fourth visit to Flagler County in two years later today—for a closed-door meeting with business leaders at the Chamber of Commerce at 3 p.m., then a $75-a-plate fund-raising dinner for Flagler County Republicans at the Grand Club at Pine Lakes, in Palm Coast.
Neither event will entail much more than photo-ops and flesh-pressing: the governor, already in re-election mode—his reelection committee pulled in $3.2 million in June for a total of $8.7 million in the first six months of the year—is expected to make no policy announcements or deliver more than stump speeches and amiabilities.
But for local Republicans, landing Scott for their Lincoln Day dinner is the culmination of a swift and remarkable turn-around for a party that not long ago was in disarray, its factions suing each other, its registration lagging behind that of Democrats and politics at risk of being taken over by fringe activists.
In stepped Dave Sullivan, first as a temporary head of the Flagler County Republican Executive Committee, then as its chairman, a position he won by one vote in a bitterly contested internal election that pitted the county's establishment Republicans against its tea party and Ronald Reagan Assembly insurgents.
But if local Republicans had managed to switch the county's registrations from a plurality of Democrats to a plurality of Republicans in the last two years (the GOP enjoys a substantial 1,500-voter lead currently), tea party and Ronald Reagan activism—which put a lot of people on the streets, knocking on doors and filling out registration cards—had a lot to do with it. That same activism also had a lot to do with switching Flagler from Barack Obama's column in 2008 to Mitt Romney's in 2012. But the county's four Republican clubs had something to do with it, too. Palm Coast has its own Republican club, so does the county, A Young Republicans Club was just chartered. And the executive committee lords it over them all (but not the tea party of the Ronald Reagan Assembly).
Sullivan's task was to keep channeling that energy without either alienating its soldiers too much or getting away from a more inclusive sort of Republicanism.
"We have to make strides that way, or we can't sustain nationally," Sullivan said in an interview Monday. "So I'm trying to make us an inclusive party. That's not easy sometimes. But we can't be a single issue party. We have to be a party that spreads a large umbrella and that's inclusive."
Sullivan explained what he meant, with the sort of nuance that can more ideological Republicans cringe: "I would say we need to hold to our Republican traditions, which is small, effective government, and some kind of lid on both taxes and spending. However, we do need the government. We cannot become a laissez-faire state. We do have to have a fairly substantial government." It's a matter of combining smart governance with a foundation of a strong educational system, a strong economy and strong support for the business community, Sullivan said.
Sullivan attends the quarterly meetings of the state Republican party, where he kept pressing for a visit by the governor. "It took some persistence but we finally got him," Sullivan said. "Given where we were, I think it's pretty good that we were able to land the governor, coming to Flagler County. I think it's a good sign we're making progress as a party here."
Local Democrats, meanwhile, have been in a disarray of their own, minus the creatively confrontational energy that's served Republicans better: internal jealousies continue to pit the Democratic Executive Committee against its Democratic Club. Democrats have just two seats on the County Commission and one seat on the Flagler County School Board. Heather Beaven, the Democratic candidate for the second time for the local congressional seat, ran an uncompetitive race against the ideological extremist and unknown but very well funded Ron DeSantis, and former County Commissioner Milissa Holland, the Democrats' best hope, lost a close race against Travis Hutson for the newly created House seat representing Flagler County, a loss at least in part attributable to Democrats' own divisions. In all, a near-disastrous performance for local Democrats in what had been a purplish county, and with no sign of a turn-around in the near future.
The local Democratic Executive Committee, headed by Dan Parham, is running a deficit, according to its latest financial report, limping along on donations by Ronald Szymanski's Marketable Enterprises real estate company (which provides office space for the party) and Parham's own donations. The group took in $880 and spent $997 in the first quarter of the year. On top of that, the party had to pay a $50 late-fee for filing its last financial report past the deadline. Parham did not return a call Tuesday. The local Republican Executive Committee from April to June took in over $2,000 in contributions (including $600 from the state Republican Party), spending $1,540.
Some 100 people are expected at the Lincoln Day dinner this evening, which should raise upwards of $8,000 for the local Republican Party. The governor is expected at 6:30 p.m..
He'll be coming from a round-table meeting with business leaders and local government officials at the Chamber of Commerce. The chamber had little to do with it: the governor's office called the chamber, looking for a venue where Scott could hold his meeting. The chamber offered, and made suggestions as to who might also attend, among those the executive committee of the county-wide chamber (Scott Sowers, Garry Lubi, David Fowler, Lea Stokes, John Subers , Margaret Sheehan-Jones and Sal Passalaqua).
The governor also invited one representative from each local government—only one, because the Scott could not have kept the meeting closed to the public had more than one elected official from a government agency been invited. That would have run afoul of the state's sunshine law. Palm Coast Mayor Jon Netts, Flagler Beach City Commissioner Jane Mealy and County Commission Chairman Nate McLaughlin are among those scheduled to attend. Helga van Eckert, the county's economic development director, was also on the guest list.
"He specifically wanted to talk to job creators and just really get an idea of what the needs are for Flagler County," Chamber President Rebecca DeLorenzo said. She was especially pleased with the governor's repeated visits. In previous years, the chamber had tried in vain to attract governors to the county, she said. "Regardless of what people's different feelings about the governor, good bad or indifferent, at least he pays attention to FC."
Scott made his first visit to the county during the wildfires of 2011, in June that year. It did not show him at his best: he projected a more aloof attitude than that of an executive genuinely curious about the devastation on the ground. The visit had the brevity of a flare. Two months later he was back for a more extended stay, speaking with business and government officials at the chamber in an open meeting, when Scott was beginning to battle the perception that he was too distant, with dismal approval ratings to show for it. His approval has recovered somewhat since, with his June numbers his best yet. In February, he was back in Flagler County to mark the opening of a new company, Coastal Cloud.
"We've developed a very strong relationship with the governor's office and Enterprise Florida in promoting economic development not just for Flagler County but for the region," van Eckert said. "He's acutely aware of the Coastal Cloud project but we'd like him to know that Flagler has made some great strides in economic development, and we'd like him to notice that, that we're an up and comer. A community to watch."