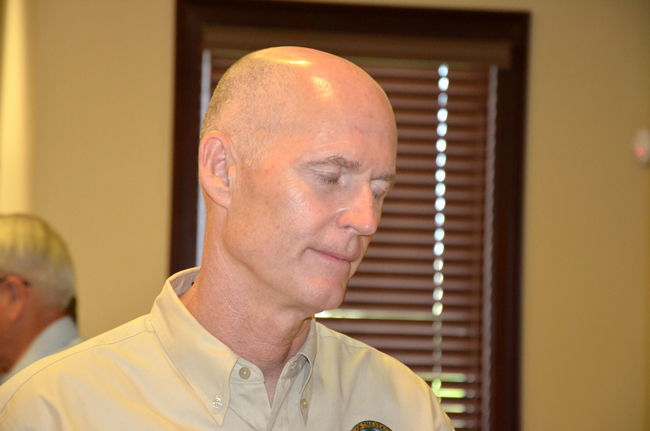 Floridians are barely buying Gov. Rick Scott's make-over as a really nice guy: after two months of trying to play nice with the media he previously scorned, pretending to work at a doughnut shop and a school cafeteria, visiting with local business groups (including in Flagler and St. Johns) and supplying newspapers a more glamorous photograph of himself than the skeletal, bug-eyed versions that had been circulating until then, the governor's approval rating barely budged: from 35 percent in early August to 37 percent in the latest Quinnipiac University poll, released this morning. Scott's disapproval rating is at 50 percent, down from 52 percent.
The numbers show a bigger improvement from May, immediately after a legislative session withering to many constituencies, when he was at 29 percent approval and 57 percent disapproval. Scott remains among the least popular governors in the state, and is considerably less popular in his own state than President Obama (whose numbers are nothing to write Hawaii about: in the last poll, in early August, Obama was at 44 percent approval, about even with his national approval.)
Just 35 percent of surveyed voters like Scott's policies overall.
One underlying factor explaining Scott's poor numbers: the state's 10.7 percent unemployment rate is still stuck immovably and considerably higher than the nation's 9.1 percent, with anemic job creation since Scott has been in office: the net difference in the eight months he's been in office is just 38,000 more jobs, and a labor force that has shrunk by 75,000, suggesting that large numbers of the unemployed are simply dropping out of the system altogether, in part because Scott tightened eligibility for unemployment checks, thus artificially lowering the unemployment rate. Floridians could also be abandoning the state: last February, a Chamber of Commerce-sponsored poll found that 21 percent of Floridians would leave if they had the opportunity. Low housing prices and the inability to sell those houses is keeping a disproportionate number of people in place.
The charm offensive hasn't done much to move Scott's likability as a person, either: 37 percent like him now, compared with 34 percent in early August, though fewer people dislike him: 45 percent did so last month. He's got that number down to 37 percent.
Approval among women edged up to 36 percent, from 30 percent in the last go-around. Approval among men is 39 percent.
"During his first six months in office Gov. Scott alienated the news media and did not make the effort to explain his program to the general public, as he has been doing recently," Peter A. Brown, assistant director of the Quinnipiac University Polling institute, said. "The governor has improved, not surprisingly, among Republicans, but in addition to solidifying his base, the governor is better off among women, who dislike him a little less.
Some 48 percent still say the state's budget is unfair to them, down slightly from 51 percent. And 53 percent say they don't approve of Scott's handling of the state budget.
One area where Scott scored big points: the requirement that welfare recipients be drug-tested–and pass the test–before they are eligible for checks. Floridians support the measure by a 71-27 margin, including 90 percent of Republicans, 83 percent of white, born-again evangelicals, and 75 percent of independents. Democrats give it just a 49 percent favorable rating. That measure is one of many that has drawn a lawsuit.
The Quinnipiac poll also asked voters about freshman Sen. Marco Rubio. He draws a 49 percent approval rating.
The poll was conducted through live interviews over land lines and cell phones between Sept. 14 and 19 with 1,007 registered voters. It has a margin of error of plus or minus 3.1 percent.