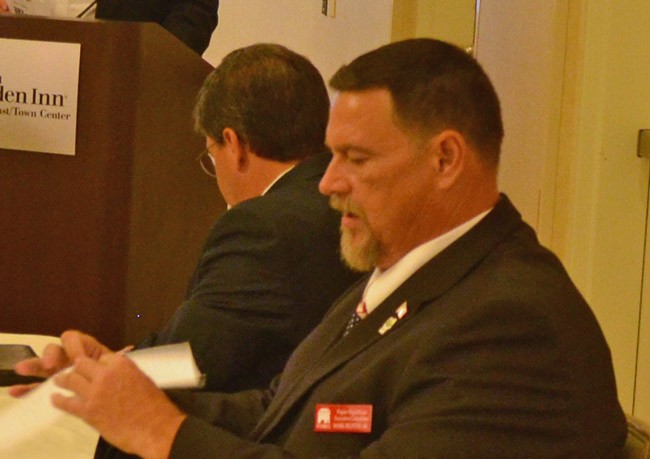 He's back.
Mark Richter, the ex-felon and ex-Flagler County Commission candidate who just last month circulated an obscene and threatening email to local media, has filed to run for the county commission again in 2016, this time in District 1, the seat held by fellow-Republican Charlie Ericksen. The filing was first reported by the Observer.
Ericksen said today he intends to run again, though two key factors will play into his final decision: his health, and whether Jason DeLorenzo, the Palm Coast City Council member, decides to run for Ericksen's county commission seat.
"My intentions are to get better and get in shape and go down to the supervisor of elections and fill out the paperwork and at least get my name in the hopper now," Ericksen said. "Today, the answer is yes, and unless something seriously happens to me, I intend to be there. The way I feel today is a major improvement over where I was on January 27 on an operating table, and I feel a commitment to the people of Flagler County to run for reelection." Within a matter of days in January, Ericksen underwent surgery to the skull then gallbladder surgery. That was just a few weeks after completing a 25,000-mile bicycling feat.
In the wake of the surgeries, Ericksen had been somewhat uncertain about running again, especially with his children pressuring him to move to the Celebration area and spend more time as a grandfather. "I want to run for reelection but if my health goes south again," he said, "then the answer will be something different. I don't want to be somebody that lays around at home and only goes to meetings. A commissioner has many obligations to go to meetings, ribbon cuttings, talking to people."
He and DeLorenzo met recently to discuss the seat, with DeLorenzo showing some interest in it. Asked if he would be comfortable seeing the seat go to DeLorenzo—a Democrat—Ericksen provided a clear endorsement: "Yes I would be. I think Jason is a good person, he understand things, he does his homework and he'd make a good commissioner as he is a councilman." He said DeLorenzo's decision to run might lead him not to, as would his health.
DeLorenzo, in a brief interview Friday, acknowledged thinking beyond the council, but he considers making any electoral moves at this point, a year and half away from an election, too soon. "Next year will be my fifth year on city council, and I feel that I may be ready to take on a larger role in my community," DeLorenzo said. "But at this point I haven't decided what that will be."
Ericksen does not think of Richter as he does of DeLorenzo, staking out this odd reality: Ericksen, a Republican, feels more comfortable ceding his seat to a Democrat than he does to Richter, a fellow-Republican. That's not as surprising as it may sound, considering Richter's history.
"I don't mind at all candidates like Mark Richter to run against, because I don't think he's a qualified candidate," Ericksen said. "He takes no time to even attend meetings, he talks no time to ask questions of commissioners with regard to what's going on, and I would also say he probably makes no effort to read the background information that's given to the county commissioners before every one of the county meetings. He has his own idea of what information people need and he doesn't spend any time finding out what they really need, and he would if he talked to people. He doesn't talk to anybody other than the Ronald Reagan people."
Richter did not return a phone call (a voice-mail system disconnected after a reporter identified himself), though he did replied to an email informing him about this story and inviting him to comment. Richter provided a written statement, framed in blue and under the logo of two American flags. "I am Mark Richter candidate for Flagler County Commissioner and look forward to being the next County Commissioner District 1. I look forward to representing the constituents by giving the fair and honest representation they expect and deserve. There is a way to make our community a better place to live, and it begins when you Vote. Thank you." The statement was identical to one he sent the News-Journal, on whose reporter–Tony Holt–Richter hung up once Holt identified himself, according to a News-Journal article published today.
Richter lives in the Mondex, also known as Daytona North. He would have to move to Ericksen's district, in Palm Coast, to represent it. In his first run two and a half years ago, Richter lost in the Republican primary to Nate McLaughlin after bitter race that included an incident involving Richter's sons allegedly intimidating McLaughlin. Subsequent to Richter's loss, he made racist suggestions about this site's editor, connecting his Arab ancestry to terrorism, and in late May Richter sent an image of Osama bin Laden having sex with a camel in the body of an email circulated to all local media, again making obscene allegations about FlaglerLive and calling for a boycott of the site.
On June 2, Dennis McDonald, who also ran and lost in the county commission primary two years ago—against Frank Meeker—emailed Ericksen to let him know of Richter's intentions: "As your former campaign manager I thought it appropriate that I let you know that Mark Richter is filing to run for your district," McDonald wrote. "I guess Mark has had enough of "country life" and is interested in moving into the BIG city."
Several years ago Ericksen had been associated with the Ronald Reagan Republican Assemblies, with McDonald, an association Ericksen would soon sever. Richter claimed in a letter to the News-Journal late last month that he had resigned from the Reagan group. The Ronald Reagan Assemblies, however, has never disavowed Richter. A call to Michael McElroy, the group's current president, was not returned Friday.
Ericksen called Richter's behavior on several counts "inappropriate."